Trey Farmer '93 takes a philosophical approach to life and business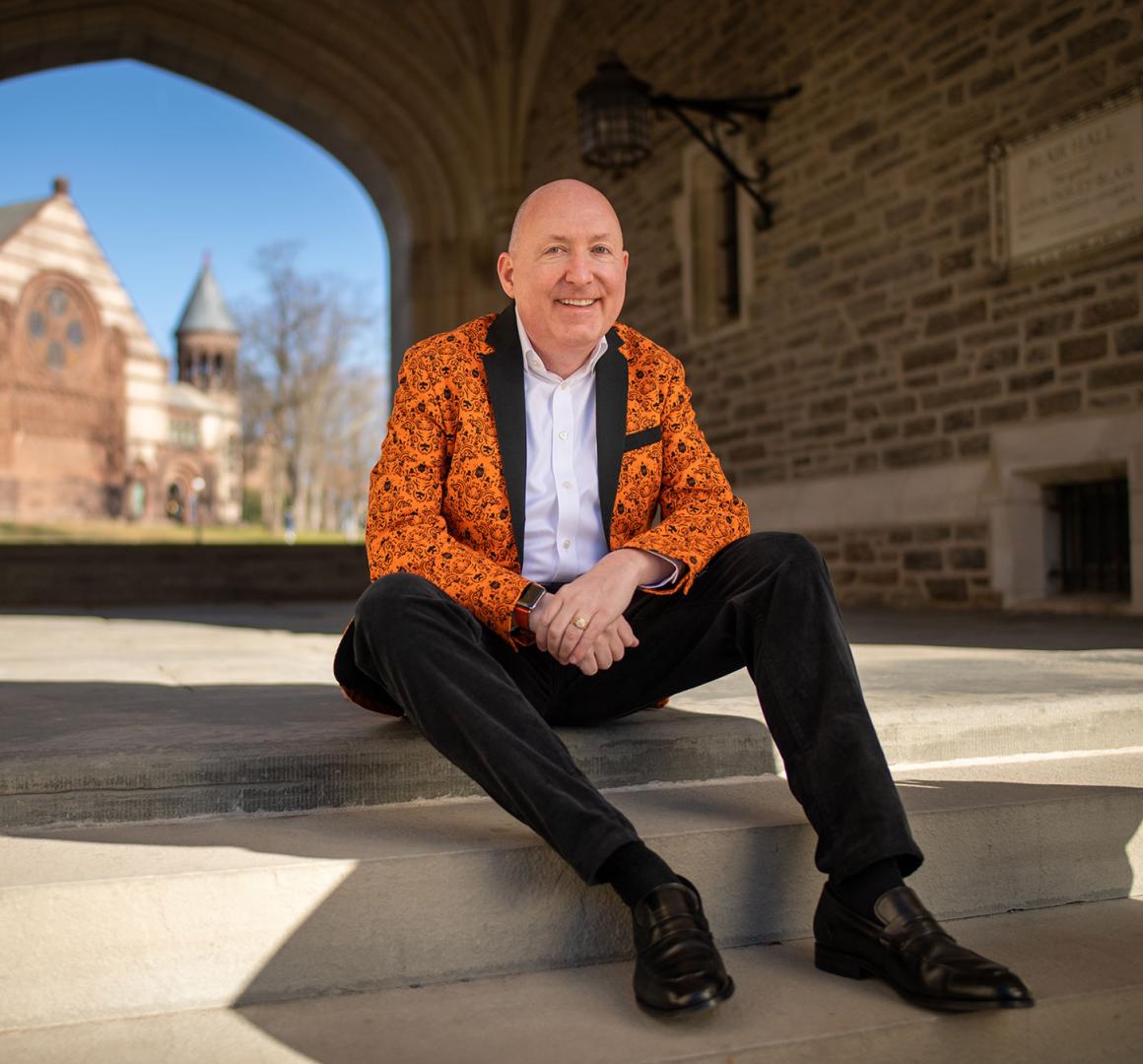 Photo by Sameer A. Khan/Fotobuddy
As a high school junior, Roy "Trey" Farmer III '93 had just finished performing in a concert when an alumnus approached him and said, "You're going to Princeton." The piano prodigy was flattered but didn't pay much attention to the comment. "I thought he enjoyed the concert, and it was just a nice thing to say," Farmer said.
Not exactly. The alum began inviting Farmer to Princeton events in the area, encouraging him to apply to the University. An excellent student and gifted pianist, he was also being heavily recruited by other prestigious universities.
"I was just completely overwhelmed and impressed by the Princeton alumni I kept meeting," said Farmer, who was raised in a lower-income neighborhood in Houston, Texas. "They were just such a great group with diverse interests and so engaged."
"Because these alumni were involved in so many different areas and projects outside of their own careers, they opened my eyes to the notion that I didn't need to perform to still cultivate the arts. When you're young, you just show up and perform. Their perspective was what convinced me to turn down the other schools and go to Princeton."
With a new outlook, Farmer decided to major in philosophy, much to the surprise of his friends and parents. "On a whim, I took an introductory course in philosophy and thought, 'Where have you been all of my life, Plato?'"
He was captivated by the classical philosophers and spent his Princeton summers learning Greek and Latin. While at Princeton, he pursued music by singing with the Chapel Choir, Glee Club and the Katzenjammers, an acapella group that he supports to this day by providing the group with opportunities to perform around the world. "As students, we had a strong connection to our alumni who supported us," he said. "They became my family when I was so far away from home."
Following graduation, Farmer worked in the telecom industry before shifting to private equity. His passion for philosophy — the philosophers and theologians of Late Antiquity — also grew, and he continued in his graduate studies, earning master's degrees at both Yale and Harvard.
"After the third degree I decided to pursue philosophy as an avocation, not a vocation," Farmer said. This informed his decision to move overseas and spend more than 15 years in Eastern Europe and the Middle East where he founded a boutique investment bank.
"Being based in the region allowed me to take weekly and monthly trips to explore ancient sites ranging from the Near East to North Africa," he said. "Classical philosophy — with all its puzzles, riddles and ambiguity — armed me with an analytic toolkit that allowed me to flourish in the field of emerging markets. My Princeton education gave me the ability to write and think clearly about topics where nothing is certain, and little is known."
Currently, he is the managing partner of the Old Corkscrew Group of Companies, with operating assets in the U.S. and Latin America that include golf courses, commercial developments, agriculture operations and fine art collections. He is also a partner in an advisory company, Zen Ticaret, which is based in the Middle East and focused on the energy sector.
Not one to slow down, Farmer also owns and manages arts festivals around the world, including the StayInMay Festival in Naples, Florida, an interdisciplinary arts festival that includes art, culinary, rock and pop, dance, jazz, health and wellness, classical music, and a film festival. In the last nine years, the festival has hosted more than 300 concerts and exhibitions for more than 150,000 attendees.
With his career cemented and with more time to pursue other interests, Farmer's connection to Princeton and alumni has grown even stronger. Currently, he is chair of the Committee on Regional Associations (CORA); board member of Princeton Internships in Civic Service (PICS); president of the Princeton Club of Southwest Florida; vice president of the Bisexual, Transgender, Gay and Lesbian Alumni organization (Princeton BTGALA); president of the Princeton University Glee Club Foundation, and co-chair of the upcoming 150th anniversary celebration of the Princeton University Glee Club. Next year, Farmer will co-chair his class's 30th reunion.
"Good things happen when you bring Princetonians together," Farmer said. "There are wonderfully generous interactions of like-minded people who want to spend their time volunteering, and they are all so passionate about it. This is not traditional networking. This is about connecting interesting people doing interesting things in all areas of our society."
Sharing ideas and building connections among regional leaders around the world are among Farmer's initiatives since taking the lead of CORA in summer 2021.
"We really want to be a resource for alumni leaders wherever they are in the world," Farmer said. "One of the things we have noticed during the pandemic is that 'new' people are getting involved with the clubs for virtual events. If you're in L.A., for example, it can take half a day to drive across the city. So, a lot of people who had never been to an event are now able to join online. While we have a wonderful tradition of in-person events, we want to continue to grow virtual ones and meet people where they are."
Under his leadership, CORA has recently launched "Third Thursday Tiger Talks" — or "T-Quads" — where regional leaders present on relevant topics, such as how to engage affinity groups, pricing events, and how to plan engagement for different generations of alumni. "Sharing best practices enables others to learn from each other," Farmer said. "Why reinvent the wheel?"
Pre-pandemic, Farmer began development of a video series to help support programming for regional clubs. Called "Live from Old Nassau," the series features Princeton professors sharing their scholarship in 20-minute, pre-produced segments. As soon as production can begin again, he will share these videos with small regional clubs, who can screen them in small groups in members' homes.
"'Live from Old Nassau' is a nice mix of bringing Princeton to alumni and in a format that allows a group of participants to learn about each other, which isn't possible at a 100-person gathering," Farmer said. "They're cheap and cheerful events and combine two important elements: Princeton scholarship and alumni interaction.
"Princeton has always been about the people for me," Farmer said. "Alumni and students are constantly challenging me and inspiring me in new ways. The things I've done in my life and career all stem from the things I was exposed to at Princeton."