President Christopher L. Eisgruber '83 will visit London's Royal Horticultural Halls on Tuesday, December 6, for a special conversation with Razia Iqbal, BBC news anchor and the former Ferris Professor of Journalism at Princeton, resuming his series of discussions as part of the Venture Forward campaign. President of the Alumni Association Mary Newburn '97 will welcome all alumni and guests to the event.
The conversation will be led by Iqbal, an anchor of Newshour, which is a current affairs program on the BBC World Service with 12.5 million listeners in the U.S. and millions internationally. For the last three decades, she has reported from around the world, including as a special correspondent for BBC TV.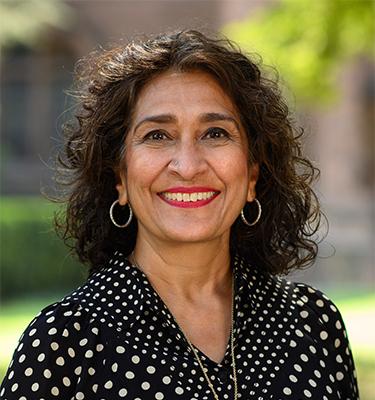 She has also presented the in-depth interview series Witness History, Talking Books and Dream Builders, as well as documentaries for both radio and TV. She is a frequent moderator at political and literary events. Last spring, she taught International News: Perspectives, Prejudices and Pitfalls to undergraduates at Princeton, where she was also a visiting lecturer in the Humanities Council.
After the conversation, Iqbal will moderate a Q&A session, which will then be followed by a reception with hors d'oeuvres and drinks.
The London event is the first of a series this season as part of the Venture Forward campaign. President Eisgruber will travel to Boston on February 2 for a conversation with Wyc Grousbeck '83, lead owner and governor of the Boston Celtics. He will then travel to Chicago on March 9, where he will be in conversation with Craig Robinson '83, executive director of the National Association of Basketball Coaches. President Eisgruber will wrap up his travels in Washington, D.C., on April 18 with Katherine Brittain Bradley '86, founder and chair of CityBridge Foundation. Registration for these events will open soon.
Venture Forward is a mission-driven engagement and fundraising campaign focused on Princeton's strengths in the liberal arts, pushing the boundaries of knowledge across disciplines, and collaborating to champion inclusion, science, public policy, the humanities and technology.