Princeton Athletics is pleased to announce the endowment of the head men's soccer coaching position. The gift was made by an anonymous donor in honor of the leadership of Jim Barlow '91, the program's men's head coach for the last quarter century, and in support of both the men's and women's soccer programs.
The gift aligns with the Department of Athletics' goals of securing endowments to provide long-term sustainable support and advancing the department's mission of helping its student-athletes reach their peak potential as college student-athletes and in life. Because of gifts like this one – and through the overwhelming support of the Friends of Princeton Soccer – the soccer program is able to provide each athlete with the best opportunity to "Achieve, Serve, and Lead."
"It is with great enthusiasm and gratitude that we make this announcement today," says Princeton's Ford Family Director of Athletics Mollie Marcoux Samaan '91. "Providing endowment support for both our men's and women's soccer programs will allow us to continue to offer a world-class athletic and academic experience for our student-athletes. In addition, I could not be happier that it recognizes the outstanding contributions that Coach Barlow has made to Princeton soccer as a player, a coach, a friend and a role model for all. Jimmy is a highly respected, values-based leader who models our departmental 'be A Tiger' values in everything he does. I know our whole administration, his fellow coaches and the many players that he has played with and coached will be as thrilled as I am with this very special and extremely well-deserved acknowledgment."
The men's and women's soccer programs have been models for Princeton's values, with Ivy League championships and NCAA Final Four runs for both combined with generations of alumni who have benefited from the commitment to Education Through Athletics and Competitive Excellence.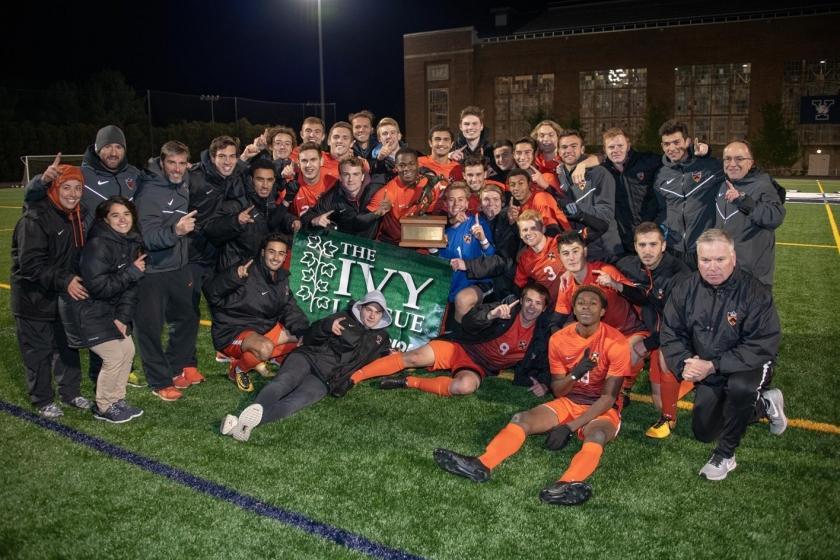 "I know I speak for all of the players, coaches, and alumni who are a part of the Princeton Soccer family when I say how grateful we are for this endowment," Barlow says. "This gift will help fund crucial expenses of our programs -- expenses that provide our student-athletes with such unique competitive and educational experiences. It is these experiences that prepare our student-athletes for the challenges that will lie ahead and that provide them with a lifetime of incredible memories. The Friends of Soccer has been working hard for years to meet our annual expenses, and this gift is a tremendous boost to that process."
Barlow, who is known among other things for his competitive spirit, his genuine love of the game and his unwavering commitment to integrity, is in his 24th season as the head coach of men's soccer at Princeton. A three-time first-team All-Ivy League selection and a CoSIDA national Academic All-America himself, Barlow has led Princeton to six Ivy League championships and six NCAA tournament appearances (one each as a player and five each as the head coach). He was also the 1987 Ivy League Rookie of the Year and 1990 Ivy League Player of the Year.
In 2018 Barlow became the Ivy League Coach of the Year after leading the Tigers to the league title and an NCAA appearance, which ended in an epic 14-round penalty kick shootout on a snowy night at Michigan. His Coach of the Year Award made him the first, and still only, person in Princeton Athletics history to be named the Ivy Rookie of the Year, Player of the Year and Coach of the Year. Barlow has been very active with the U.S. National Team program, spending eight years as the head coach of the national U-15 team. He is also a member the New Jersey state high school athletics Hall of Fame.
"I also realize that any gift in honor of my leadership is really a gift honoring the tremendous leadership of the Princeton Soccer and athletic department staff, University colleagues who support our team and student-athletes and alumni with whom I have been blessed to work over the past 24 years," Barlow says. "I am always quick to respond when asked what the best thing is about Princeton – it is the people, and I am so fortunate to have great and lasting relationships with so many of them."
Prior to Barlow, Princeton was coached by Bob Bradley '80, who has gone on to, among other accomplishments, coach the U.S. men's national team to a Group championship at the World Cup, become the only American ever to be a manager in the English Premier League and be a head coach in Major League Soccer.
Princeton men's soccer played its first-ever match on Nov. 10, 1906. The Tigers have won nine Ivy League championships and made 10 NCAA tournament appearances and reached the NCAA Final Four in 1993.
Women's soccer became a varsity sport in 1980 and has since won 10 Ivy League titles and played in 13 NCAA tournaments, including reaching the NCAA Final Four in 2004.
In addition to the endowment, Princeton Soccer is looking forward to proudly unveiling its brand-new Roberts Stadium, with the newly built Myslik Field and new adjacent practice field scheduled to open in the summer of 2022. The new facility will be located next to the Finney/Campbell Fields near Princeton Stadium and Jadwin Gymnasium.
The official name of the endowment will be announced at a later date.
For information about supporting Princeton Athletics, contact Kellie Staples, Senior Associate Director of Athletics, Advancement at kgale@princeton.edu or 609.258.6696.