Continued Learning
Continued Learning
Alumni-Faculty Forums
A Reunions tradition for over 40 years, the Alumni-Faculty Forums (AFFs) bring together alumni panelists from the major reunion classes and the Association of Princeton Graduate Alumni (APGA) for discussions of a broad range of timely or timeless topics. Moderated by members of the faculty or administration, the forums attract thousands of alumni and guests each year.
View the 2021 AFFs
Faculty Books
From anthropology to physics, literature to politics, Princeton faculty and emeritus faculty have authored books of interest on their scholarly subjects.
Check out the faculty book lists maintained by department:
The Princeton Alumni Weekly features select works by Princeton alumni and faculty, as well as highlights other media.
To include a new faculty book to the list, please contact Ann Healy Guarnaccia, assistant director of academic programming and faculty liaison. 
View Faculty Book List
Community Auditing Program (CAP)
Princeton University's Community Auditing Program (CAP) enables members of the community, and alumni in the area to audit, or sit in on, University lectures on a non-credit basis. On average, 150-175 classes are available across all academic fields each semester for auditing. No credit or certification is given for CAP classes. However, certified teachers currently working in New Jersey and Au Pairs may obtain written verification for classes they have audited. Questions about the CAP program can be sent to: pucap@princeton.edu.
Learn More about CAP
Game Day Lectures
Before you hit the stadium, hit the classroom! Prior to selected home football games, the Alumni Association provides alumni and friends with a chance to sample intellectual life on campus before catching up with classmates at tailgates and cheering on the Tigers on the gridiron. Registration is not required for the lecture.
Pre-read
The Pre-read program, initiated by President Eisgruber in 2013, introduces the incoming class to the intellectual life of the University. First-year students read and discuss a book that President Eisgruber selects that is mailed to them prior to their arrival on campus. Incoming class members then participate in Pre-read discussions with student leaders during Orientation Week and with President Eisgruber in the residential colleges and elsewhere on campus over the course of the academic year. Alumni also are encouraged to read and discuss the Pre-read selection.
View previous Pre-read selections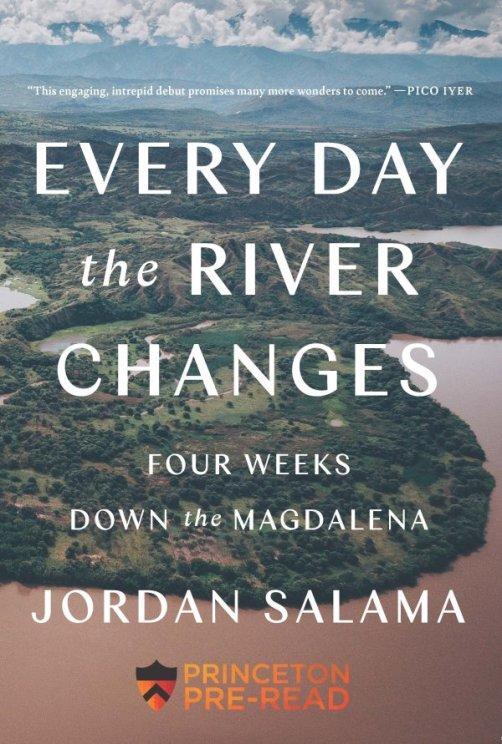 2022 Pre-read
President Eisgruber's Princeton Pre-read selection for the Class of 2026 is "Every Day the River Changes: Four Weeks Down the Magdalena" by Jordan Salama, a graduate of Princeton's Class of 2019. The book is based on Salama's senior thesis, in which he recounts his experiences as he traveled along the Magdalena River in Colombia describing the people he met and the cultures he encountered during his travels with a distinctive warmth and empathy. President Eisgruber hopes that "Every Day the River Changes" will inspire students "to think imaginatively and creatively about what you might do with your time at Princeton."
Pre-read 2021
Pre-read 2020
Pre-read 2019
Princeton Online
Living at a distance from campus shouldn't preclude your participation in alumni education. As long as you have an internet connection, you have access to lifelong learning at Princeton.
Princeton Online MOOCs
Princeton University Library is pleased to provide the University's alumni with access to a suite of library-licensed electronic resources for personal, non-commercial use. Access is available from anywhere via login with TigerNet NetID and password.
Princeton Library Resources