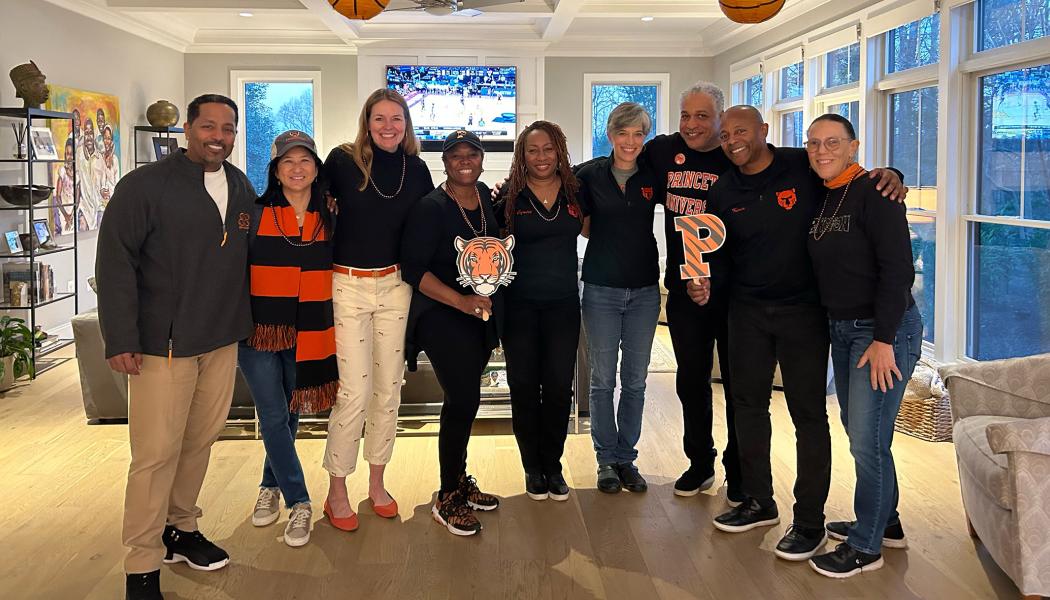 Magdi Amin '88, Charlene Olson '88, Mary Newburn '97, Monica Moore Thompson '89, Cyndie Shadow '88, Pyper Davis '87, David Jackson '87, Kevin Dowdell '87 and Lisa Haynes '88
Princeton rallies around basketball teams as Tigers highlight March Madness
The Princeton alumni community and fan base roared to life last week as both the men's and women's basketball teams recorded upset victories in the NCAA tournaments, making Princeton the first Ivy League school to have both its basketball teams win NCAA Tournament games in the same season.
"I'm so extremely proud of my team, my staff, the team around the team, our fans," said women's coach Carla Berube, after the team's 64-63 victory against North Carolina State in Salt Lake City. "It is so great to be a Tiger!"
Though the women's team fell short against host Utah in the second round, the Princeton pride extended to Sacramento, where an orange wave cheered the men's team to upset victories against Arizona and Missouri.
"We really drew on the strength of our fans this weekend," Mitch Henderson '98, the Franklin C. Cappon-Edward C. Green '40 Head Coach, said after the Missouri game, referring to a handful of his old Princeton teammates and several of his former players he saw in the stands. "I don't think anybody does it quite like Princeton — I know I'm biased — but there's great school spirit. The school does that. It's a four-year institution. You have personal relationships with your professors. All the student-athletes know each other. It really makes you feel comfortable. We are so proud to be representing our school and playing great basketball in front of what I thought was just a terrific crowd."
How 'bout them Tigers?! 🐯

(2) Arizona's #MFinalFour dreams are dashed after (15) @PrincetonMBB's stunning upset of the Wildcats.#MarchMadness pic.twitter.com/2qLZngBW9K

— NCAA Men's Final Four (@MFinalFour) March 16, 2023
The unranked Tigers, who qualified for the tournament after winning the Ivy League championship, became the first Princeton team to reach the Sweet 16 since 1967 and just the third 15-seed ever to get this far in the men's tournament. Next, they face sixth-seeded Creighton on Friday in Louisville, Kentucky. (Princeton's allotment of tickets to the Creighton game sold out quickly.)
While the team returned to New Jersey after their victories in California, and the players returned to classes, Henderson has been one of sports media's most in-demand guests during the quiet calm before the next series of tournament games. 
"There's just no place in the country that does the four-year undergraduate experience like Princeton," he told CBS News. "I just went over to the chemistry building, where I get my coffee in the morning, and a couple of chemistry professors are giving me the fist-bump on their way to teach organic chemistry. Only at Princeton where we're all kind of lumped in here together in one sort of bowl. We're just so proud to be representing the school and we're ready to get to Louisville and see if we can keep going."
The 23-8 Tigers hit the road for Louisville on Wednesday, with a special send-off from Jadwin Gym scheduled for noon. Alumni not planning to be in Kentucky on Friday night can gather together at more than 20 regional watch parties. To learn more, contact your regional club leadership by logging into Tigernet.