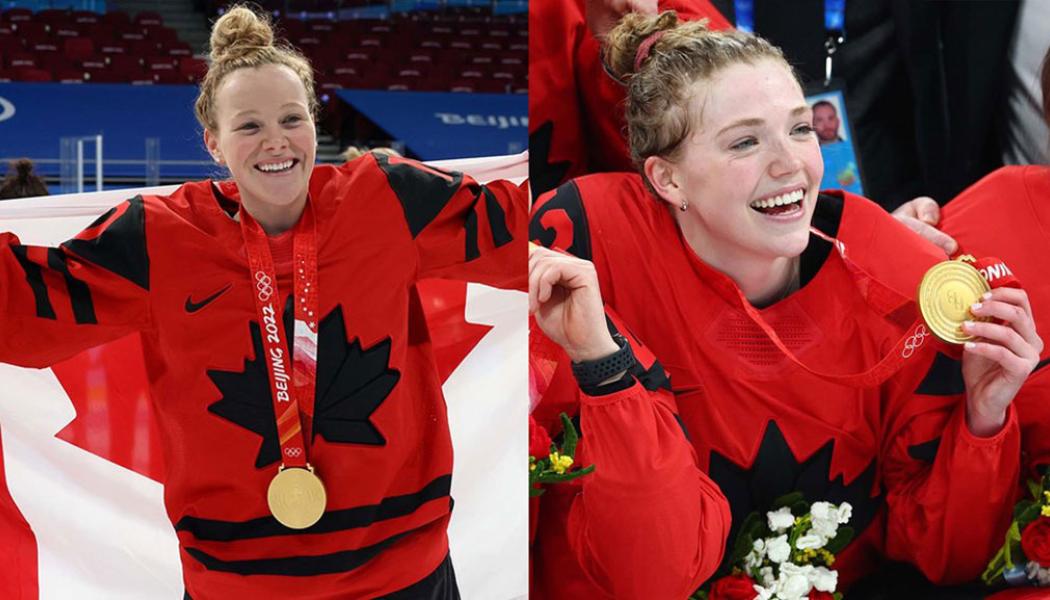 Sarah Fillier '24 and Claire Thompson '20 celebrate Canada's gold medal victory at the Winter Olympics in Beijing.
Princeton Olympians in Beijing determined to celebrate Year of the Tiger
When the Beijing Winter Olympics begin on Feb. 2, right on the heels of Chinese New Year celebrations, Princeton athletes will be aiming to make this Year of the Tiger one for the history books. As many as eight Tigers will be in Beijing to compete for medals against the world's best.
Just as it did during the Summer Olympics in Tokyo, Princeton Athletics has launched a comprehensive microsite that includes profiles of the University's Olympians and will track their success in the coming weeks. Four years ago at the PyeongChang Winter Olympics, only one Princeton athlete competed — ice hockey player Caroline Park '11 — but this 2022 streak of Tigers has the potential to bring home some shiny hardware.
The women's ice hockey rivalry between the United States and Canada is one of the most intense in all of sport. The two squads have squared off in the gold medal game in five of six Olympics tournaments — with Canada holding a 3-2 edge in those finals — and 19 or 20 world championships. The U.S. is the defending Olympic champion after edging Canada in a shootout in 2018, but Canada returned the favor with an overtime victory at the 2021 world championships.
Defender Claire Thompson '20 and forward Sarah Fillier '24 helped Team Canada win that world title last August and are reuniting on the ice in Beijing. Thompson '20 was first-team All-Ivy and All-ECAC at Princeton, where she was a two-time captain who helped the Tigers to the 2020 ECAC championship. In her four years at Princeton, Thompson played in 129 games, scoring 31 goals and 56 assists.
Fillier was the leading scorer on Princeton's 2020 championship team, and two years into her collegiate career, she's already more than halfway to Princeton's career records for assists (122) and points (218). A two-time All-American, she has put her college career on hold to help Canada chase gold in Beijing.
At the 2021 world championships, Fillier had three goals and three assists, and Thompson recorded four assists in Canada's seven games.
Canada defeated the United States in the gold-medal game, 3-2. In seven games, all victories, Thompson scored two goals and assisted on 11 others. Fillier added eight goals and three assists. 
Goalkeeper Kimberly Newell '16, Princeton's recordholder in career wins and saves, will suit up for host China, which is returning to the Olympic women's ice hockey tournament for the first time since 2010. Newell has plenty of big-game experience, both at Princeton and on the international stage, where she's been playing professionally for a China-based professional team in Canada and Russia for several years.
China finished the Olympic tournament with a 2-2 record. Newell was superb in goal, stopping 95.5 percent of the opposing team's shots.
In the men's ice hockey tournament, Max Véronneau '19 is an alternate for Team Canada. The high-scoring Tiger was All-Ivy, scoring 52 career goals, before playing two seasons with the Ottawa Senators in the NHL. He currently plays professionally in Sweden, but could be called to Beijing if injuries or COVID sideline any of the Canadian players during the games.
Canada went 2-1 in the preliminary round and lost to Sweden in the tournament quarterfinals.
When Chloe Kim '24 enrolled at Princeton in 2019, she already was an Olympic gold medalist, winning the women's snowboard halfpipe at PyeongChang in 2018 at the age of 17. When campus shut down during the pandemic, Kim took a leave from Princeton and returned to competition. She repeated as world champion in 2021 and is the favorite for gold in Beijing.
Kim won gold in the women's halfpipe.
Charlie Volker '19 did not grow up dreaming about Olympic gold at the Winter Games. But less than two years after dedicating himself to bobsledding, the All-Ivy football player and champion sprinter is in position to help the U.S. team. Volker will be the brakeman for the American's top four-man sled, where his primary role is to use his power and speed to push the sled as fast as possible at the start of the run before gravity and the sled's pilot take over. Volker then tucks himself in the back and when the sled crosses the finish line at speeds of more than 80 miles per hour, he also applies its brakes. At a recent World Cup event in Germany, Volker and his three teammates claimed bronze, powered by the fastest start time in the entire field.
Volker finished 27th in the 2-man bobsled. In the 4-man bobsled, Volker and his teammates are in 13th place after two runs. Competition continues on Saturday, Feb. 19.
Nathan Crumpton '08, will make history in Beijing, competing in the Winter Games just six months after he sprinted the 100 meters at the Summer Olympics in Tokyo. At Princeton, Crumpton competed in both the long and triple jumps, but never trained as a sprinter. Still, he qualified for the 100 meters by eight hundredths of a second and represented American Samoa in Tokyo. In Beijing, Crumpton will compete in skeleton, the head-first sled competition that he's specialized in since 2011. By qualifying for the Olympics, he returns American Samoa to the Winter Games for the first time since 1994.
Crumpton placed 19th.
In March, when the Paralympic Winter Games will be held in Beijing, Declan Farmer '20 is hoping to win his third-straight gold medal as a member of the American sled hockey team. Born without legs, Farmer has played sled hockey since he was 9 years old. At the 2018 Paralympics in PyeongChang, he recorded 11 goals and six assists, including the game-tying and game-winning overtime goals in the gold-medal game.
The Paralympic Games begin on March 1.
* Beijing is 13 hours ahead of Princeton, and all dates listed are Eastern Standard Time.