Tigers take center stage at Tokyo Olympics
Ashleigh Johnson '17 helped the American women's water polo team to its third straight gold medal.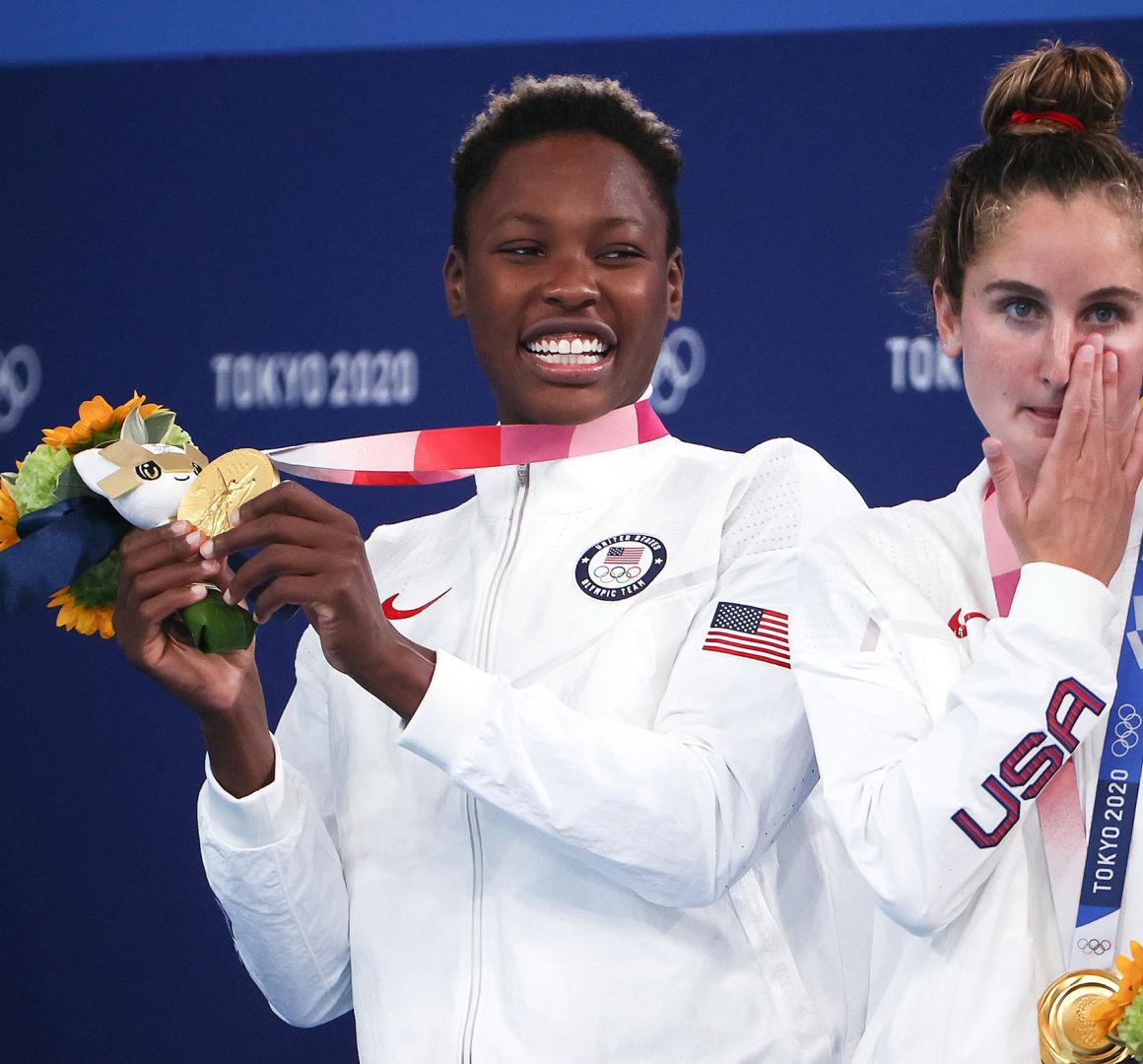 Now that the opening ceremony is concluded and the Tokyo Olympics are formally underway, 18 Tigers — 15 alumni and three current students — are poised to represent eight different nations in multiple events.
Princeton Athletics has launched a comprehensive microsite that includes profiles of the University's Olympians and will track their success in the coming weeks. It also documents the history of Princeton athletes at the Summer Games, from Robert Garrett Jr. 1897 — the rare athlete to score medals in discus, shot put, high jump and long jump — to Ashleigh Johnson '17, the gold-medal goalkeeper who became the first Black woman to represent the United States in Olympic water polo and is currently in Tokyo leading the United States team's drive towards another gold.
Other Tigers alumni are also vying for medals in events as varied as fencing and hammer throw. Meet them below before rooting them on.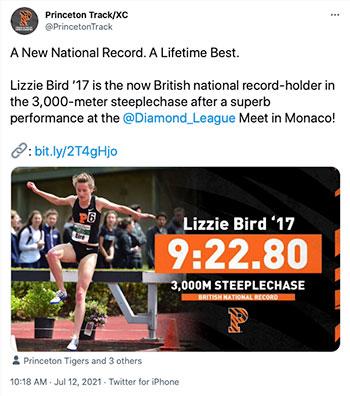 Lizzie Bird '17, a two-time Ivy League champion at Princeton and the British record holder in the 3,000-meter steeplechase, will compete for Great Britain. At Princeton, she also ran cross-country and currently holds the indoor school record in the mile, along with top-five times in the steeplechase, the 3,000, the 4x800, the 4x1,500 and a top-10 time in the 1,500.
Bird placed ninth.
Claire Collins '19, a four-time Ivy champion, All-Ivy honoree and three-time All-American, will row with the women's four for the United States. Previously, Collins won bronze at the 2018 World Rowing U-23 Championships and collected silver the year prior. At Princeton, she was named the winner of the C. Otto von Kienbusch Award and was nominated for the NCAA's Woman of the Year honor.
Collins and her teammates finished in seventh place.
Nathan Ikon Crumpton '08, a multi-sport athlete who was a member of Team USA Skeleton for eight years, will sprint the 100 meters in Tokyo as a member of the track and field team from American Samoa. At Princeton, he competed in both the long and triple jumps, but did not train as a sprinter. He recently qualified for 100 meters by eight hundredths of second.
Crumpton finished ninth in his preliminary heat.
Tom George '18 will row for a Great Britain men's eight team that is considered a serious contender for a medal. He's been a member of that team since 2018, helping to win a gold and two World Cup silver medals, two World Championships bronze medals and the 2021 European gold. At Princeton, George helped the varsity eight to three medals at Eastern Sprints, including a silver in 2016. He also led the eight to four top-five finishes at the Intercollegiate Rowing Association National Championships, including a bronze in 2016.
George and the team from Great Britain won the bronze medal.
Katharine Holmes '17 returns to the Olympics after helping the Americans to a fifth-place finish at the 2016 Games in Rio de Janeiro. A four-time All-American and the 2017 NCAA épée runner-up while at Princeton, Holmes also helped the U.S. women's épée team win its first Senior World Championship title in 2018. She's currently ranked No. 3 in the U.S. and No. 22 in the world.
Holmes helped the American team to a fifth-place finish.
Ashleigh Johnson '17 has her eyes on another medal after helping the United States women's water polo team to the gold at the 2016 Olympics in Rio. Princeton's all-time career saves leader was named the 2016 Games' top goalkeeper after she recorded 51 saves in the tournament, including nine stops in the gold-medal final against Italy.
"She is a competitor at its finest," said Team USA captain Maggie Steffans. "Doesn't matter what the score is, she wants to get that block and do it for our team. … She always had our back."
Johnson finished her Princeton career with a 100-17 record, along with a school-record 1,362 saves. She was the first player in Princeton women's water polo history to be named first-team All-American and the third ever to be picked as All-American in each of her four seasons.
Johnson made 11 saves in Team USA's 14-5 victory against Spain to win the gold medal. She led the tournament in saves (80) and save percentage (64.5) for the second consecutive Olympiad.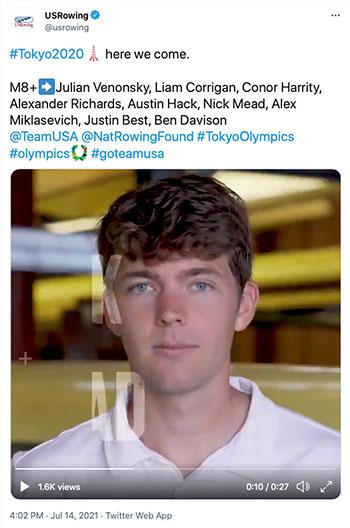 Tim Masters '15 will row for Australia in its eight-man boat. He's had success internationally, helping Australia score a silver medal at the 2018 World Rowing Championships. He also earned gold medals in the four-man at 2019 World Cup Two and Three, along with silvers at the 2017 and 2018 World Rowing Cup 3. At Princeton, Masters stroked the varsity-8 to a bronze medal at the 2015 Intercollegiate Rowing Association Regatta, the program's first such medal since 2006. His boat also won bronze at Eastern Sprints and helped his team win the Rowe Cup for the first time since 2005.
Masters and Australia finished in sixth place.
Nick Mead '17 will row for the United States men's-eight team. Previously, he was a member of the American team that finished second at the 2017 World Rowing Championships and fifth at the 2019 Worlds. As a Tiger, Mead collected three medals at the IRA Championships, highlighted by a silver in 2014. He also secured two bronzes for the varsity-8 and finished fourth in 2017.
Mead and his American teammates finished in fourth place.
Kathleen Noble '18 will be the first rower to represent Uganda in an Olympics when she competes in women's single-scull. Before her sophomore year at Princeton, she had never rowed, but she almost immediately became one of the strongest rowers in the program. She helped the Tigers' women's-eight to win a silver medal at Eastern Sprints in 2018, Princeton's best finish since 2011, and a bronze medal at the IRA Championship. "To be the first ever Ugandan rower to compete in the Olympics is also a great privilege," she said, "and I hope my qualification will inspire other Ugandan rowers and help the sport develop back home."
Noble finished 26th.
Julia Ratcliffe '17, the 2014 NCAA champion in hammer throw and four-time All-American, will represent New Zealand in Tokyo. It's simply not enough to say that Ratcliffe holds the Ivy League record for hammer throw; in fact, she recorded the 134 longest throws in Ivy League history. She won gold at the 2018 Commonwealth Games, and most recently, she qualified for the Olympics and reclaimed the New Zealand record with a new personal best at its national championships.
Ratcliffe finished ninth.
Hannah Scott '21 will row for Great Britain, competing in the quadruple sculls competition. In her debut as a member of the British senior team, she helped them earn a silver medal at the 2021 European Rowing Championship. She had previously led Great Britain to two silver medals in the World Under-23 Championships. At Princeton, Scott was a two-time Ivy champion and helped the Tigers to two top-10 finishes at the NCAA Championships, while securing All-America status in 2019.
Scott and her team finished seventh.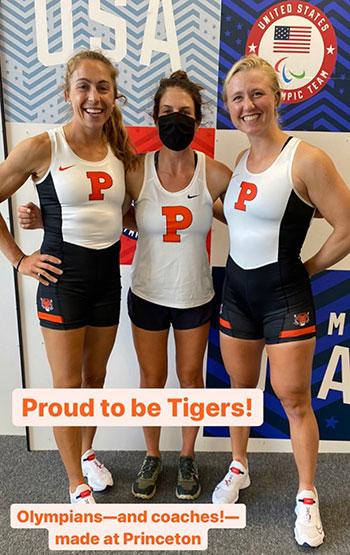 Eliza Stone '13 will compete for the United States in women's saber fencing. A four-time All-American at Princeton and the 2013 NCAA saber champion, Stone won a bronze at the 2018 World Championships and then claimed gold at the 2019 Pan-American Games, a title that raised her ranking to No. 5 in the world.
Stone finished in 19th place.
A silver medalist at the 2016 Games in Rio, rower Gevvie Stone '07 returns to compete in her third straight Olympics. In Rio, she scored a medal in single scull, but in Tokyo, she will compete in double sculls after winning that discipline at the U.S. Olympic Trials and finishing third at the 2021 World Rowing Cup II. An emergency medicine physician in Boston, she has put her career on hold to train for what she expects to be her final Olympics. At Princeton, Stone was part of the 2006 NCAA V8 Championship boat that is widely considered one of the greatest varsity boats of all-time. It went undefeated that season, winning each race by at least seven seconds.
Stone and her teammate finished fifth.
Anna Van Brummen '17 joins a powerful and experienced American women's fencing team that has a combined six Olympic and 35 world championship appearances. She qualified for the épée team and will serve as its replacement athlete. A former NCAA champion at Princeton, she also won gold at the Suzhou World Cup in 2016, making her the only modern U.S. women's épéeist to win a World Cup.
The American women's épée team finished in fifth place.
Fred Vystavel '16 will compete for Denmark after finishing second in the 2021 Final Olympic Qualification Regatta to qualify for men's pair rowing in Tokyo. He's been a member of the Danish team since 2018, helping them place fourth at the 2019 World Cup III in the men's four, and sixth in the men's pair at the 2020 European Championships. At Princeton, Vystavel corralled three silver medals at Easterns and IRA for the 2V along with a bronze in the V8.
Vystavel and his teammate won the bronze medal.
Water polo photos courtesy of Getty Images.