A gift from University Trustee Anthony H. P. Lee and his wife Sharon will strengthen Princeton's mission of teaching and research by endowing a professorship in math, funding education and training related to high-speed computing, and creating a new scholarship.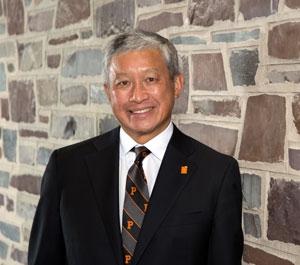 "Anthony and Sharon Lee have long been steadfast and thoughtful supporters of Princeton," said President Christopher L. Eisgruber '83. "Their latest gift will help us address new challenges at the frontiers of knowledge, building capacity in mathematical and computational studies, while also furthering our efforts to expand access and opportunity for talented students from all backgrounds."
The portion of the gift designated to endow a professorship will create a chair in the Department of Mathematics for a distinguished teacher-scholar working at the intersection of math and physics. The research computing fund will support activities and resources related to high-performance computing, which is increasingly important for research conducted by undergraduates, graduate students, and faculty members in fields ranging from engineering and the natural sciences to the humanities and social sciences. And the scholarship will enhance the University's exceptional student aid program, which ensures that Princeton is affordable to all.
"I have had the privilege of knowing and working with several generations of University leadership and a number of faculty members," said Lee. "They are all special people committed to making the world a better place. I am very excited about the long-term impact my gift will have on advancing Princeton's central mission of serving humanity through teaching and research of the highest quality." The gift supports areas that have been identified in the University's strategic planning process as vital to ensuring that Princeton continues to provide an extraordinary education for future generations.
Lee, a member of the Class of 1979, earned his AB in mathematics and holds an MBA from the Chinese University of Hong Kong. His previous gifts to Princeton include the establishment of a senior lectureship and study fund in jazz, which expanded the University's ability to support performances and conduct research and teaching in this uniquely American art form. He also created the Harold H. W. Lee Scholarship in honor of his father, who inspired his love of jazz, and has provided essential funds for, among other things, Annual Giving and the arts at Princeton. His gifts in support of the arts include naming three spaces—the jazz studio, the digital recording studio, and the rehearsal and performance space—in the new music building in the Lewis Center for the Arts complex.
Lee is a private investor based in Sydney, Australia. He is also a board member of a number of non-profit and for-profit organizations and corporations in Hong Kong and Australia involved in music, education, philanthropy, real estate, and media. A Princeton trustee since 2014, he is a member of the advisory council of the Lewis Center for the Arts. His service to Princeton includes membership on the Aspire campaign executive committee, volunteering for Annual Giving, and co-chairing the Capital Leadership Committee.