For Ukrainian refugees traveling from Poland to Germany, Henry Posner III '77's train awaits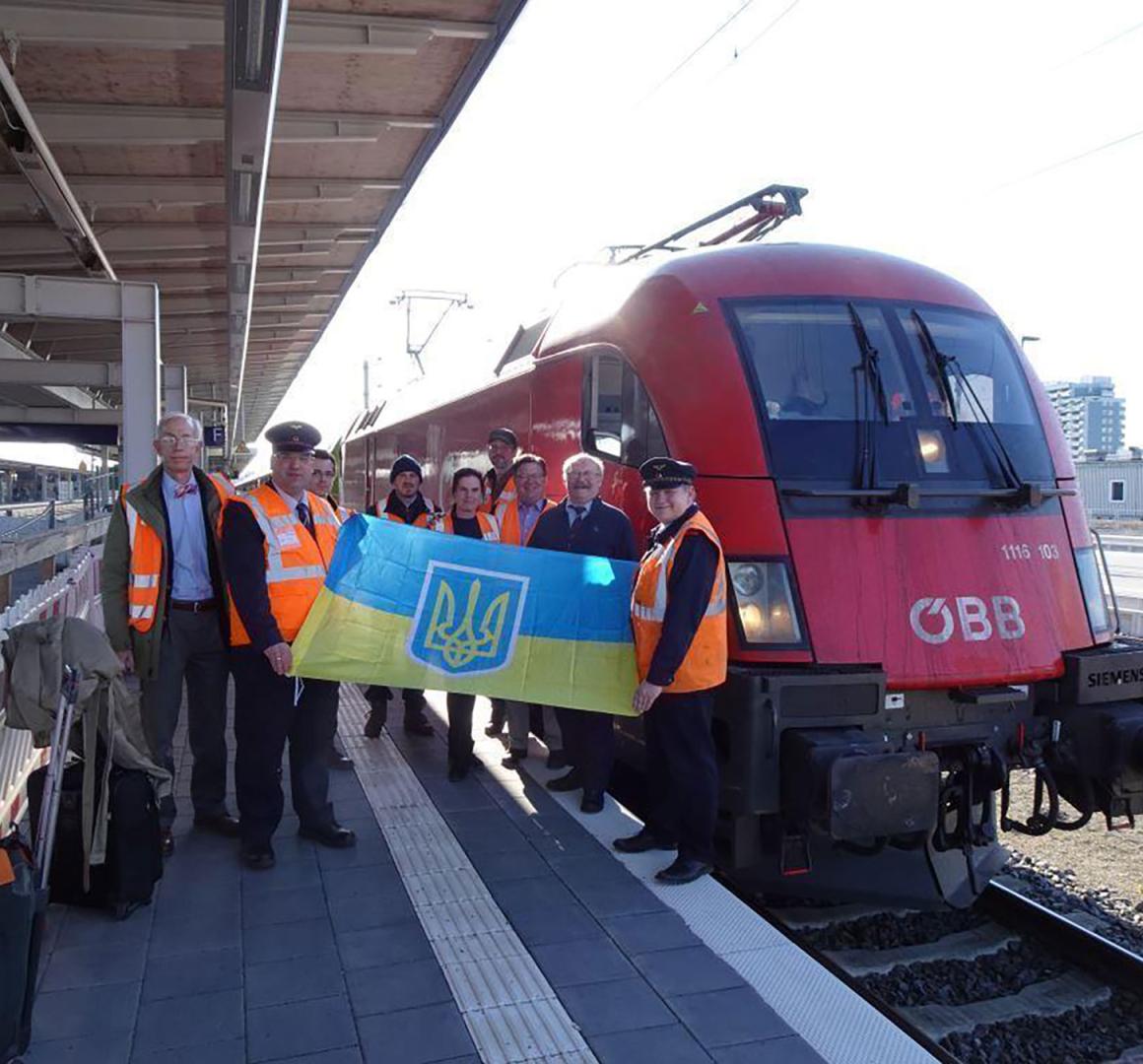 RDC employees proudly pose with the Ukrainian flag as they await their passengers. Photo courtesy of Henry Posner III
On March 12, 2022, Henry Posner III '77 reported for work at 9 a.m. in his trademark bowtie. But on this day, the self-described railway worker donned a reflective safety vest and work boots as he prepared to make history. Just days earlier, a holding company with several railways owned by Posner, called RDC Deutschland, entered into a contract with the German government to help transport Ukrainian refugees from the Polish border into the country's interior.
"Unbelievable, but here we are," Posner wrote in the company's internal newsletter. "History comes at you on short notice."
Every morning since March 10, RDC passenger trains have stood waiting at the German border station of Frankfurt-Oder for hundreds of Ukrainian refugees who arrive aboard buses and trains after untold hardship. Most have been traveling for days on end and are primarily women and children, as Ukrainian men have remained to fight the Russian onslaught ravaging the country since the Feb. 25 invasion. During Posner's voyage, where his Russian-speaking skills were dusted off and put to use, 480 souls were transported three hours away to Hanover, a town located between Berlin and Hamburg that serves as the central processing center. Posner estimates approximately 500 refugees per day have been carried along his line to safety. These trips, which will continue indefinitely, can accommodate up to 600 people per day.
Despite the trauma and the displacement implicit in these passengers' ordeals, Posner recalls "oasis of calm," about the day. Before passengers settled into their seats, German aid workers passed out lunch, coffee, tea and coloring books for children.
Posner's RDC employees approach their jobs on this route with enthusiasm and respect. Conductor Martin Pavlik, who counts Ukrainian among his nine languages, greeted each rider as the train chugged along, carrying his interlocutors ever-nearer to their once-unthinkable destinies. "I prepared for this trip in detail and thought about what these people need in terms of a message," Pavlik told the newsletter. "As the first German officials they meet here, we need to build trust and to give them some security. We want them to catch their breath and not panic." As Pavlik walked the train, he was greeted with gratitude and, occasionally, war stories. A 72-year-old grandmother traveling to Munich with her four grandchildren embraced him and told of a harrowing five-day stint in a Kharkiv metro station where food was scarce and tears were plentiful. Safely in German territory, she was grateful that her journey was almost over.
At Hanover, the group was received by German officials who helped the refugees get settled or to travel to their next destination, if they had one.
"War in Europe is not in the business plan, nor was COVID-19," says Posner in an interview with Princeton International. But so far, says Posner, the company has navigated adversity and come out stronger for it: "We really do function kind of like a family," he says.
Posner who returned home to Pittsburgh, Pa., the day after his journey, was struck by the need for more Ukrainian and Russian speakers aboard these trips. His wife, Anne Molloy, who serves on the University's Jewish Studies program's Advisory Board, recalled that Rabbi Emeritus Walter Jacob from their synagogue, Rodef Shalom Congregation, had created a rabbinical school in Germany to reseed the contentment with rabbis after the Second World War. And now that school, Abraham Geiger College, has found five volunteers to aid with communication between train staff and the riders.
"I'm just very proud to have been there on that day," says Posner. "And our people are very proud to be doing this. They really benefit from the accolades they are receiving from compatriots elsewhere in the railway world. For them to get support from other railway people in other countries is kind of like getting support from people of your religion from a different country."
In addition to the U.K., Belgium, Germany, the United States, and France, Posner's railway interests also extend into Peru. And so do his philanthropic efforts: This August, for the third time, Posner and other Class of '77 alumni will ride his rails to distribute wheelchairs throughout the Peruvian countryside as part of its Reunions class project.
This story was originally published on the Princeton International website.