Young Alumni Trustees
Young Alumni Trustees
Young Alumni Trustees (YAT)
Each spring, one member of the graduating senior class is elected to serve a four-year term on Princeton University's Board of Trustees. He or she joins the three other Young Alumni Trustees (YAT) on the Board, who were elected during their respective senior years. The current Young Alumni Trustees are Morgan Smith '21, Jackson Artis '20, Sarah Varghese '19 and Myesha Jemison '18.
The Young Alumni Trustee position was created in 1969 to ensure that the board would always include four members with recent experience as undergraduates. As explicitly stated at the time and reaffirmed ever since, Young Alumni Trustees have the same rights, powers and duties as all other trustees and take the same oath to "faithfully, impartially and justly" perform the duties of the office of trustee.
The most effective trustees are those who have open minds, who are willing to work hard, and who are interested in finding constructive solutions to the challenges facing the University. A trustee must be willing to take into account all sides of an issue impartially and to speak candidly on an issue, even if it involves a particularly controversial topic. Trustees must be able to consider all evidence and have an overarching commitment to arrive at the best decision for the University.
Young Alumni Trustees have the same rights, powers and duties as all other trustees and take the same oath to "faithfully, impartially and justly" perform the duties of the office of trustee. Further information about the Board of Trustees and its current members can be found here.
As they have graduated recently, the Young Alumni Trustees are able to provide a perspective on the issues before the Board informed by their experience as students and their knowledge of the needs, concerns and interests of the current generation of Princeton undergraduates. This is not the same, however, as representing the student body or advocating for a particular constituency or point of view. Trustees who arrive on the board having already staked out positions on issues without access to full information can undermine both the workings of the board and their own effectiveness if they are perceived as beholden to a position.
Each trustee is shaped by his or her own experiences, which is why the election ballots provide biographies of the candidates; however, by long-standing policy, candidates in the Young Alumni Trustee election are not permitted to campaign for election as they do not run on particular platforms or take positions on specific matters of University policy.
It bears repeating that the board has a long history of benefiting greatly from trustees who bring intelligence, curiosity, integrity and a deep commitment to Princeton to their service on the board, and from the candor, trust and mutual respect that characterize trustee discussions. In the board's experience, partisanship detracts from this sense of shared responsibility and thus is detrimental in both the election process and participation in the board.
The trustees have delegated responsibility for administering the alumni trustee elections to Alumni Engagement. The election process has been designed to identify and elect candidates who will be effective as individual trustees, and who will contribute to the effective working of the board as a whole.
Enrolled members of the senior class are eligible to vote in the primary election, and enrolled members of the junior and senior classes and members of the two most recently graduated classes are eligible to vote in the general election for Young Alumni Trustees. While Young Alumni Trustees are elected by a defined subset of the alumni body, their "constituency" on the board is not their electorate, but the University as a whole.
For more information, contact Cathy Phillips at cathyphillips@princeton.edu.
Eligibility
All members of the senior class who successfully complete the requirements for graduation from Princeton University are eligible for election as Young Alumni Trustee. No individual who continues as a student at Princeton University or returns as a student to Princeton University after graduation of his or her class, or who becomes a member of the faculty or staff or receives a salary under any University program, is eligible to serve as a Young Alumni Trustee.
2021 Young Alumni Trustee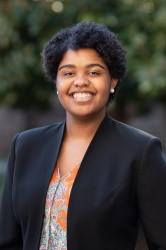 Morgan Smith '21
Morgan Smith '21's varied campus experiences — ranging from a student worker with the Office of the Dean of Undergraduate Students, a member of Black Arts Company: Dance, a cohort leader for the Vote100 effort, a barista with Coffee Club, and president of Whig-Clio — guided her decision to seek election as a Young Alumni Trustee. "I have lived experience in wanting to see the institution I care about change over time for the better. I was the first Black president of Whig-Clio, what was once an elite, exclusive institution within an already elite institution, and have since been inspired to ask what stands in the way of other 'firsts,'" said Smith. "The Board of Trustees has the decision-making capacity to ensure that Princeton is a place that fosters firsts through centering equity and inclusion."
A concentrator in the Princeton School of Public and International Affairs (SPIA), Smith's other campus activities include being a member of the Campus Life Leadership Council, the Princeton Association of Black Women and the SPIA Student Advisory Committee.
"It is because of these experiences that I know I have the range and depth to serve well as a Young Alumni Trustee," she said.
In the summer of 2019, she served as an ombudsman/legal intern for Children's National Hospital in Washington D.C.; in the summer of 2020, she was a judicial intern for Chief Magistrate Judge Cheryl Pollak '75, United States District Court, Eastern District of New York.
Post-Princeton, she will be a Project 55 Fellow with Chicago Volunteer Services as a child representative coordinator.
Through Vote100, Smith said she has seen an increasingly more active campus in terms of civic engagement and politics, and due to the pandemic, an opportunity to be imaginative and to reconsider "normal" for Princeton.
"We have all had to work through a pandemic under a looming shadow of loss, grief, and constraint. Many of us are hoping to get back to normal at Princeton – some of us have yet to even see what normal looks like at Princeton," Smith said. "During a time of such upheaval, there is also an opportunity to do better." "As a Young Alumni Trustee, I know I can listen carefully to evaluate the way the University meets the needs of faculty, staff, and students. When I think of all that has been poured into me these past four years, and not just by fellow students, but by staff and faculty as well, I feel empowered to serve past, current and future generations of Princetonians."
Primary Election Schedule
Thursday, February 10, 2022, 12:00 p.m. ET
INFORMATION SESSION
Julis Romo Rabinowitz Building, Room 399
Hilary Parker, Vice President and Secretary of Princeton University, will discuss the role played by Young Alumni Trustees and how the nomination and election processes work.
All eligible candidates are required to attend an information session. If you are unable to make this meeting, you must schedule a make-up session. Please register in advance.
Thursday, February 17, 2022, 5:00 p.m. EST
PETITIONS DUE
The petition for your name to appear on the primary ballot, which must be signed by 50 members of the senior class, and biographical information must be submitted by 5:00 p.m.
Tuesday, March 1, 2022
Online voting begins for primary election (Class of 2022 only)
All seniors will receive an email announcing the primary election.
Thursday, March 10, 2022
Online voting ends for primary election at 5:00 p.m. EST
Friday, March 11, 2022
Primary election results announced
The results of the primary election will produce three candidates for Young Alumni Trustee general election from the Class of 2022.
General Election and Results
Tuesday, April 19, 2022
Online voting begins for general election (Classes of 2020, 2021, 2022 and 2023)
All voters will receive an email announcing the general election with a link to the election portal.
Wednesday, May 11, 2022
Online voting ends for general election at 5:00 p.m. EDT
Tuesday, May 17, 2022
Election results verified by the Deputy Vice President for Alumni Engagement, a designated member of the faculty and a designated member of the Board of Trustees. 
Friday, May 20, 2022
2022 Young Alumni Trustee announced at the Annual Meeting of the Alumni Council
Current Young Alumni Trustees
Ms. Morgan Smith '21
Mr. Jackson Artis '20
Ms. Sarah Varghese '19
Ms. Myesha Jemison '18
Past Young Alumni Trustees
Mr. Achille Tenkiang '17
Ms. Azza Cohen '16
Mr. Tumi Akinlawon '15
Mr. Brian Reilly '14
Mr. Kanwal Matharu '13
Ms. Angela Groves '12
Ms. Aku Ammah-Tagoe '11
Mr. F. Josh Grehan '10
Ms. Elizabeth A. Dilday '09
Ms. Meaghan P. Petersack '08
Mr. James Williamson '07
Mr. Brady P. Walkinshaw '06
Mr. Matthew J. T. Margolin '05
Mr. Rishi S. Jaitly '04
Mr. Olivier Kamanda '03
Mr. Charles H. Brown '02
Mr. Jin H. Kim '01
Mr. Spencer B. Merriweather, III '00
Mr. Brian C. Johnson '99
Mr. Jeffrey S. Siegel '98
Ms. Sarah E. Stein '97
Mr. George T. Whitesides '96
Ms. Sejal Shah Gulati '95
Mr. Christopher D. Young '94
Mrs. Doris Lee Sohmen-Pao '93
Ms. Adrienne K. Wheatley '92
Mr. Hoon Cho '91
Ms. Michel N. Zhu Parris '90
Mr. Elgin R. Clemons '89
Ms. Cecilia Rey Hallisey '88
Mr. Todd A. Cox '87
Mrs. Mary B. Tabor Engel '86
Ms. Jocelyn E. Russell '85
Mr. Timothy C. Wu '84
Ms. Tiffany W. Bluemle '83
Mr. Joel L. Achenbach '82
Ms. Lisa S. McGovern '81
Ms. Anne C. Mackay-Smith '80
Dr. Armistead C.G. Webster '79
Mr. Robert A. Connor '78
Kenneth Offit, M.D. '77
Ms. Nancy B. Peretsman '76
Mr. Aaron Harber '75
William H. Frist, M.D. '74
Dr. Marsha H. Levy-Warren '73
Eric L. Richard, Esq. '72
The Rev. Dr. Eugene Y. Lowe, Jr. '71
Joseph Julnes Dehner, Esq. '70
Brent L. Henry, Esq. '69
Richard W. Cass (3 yr. term-elected in 1969) '68