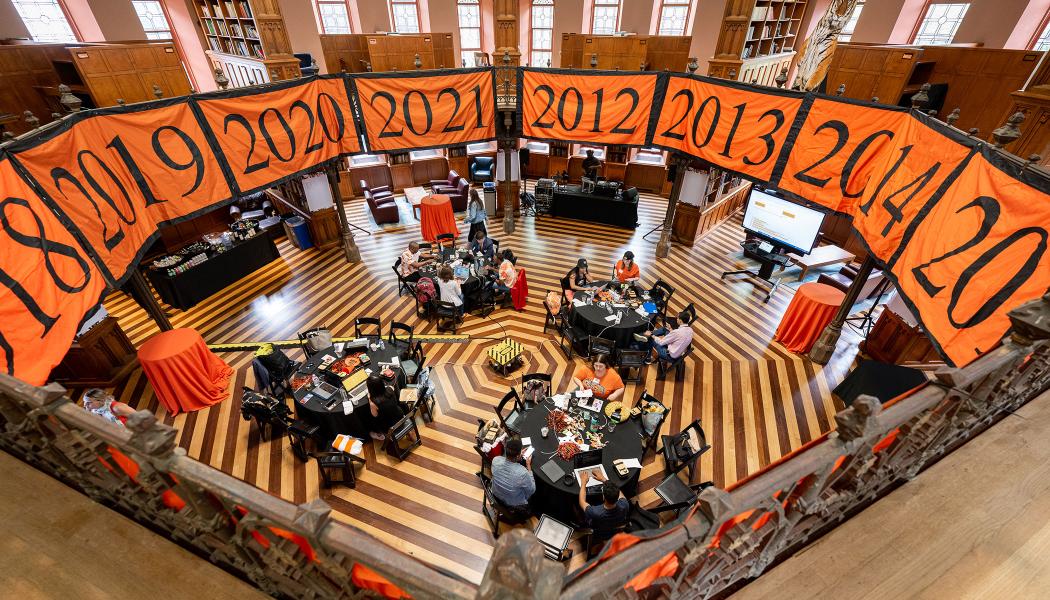 Photo by Sameer A. Khan
Annual Giving BootCamp builds momentum for final weeks of campaign
Just three weeks after Reunions, a contingent of Princeton alumni returned to campus for a unique in-person gathering. In the cozy confines of Chancellor Green, beneath a circle of giant orange class banners, members of Princeton's 10 most recent alumni classes volunteered their Saturday to boost participation in this year's Annual Giving campaign, which concludes on June 30. The all-day "AG BootCamp" for alumni volunteers was also the final day of the Tigers Together Challenge, which promised a bonus to the participating classes if they could inspire an additional 500 recent alumni to contribute to AG.
Seated in clusters near an imposing Tiger cutout and a giant leaderboard that tracks the day's progress, alumni huddled over laptops, chatted and pecked texts on their phones and made new friends while music filled the library.
"I thought it was important to be here," said Andrew Sun '17, who flew in for the event from California. "So much of our time as undergrads was touched by AG, and this ability to give back is a great opportunity to call classmates and share the message of why their contribution is so important, no matter what amount they give. It is a team effort, and at BootCamp, you really do feel those Tiger vibes and the Princeton spirit."
AG BootCamp helps recent alumni (from the classes of 2012 to 2021) sharpen their peer-to-peer fundraising skills, provides an opportunity to give back to the University and sparks friendly competition among the classes.
"There's always a friendly, competitive spirit of each class wanting to push each other to do better," said Kishan Bhatt '17 *21, a vice chair of the Annual Giving Committee. "But that's not what really drives us. It's to help the student experience become even better than it was for us."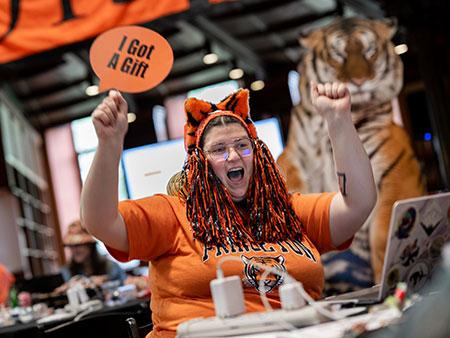 Annual Giving funds, which are unrestricted, allow the University to seize new opportunities, respond to unexpected challenges — such as the pandemic — and support the pioneering no-loan financial aid program that makes a Princeton education possible for all admitted students.
"I was on full financial aid, so in every conversation I have with another alum during BootCamp, I tell them this is such a blessing," said Chinwendo Owhochukwu '21, "but even students who were not on financial aid benefit from AG."
"Princeton opened up a lot of opportunities I wouldn't have had otherwise, and the financial aid program was really instrumental for my family," said Peter Colvin '21. "So for the time being, while I'm in law school and can't contribute a ton myself, being a part of BootCamp is another way I can help pay it forward for the next classes."
Reunions, held in person in May for the first time since 2019, also helped remind some alumni of what they had missed during the past two years.
"Being able to be back on campus three weeks ago was just another reminder of the value of that personal connection," Sun said. "I think the thing that I heard most from classmates at the end of the Reunions weekend was 'I didn't realize how much it would mean to be in person.' I think it's definitely helped in terms of bringing people back into the Princeton fold who might have been away from it."
Armaan Valvi '20 was inspired as well. "Reunions and celebrating my class's graduation rekindled that passion and the love that I have for Princeton," he said. "Because I live nearby, I could easily come in and help for a few hours. I see this as an opportunity to give back in a way that I think is meaningful."
As the clock counted down late on Saturday afternoon, Annual Giving BootCamp totals edged past the Tigers Together Challenge goal of an additional 500 gifts — ultimately recording 536 — unlocking the bonus funds for each class. The accomplishment will help build momentum for the closing surge of the AG campaign, but the event's success went beyond the scoreboard.
"I think my first BootCamp was in 2013, and it's been a great way to be able to give back, reconnect with friends and meet new ones," said Adlai Pappy '12, participation co-chair of his class's AG efforts and a member of the Annual Giving Committee. "I joke that a lot of my calls aren't successful, but every conversation ends up with a good laugh, especially with some of my older friends. I think BootCamp is a great way to stay connected, and I love the camaraderie."
The 2021-22 Annual Giving campaign ends June 30.