A generous bequest from a member of Princeton's Class of 1946 will provide essential support to the Princeton University Orchestra and the Princeton University Glee Club.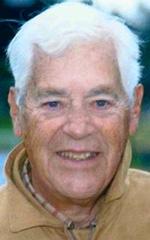 The J. Mahlon Buck, Jr., Class of '46, Endowment will, among other uses, allow the two groups to make more frequent domestic and international tours, help fund production costs for performances, and enable the ensembles to expand their library of instrumental and choral scores.
"The University is deeply grateful to Mr. Buck and his family for this gift," said President Shirley M. Tilghman. "It really has two beneficiaries—Princeton's exceptionally gifted student-musicians and the audiences who will have the pleasure of seeing and hearing them perform."
Buck, who helped build pharmaceutical distribution businesses and was an owner of the Philadelphia Phillies baseball team, died in 2011 at age 85 in Haverford, Pa. An enthusiastic, lifelong musician who came from a highly musical family, he learned to play many instruments, although piano and voice were his first loves. As an undergraduate, he was a member of the Glee Club as well as the Nassoons a cappella group and the Triangle Club, Princeton's renowned musical-comedy troupe. In later years, he and his wife Elia loved and supported the arts in their city and were recognized as leading patrons of the Philadelphia Orchestra for many years.
"It's clear that music was very important to Mr. Buck," said Professor Steven Mackey, a Grammy-winning composer and musician who chairs the Department of Music. "Music plays a part in all of our lives, and its study and performance has long been deeply embedded in Princeton's culture. This support from the Buck endowment helps to carry on this tradition, and will give our students more opportunities to deepen their abilities while sharing their talents with the world."
Both ensembles attract "varsity musicians"—Princeton's top singers and instrumentalists. The Glee Club, which began in 1874 with a handful of students, now numbers more than 80 singers. The orchestra, formed in 1896, is an ensemble of more than 110 musicians. Grammy nominee Gabriel Crouch, a former member of the United Kingdom's King's Singers, has directed the Glee Club since 2010; Michael Pratt has led the orchestra for 35 years in performances of the many challenging works in its repertoire. Both Crouch and Pratt are senior lecturers in the Department of Music.
The fund will expand the ensembles' ability to tour, adding domestic trips and enabling all students to participate in international tours regardless of their ability to pay.
"The tours provide a bonding between students like nothing else, one that spills over into and elevates music making," Pratt said. "These projects often take us to some of the great locations of musical history, the homelands of the composers whose music is central to our educational mission. The experience of that music is forever altered after that. The term 'life-changing' is one heard not infrequently from our alumni."
Crouch agreed, emphasizing that the benefits extend well beyond the students' years at Princeton. "The world hears Princeton music at its absolute best whenever we perform abroad," he said. "But as wonderful as this is, the greatest joy of completing a tour comes in knowing that the students have ignited new inner resources and built new relationships with each other that will sustain their entire lives."
Tours also reach a wider audience of prospective students and let alumni around the world experience Princeton students' musical skill, the conductors said.
The fund will support production costs for performances that require elaborate staging, guest soloists, performance workshops, and master classes. It will permit the library to acquire up-to-date performing editions, and it will pay for administrative assistance that will free up the conductors to focus their time on musical preparation and teaching.
In addition, the fund will provide operational support for Sinfonia, an orchestra composed of the many excellent musicians for whom there is no room in the Princeton University Orchestra, and the Chamber Choir, a small vocal ensemble that has some overlap with the Glee Club but sings a repertoire suitable for 20 voices instead of 80. The fund will enable all of the ensembles to record more of their performances.
Buck was a loyal supporter of Princeton over the years. He, his wife, and their family made generous gifts to the arts, athletics, academic programs, and Annual Giving. Their children, Caroline Buck ("Cackie") Rogers '77 and James M. ("Jim") Buck III '81, are Princeton alumni, and members of the next generation are following in their footsteps.
"Dad loved 'all things Princetonian,' but he was never happier and more connected to his alma mater than when he played music and sang with his close friends, many of whom he came to know as an undergraduate," Jim Buck said. "He credits the University with fueling his lifelong interest in music, and our family is forever grateful for this gift he shared with us all."
Buck, who enrolled in Princeton in the summer of 1942 at age 17, enlisted in the Army in 1943, serving in the 92nd Field Artillery Division, which fought in the Battle of the Bulge. He returned to Princeton in 1945, earning his degree in economics in 1948 but retaining his original class affiliation.
Immediately after Princeton, he joined his family in Smith Kline & French's wholesale drug distribution business. In 1965, he and his brothers, Bill and Whip, bought SK&F's distribution arm and renamed it The Drug House Inc. He was chairman when the business was sold to Alco Standard in 1977, and he became chairman of the Alco Health Services Division, which eventually became AmerisourceBergen Corporation, one of the nation's largest pharmaceutical distribution services providers. Upon the sale of the drug distribution business to Alco, Buck and his brothers formed TDH Capital Corporation, and it was soon thereafter that they joined together to purchase a minority stake in the Phillies. A lifelong dream of theirs was realized in 2008 with the team's second-ever World Series championship.
Buck's bequest was part of Aspire, the University's five-year fundraising campaign that concluded on June 30, 2012, after raising $1.88 billion.