Look for flames rising jubilantly on Cannon Green and Tiger cheers roaring from spectators when Princetonians gather around a Big Three championship bonfire at 7:30 p.m. on Sunday, Nov. 21, to salute football victories over rivals Harvard and Yale.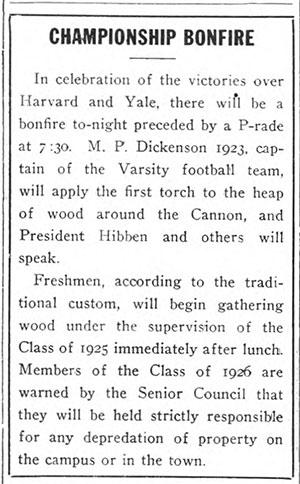 The entire 2021 bonfire can be viewed here.
First held for Princeton baseball victories in the 1800s, the bonfires became associated with the autumn season as football became more popular. According to Princeton Athletics, the 1889 football team, led by All-America quarterback Edgar Allan Poe, defeated both Harvard and Yale on their way to a perfect season — giving birth to a tradition that received its own chapter in football history during the 150th anniversary of the sport. Since then, there have been some 20 recorded events, including a stretch of seven from 1950 until 1966. The most recent football bonfire was held in 2018.
Archival film footage depicts some of the excitement from the infernos of 1923 and 1986. A silent, black-and-white movie captures the carting and building of the 1923 pyre. The Class of 1986 created a video yearbook that lets alumni relive the 1985 season's bonfire.
Originally it was the job of freshmen to gather the needed wood and kindling (later crates, fences, and even row boats and pianos), but at the most recent bonfire in 2018, all four undergraduate classes helped build the pyre.
The bonfire is a revered, if sporadic, tradition when Princetonians bask in an orange glow that warms hearts for years to come. Enjoy "goin' back" to these highlights from previous bonfire celebrations.
For those unable to come to campus, you can watch the bonfire via live stream beginning at 7 p.m. on Sunday, Nov. 21. Watch the live stream.
Blazes of Glory
It may be chilly in November but the 2012 bonfire warmed Princeton students ringing Cannon Green in celebration of the football team's victories over Harvard and Yale.
Photos courtesy of Mudd Manuscript Library and Princeton University Office of Communications