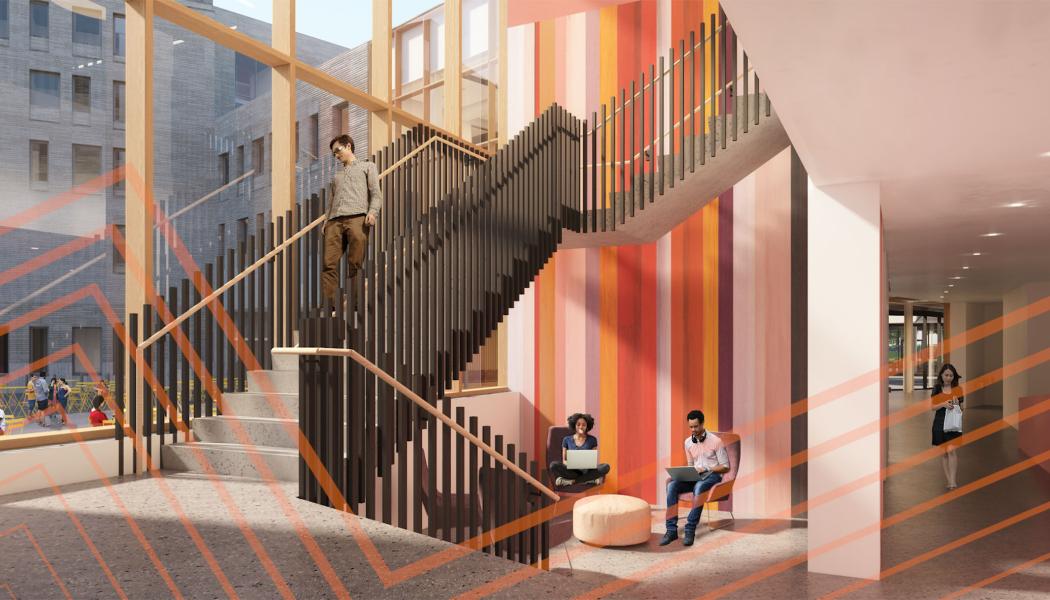 Rendering by Deborah Berke Partners
Major gift from Jaimie and James Yeh '87 names residential college and supports undergraduate expansion
James Yeh '87 and his wife, Jaimie Yeh, have made a major gift in the Venture Forward campaign, naming one of the new residential colleges at Princeton University. Yeh College, comprised of four dormitory halls and previously referred to as New College East, will open in August to welcome returning students and the Class of 2026.
"This extraordinary gift propels Princeton forward in its mission to offer a transformative educational experience to more students who can then make a positive impact on the world," said President Christopher L. Eisgruber '83. "We are thrilled that Yeh College will join the tapestry of names that are a permanent part of our campus, and I am deeply grateful to Jaimie and James Yeh for their commitment to the Venture Forward campaign and their vision for the future of Princeton."
Yeh College will become Princeton's seventh residential college. The adjacent New College West will become the new home for students and staff from the former First College. Situated along Elm Drive near Poe Field, the new buildings will advance one of the Princeton's highest strategic priorities: an expansion of the student body so that additional high-achieving students will realize the benefits of a Princeton education, enhance the diversity and vitality of the campus community, and contribute to society after they graduate.
"When the University announced that it would seek to expand the number of students who could be offered a Princeton education as part of the Venture Forward campaign, we were immediately excited to lend our support," said James Yeh, a trustee of the University and one of the three co-chairs of the Campaign Executive Steering Committee for Venture Forward. "This process has been so rewarding because many other members of the alumni community have come together, inspired by a vision of Princeton's future, and collectively made this expansion happen."
"One of the best things about the residential college system at Princeton is how it sets students up for success by providing them with a sense of community from the second they step onto campus," Jaimie Yeh said. "The new colleges are designed to maximize that experience, with common spaces that help build upon that community and invite students to spend time together."
The residential colleges have helped define campus life at Princeton since the early 1980s, and they remain essential to the University's mission and distinctive educational model. The colleges — which currently include Butler, First, Forbes, Mathey, Rockefeller and Whitman — provide collegial and collaborative learning environments that are integral to student development and support an inclusive campus community. Following the opening of Yeh College and New College West, the University will begin construction of Princeton's eighth residential college, Hobson College, which will be built on the site of First College.
"The names of our residential colleges become part of the Princeton vernacular, part of the campus identity, and ultimately, part of the University's history," said Jill Dolan, dean of the college. "I am so pleased that students will make Yeh College their Princeton home beginning this fall. Yeh College represents everything we desire for our students' collaborative experiences in their living and learning residential communities. I so look forward to inviting all our students to enjoy the new college's warmth and inclusivity."
Yeh College and New College West will share some important features, such as dining areas and common spaces. Their location extends the University's residential district southward to a point where the more formal landscapes of the central campus lead into the natural landscapes of Lake Carnegie. The proximity to other residential colleges — Butler, First and Whitman — and the recreational open space on Poe and Pardee fields will support interaction, engagement and a strong sense of undergraduate student community. Deborah Berke Partners, an architecture firm known for inventive and enduring buildings and spaces that promote community engagement, designed the new residential colleges.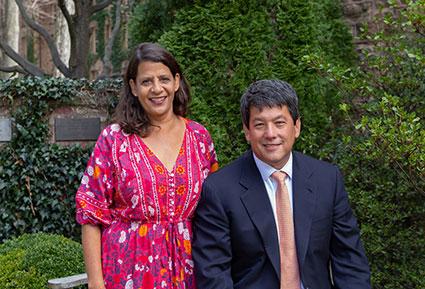 James Yeh recently retired as president and co-chief investment officer of Citadel, a leading global financial institution with headquarters in Chicago. He was one of Citadel's first employees and spent more than 25 years in the firm's leadership. At Princeton, he earned an A.B. in physics with a certificate in engineering physics, and then received a Ph.D. in physics from University of California-Berkeley. In addition to serving as a University trustee and co-chairing the Venture Forward campaign, he is a member of the Asian American Alumni Association of Princeton and the Alumni Schools Committee. Jaimie Yeh earned a bachelor's degree in physics from the University of California-Berkeley and a master's in physics from the State University of New York at Stony Brook.
At Princeton, James and Jaimie have previously made gifts to support theoretical science, capital projects and Princeton Internships in Civic Service, among other initiatives.
"I am the son of immigrants, and the local Princeton alumni I met when I was a high school student in Alabama welcomed me, looked after me and encouraged me to get the most out of my Princeton education," James said. "I can never truly pay that debt back, but 40 years after I stepped on campus, we are inspired to do our part for the next generation of students, just as others did for me. I hope the students who live in Yeh College have transformative experiences, build friendships, discover their passions and develop their talents so they can make a positive impact on the world."
"Princeton changed James' life in ways he never could have imagined," Jaimie said. "There wasn't a large Asian or minority population on campus then, but the fact that he and others came here and had such a positive experience that they'd want to give back speaks volumes. For us, that's why it's so important to expand this opportunity to others, to give more students from all backgrounds the transformative Princeton experience that was so beneficial to James and so many others."
The University's strategic framework, adopted by the board in 2016, called for the expansion of the undergraduate student body by 500 students — an increase of approximately 10 percent. This enrollment increase, paired with Princeton's nationally recognized, need-blind financial aid program, will ensure that additional talented students from all backgrounds and sectors of society have access to a Princeton education.
The Venture Forward campaign, which launched in October 2021, supports the University's strategic framework, and its fundraising and engagement initiatives are aligned with the key focus areas of that plan: college access and affordability, financial aid, data science, bioengineering, the environment, American Studies, and other important areas of inquiry that characterize Princeton's commitment to the liberal arts.