For Linda Johnson '76, Annual Giving is always a big win for Princeton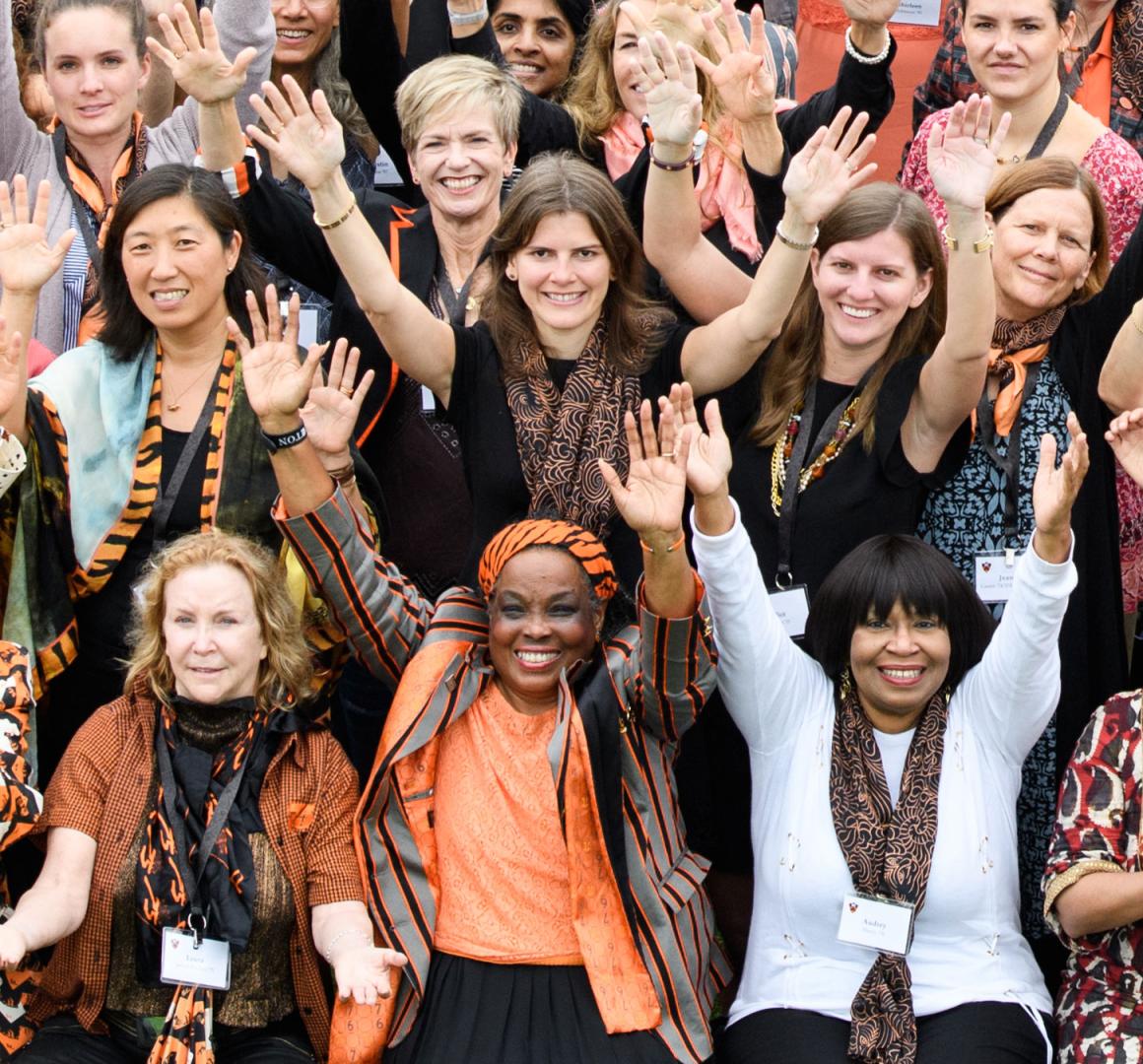 Linda Johnson '76 (front row, center) with fellow alumnae at the 2018 She Roars conference. Photo by Sameer Khan
When 17-year-old Linda Johnson '76 first set foot on the Princeton campus in the fall of 1972, she wept. In her case, it wasn't because moving into the dorms was the culmination of some childhood dream; it was because she was frightened. She was a woman, she was Black, and she was from Minnesota — all of which combined to make her feel especially alone when her father and older brothers dropped her off after the long drive from Minneapolis. "I wouldn't let them leave me the first day that I arrived," Johnson said, remembering how they stayed an extra night with her before driving her brother to his college in Georgia. "I didn't know anyone at Princeton, and I just didn't want them to leave me."
At that uncertain moment, Johnson never would have predicted the role that Princeton would play in the rest of her life, long after she graduated with a degree in psychology. Beginning with her class's fifth reunion, Johnson became more involved in the Princeton alumni community and emerged as one of her class's stalwart volunteers. From Reunions to Annual Giving to regional associations, Johnson transformed from that teenager who knew no one to an alumna who seems to know everyone.
"You know how they say it's six degrees of separation?" Johnson said with a laugh. "For me, it's four degrees, and then I'll get to the person that I need to get to. And I never accept no as an answer."
Exhibit A: The time she introduced herself to President Christopher L. Eisgruber '83 after he spoke to the Association of Black Princeton Alumni conference in 2014. At that time, he was planning a tour of the regions that included dates in the biggest cities — a list that did not include Minneapolis. "We had been advised that Minneapolis was too small, but I caught up with him after his speech, told him where I was from, reminded him that President Bowen would regularly come to Minneapolis and invited him to visit. He said yes, and we ended up with a restaurant full of Princeton alumni who travelled from Wisconsin, Iowa, North and South Dakota, plus all over Minnesota, to meet the president. There wasn't an empty seat."
Johnson wasn't always so assertive. While she had been an athlete at Princeton — participating in track, volleyball and basketball before the University began fielding women's varsity intercollegiate teams — she had a small circle of close Princeton friends. But her fifth reunion proved pivotal. When only a few of her friends returned, she opened up. "I met so many other people whom I didn't know when I was attending Princeton — people who had been there at the same time," she said.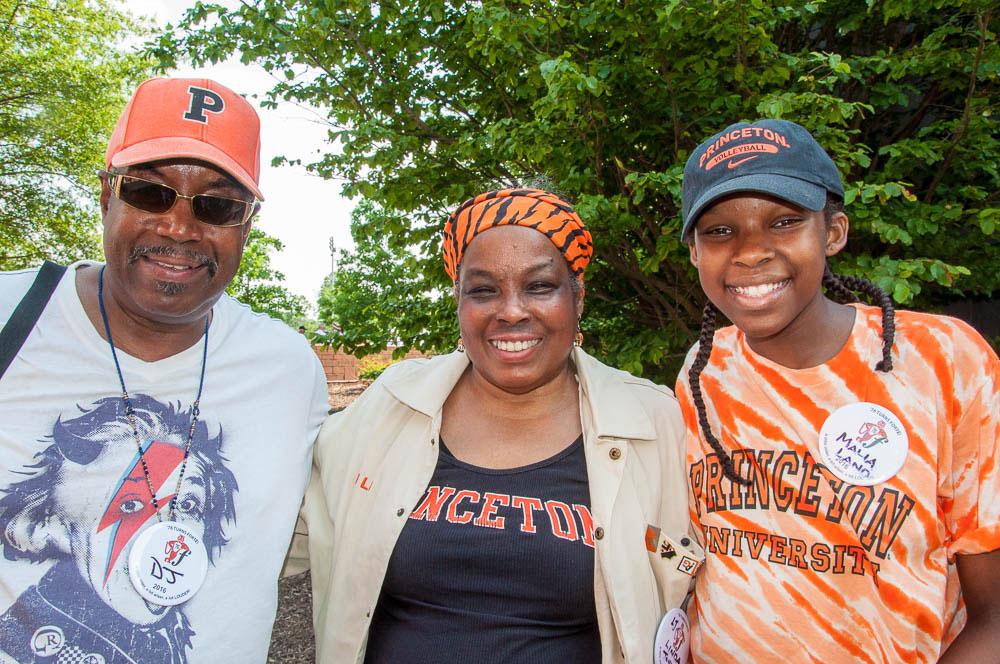 The experience set the template for all her subsequent alumni interactions and spurred her to get more involved. "I tell everyone: Don't just talk with your friends that you knew when you went there; talk with the people that you didn't know," she said. "Or sit down and eat with alumni who went there after you, or talk with the students that are there now. You can learn so much from them, and they can become your friends, too."
The Princeton community provided support as Johnson moved around the country for her career and family. When she relocated to new places like Virginia and California, regional associations provided warm welcomes. "I've moved to different places all over the United States, places where I didn't know anybody else besides my family," she said. "Going to the Princeton clubs always made me feel at home. Getting involved there and meeting new people from all different class years has been such a fruitful experience for me."
Today, she's a business consultant for Silicon Lake in Minneapolis, helping clients with business plans and recommending investors who might be interested in their ideas. She's developed organizational and strategic skills that have also proved useful to the alumni community. When her classmates were approaching their 40th birthdays, she suggested sending every member of the Class of 1976 a birthday card and invitation to a regional party. The class held seven simultaneous 40th birthday parties around the country. She also wrote 50th and 60th birthday emails to all of her classmates.
Annual Giving has been a specific focus for Johnson, and she currently serves as a solicitor for her class. "I was an athlete since I was a child, and I just like to win," Johnson said. "What I love most about Annual Giving is that every time someone gives back to Princeton, that feels like a win for me. I am all for participation in Princeton Annual Giving. And as a class representative for AG, I'm driven to do well for myself and my class. We want our class to finish in the lead."
The friendly competitiveness between classes is part of Annual Giving and part of the lifetime Princeton experience. But underneath that competitiveness, the all-for-one ethos helps amplify the University's mission. "Whatever I can do for Princeton, I do it," Johnson said. "I know so much more about Princeton than I did when I first came in '72. I am so much bolder now. However, every time I go back, I am so jealous. I wish I could attend now. I am envious of the students who are going to Princeton today. But I have Princeton friends all over the world, and I know when we get together again, we're going to hug each other and celebrate like we never left."
The 2021-22 Annual Giving campaign ends June 30.