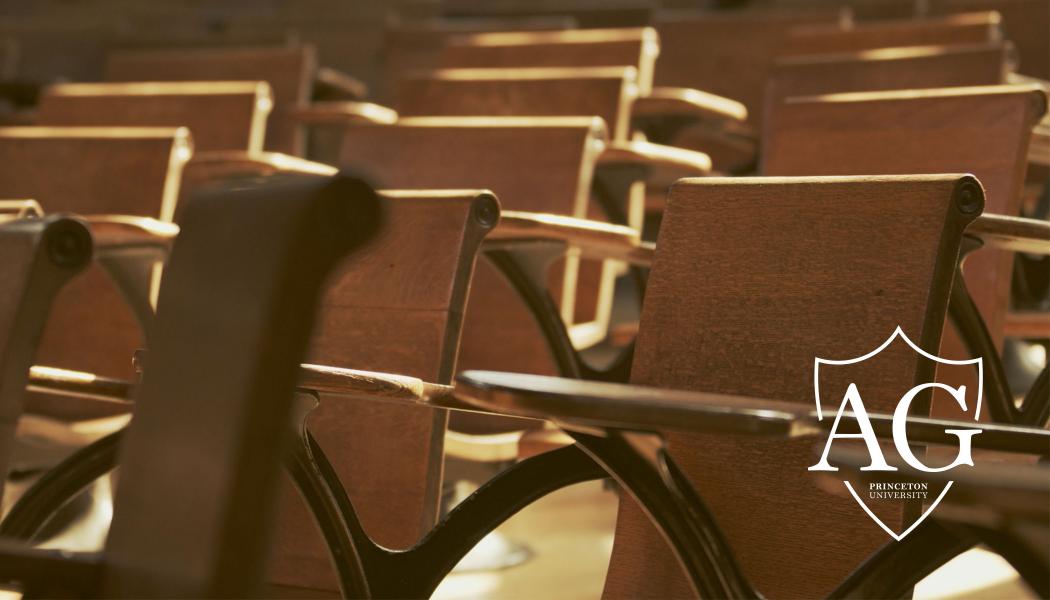 McCosh 50: Thanks to Annual Giving, tradition meets today in iconic classroom renovation
Wooden seats, creaking floorboards, decorative paneled walls. The raised dais flanked by chalkboards. Expectation charging the room.
A new video celebrates the past, present and future of McCosh 50 and reflects the growth and evolution of the University since the hall first opened its doors in 1907; it also thanks the generous alumni, parents and friends whose gifts to Annual Giving helped make possible recent renovations to the classroom.
With support from Annual Giving, the University has upgraded McCosh 50 for the 21st century. It now features the largest video screen in an academic building on campus. Acoustical ceiling panels allow better listening to the speakers who present from McCosh 50's dais, a new wood floor saves latecomers from squeaky entrances and new wooden chairs comfort listeners with padded seats.
In its 100-plus year history, McCosh 50 has hosted generations of Princeton students as they copied their professors' chalkboard equations in their notebooks, pondered in silence as they took exams, or listened to guest speakers — such as Albert Einstein, Thornton Wilder, T.S. Eliot, Robert Frost, Betty Friedan and Toni Morrison — share their ideas with the world.
The video captures how this beloved Princeton space holds all these memories.
Unrestricted gifts to Annual Giving go directly into the University's operating budget for the benefit of Princeton's students, faculty and programs. These flexible funds from undergraduate and graduate alumni, parents and friends allow the University to seize new opportunities, respond to unexpected challenges, and support a pioneering financial aid program that makes a Princeton education possible for all admitted students. The 2021-22 Annual Giving campaign concludes June 30, 2022.
Forward Together: A Century of McCosh 50
The Annual Giving video about McCosh 50 includes photos of the century-old hall and shots of Princeton students and activities across eras that capture both the timeless traditions and the evolution of the University since the 19th century. Those photos flash by quickly, so some of them are presented here with captions and context.
Right: Julian Zelizer, the Malcolm Stevenson Forbes, Class of 1941 Professor of History and Public Affairs