Q&A with Chris Olofson '92
Olofson leapt at the opportunity to become the new chair of the Annual Giving Committee at a crucial moment in Princeton's history.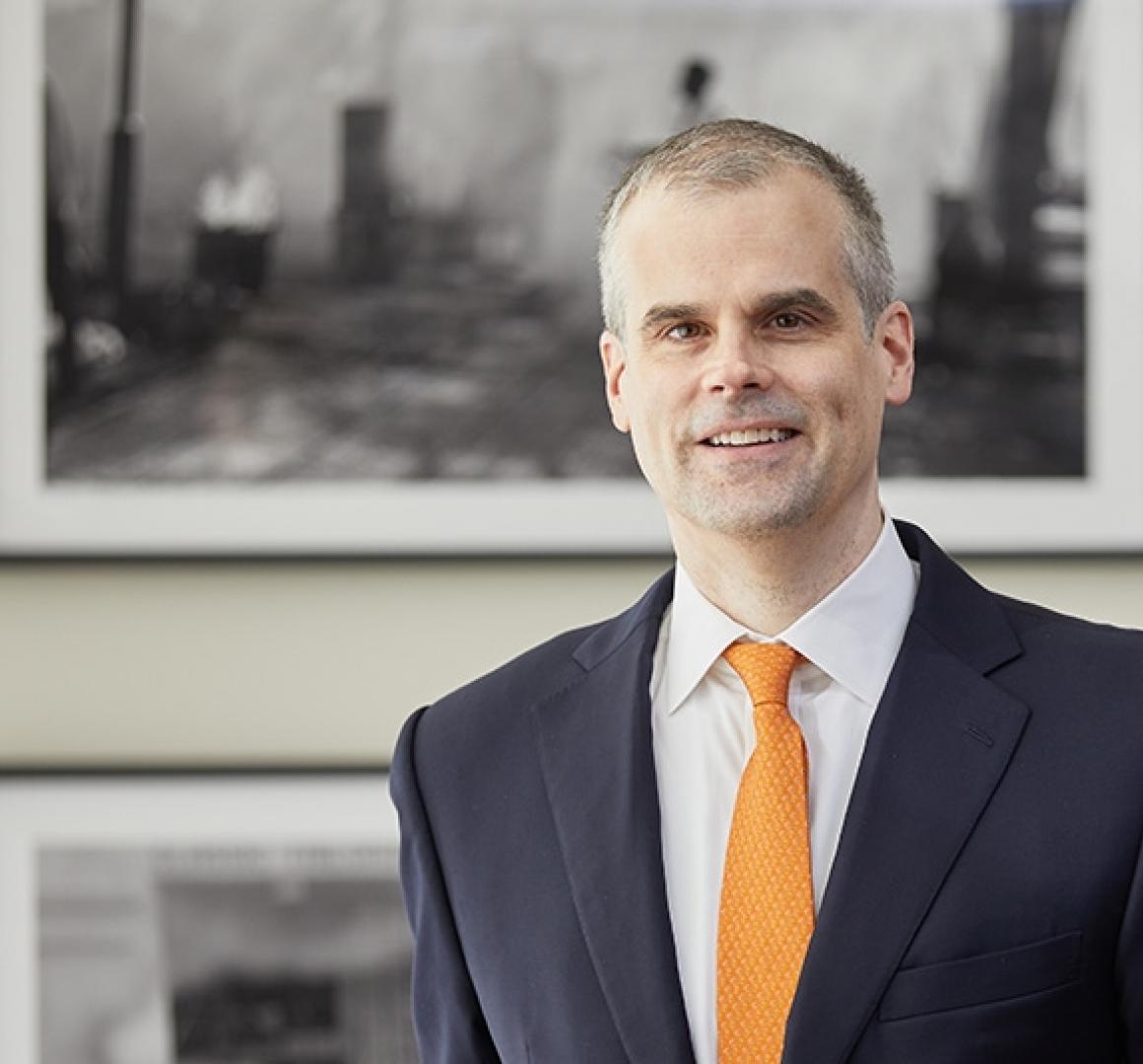 After more than a decade of alumni leadership service, Chris Olofson '92 leapt at the opportunity to become the new chair of the Annual Giving Committee at a crucial moment in Princeton's history. As the University and the world wrestle with the adversity of COVID-19, Olofson is leading AG "Forward Together," a focused effort to preserve and expand education opportunities for the next generation of Princeton students.
What's your Princeton story? How did you end up attending?
I grew up in Kansas City, Missouri. I went to the same small school from pre-kindergarten to 12th grade, graduating in a class of about 33 students. I was ready for a change of scenery. Different college representatives came through my high school and when the Princeton person made their presentation, I said, that's it. I was drawn to the beautiful campus — there were photo slides — the not-too-big and not-too-small size of Princeton's student body, the understanding that everyone had a senior thesis project, and the unexplainable sixth sense that it would simply be a great personal fit. Which it was. I was fortunate enough that I was admitted, and the rest was history.
Thinking back to your years as an undergraduate, is there a specific class that stands out simply for how difficult it was, a class that forced you out of your comfort zone?
While East Asian Studies was my primary interest at Princeton, some of my best memories of classes were taken from a semi-random selection of courses I tried just for experimentation with something new. My classes in the autumn of sophomore year spanned 20th century art, a course on French literature of the Ancien Regime, a class in the music department on Beethoven, and Chinese. The constant shifting among visual, written and aural made for a significant challenge, but ultimately an extremely satisfying one.
Princeton is very good at teaching critical thinking and good writing skills that can be applied in nearly any academic or professional interest. I studied Chinese intellectual history, which some might say doesn't have very much to do with what I ended up doing professionally, which is legal technology. Five years ago, after twenty-five years at a NASDAQ company, I founded a startup that develops proprietary software that helps attorneys do some very particular things. I actually just sold that business, but among the best parts of being my own boss was the freedom to adapt as quickly as desired in a changing marketplace. For me and for so many Princeton alumni, the ability to approach any sort of abstract issue in an orderly way was the most valuable skill I gained as an undergraduate.
It feels like some of those Princeton undergraduate courses you mentioned cultivated what became a real passion for art.
I collect contemporary photography and when I'm not doing Annual Giving, I'm on the advisory council at the Princeton University Art Museum. My collecting interests center on contemporary figurative or narrative work and include artists working in North America, Europe, Africa and Asia. Above my desk in Chicago now is a favorite piece — an edition of Johnny Cash's Boyhood Home, Dyess, Arkansas from artist Alec Soth's series, Sleeping by the Mississippi, a record of his trip down the Mississippi River and the places and people he encountered along the way.
You're the new chair of Annual Giving at a pivotal moment in Princeton's history. When did you decide that AG was something that you wanted to take on and what are your top priorities?
It was a great privilege to be asked by Vice President for Advancement Kevin Heaney, and I said yes on the spot. I'm honored to take the baton from Tim Kingston '87 and continue his work alongside the more than 3,000 volunteers who show up every year to amplify the importance of alumni participation in Annual Giving. I feel so passionately about our mission to make the Princeton experience available to as many students as we can and to provide them the best footing coming out of their undergraduate experiences that we can. This year, the University will launch a rebrand for Annual Giving, "Forward Together," which has the potential to strengthen our big, crazy orange-and-black family. Forward Together emphasizes what Princeton alumni share, which is a commitment to excellence in everything that we do, and equity, fairness, access and opportunity for every student who attends.
Because of COVID-19, we're all in the midst of an unprecedented circumstance that is impacting every aspect of our lives. How has COVID changed AG's priorities and importance, if at all, from where we were eight months ago?
We know that the University's revenues are down on several fronts. And we expect that the number of students receiving financial aid will go up, and the size of an average grant is going to go up. So from a financial perspective, I think there are few things more useful to a university than completely unrestricted funds that the president and the provost can direct where it is needed most. Culturally, which probably is of equal importance, I think the opportunity to support one another — not just as Princetonians, but as citizens — is a very integral part of the values of the University and of its alumni family. This year in particular — where people have been separated and it's been very stressful for a variety of reasons — to stand together to create a marker for better times ahead is an important dimension that I think resonates for a lot of alumni and certainly for me.
Every alumnus at some point asks themselves the question: Why should I give to my alma mater? Why do you give to Princeton?
I give to Princeton because I think Princeton engages the issues that are most important in society today. And I think of equal importance is how Princeton makes this extraordinary investment in students who will go on to do amazing things in a fashion that doesn't leave them with debt.
Not everyone who graduated from Princeton had the idyllic college experience, and their reflections of their time on campus might be mixed or even negative. As a leader for AG, how do you speak to alums who still might have complicated feelings about Princeton and invite them to reconnect?
Princeton has changed. Today's students have access to opportunities and resources which didn't exist before, and the University community has broadened significantly over time. We are a better representation of the world at large than we were when I was on campus 30 years ago, than would have been the case for my friend who was on campus 60 years ago. Among the great things about being a Tiger alum is that the door is always open. If you've been out of touch, try attending a regional University event or come back for Reunions once those in-person events return. You'll be welcome, and people would love to see you.
It's a softball question, but I always ask it because I love the variety of responses. What makes Princeton Princeton?
I think it's the sense of community. While you're there as a student, it's the small scale and the ability to really speak with top professors and scholars in one-on-one discussions and small classes. One of my favorite classes I took was just five students, with the leading person in that field teaching us — just an extraordinary opportunity to learn in a really concentrated environment that could not be a more beautiful place to spend time. As an alumnus, I think there's a very sincere care for the place that brings people together and instills a sense of friendship, duty and collective identity that really lasts your whole life.