Princetonians love to gather, and while the pandemic certainly impacted events across the regions and the world, it wasn't long before alumni figured out creative ways to stay connected, at least, online.
Masked Men
Leading up to its 55th reunion, the Class of 1966 organized a number of fun and engaging online events as they, like all other alumni groups, had to pivot to virtual programming. One of the most successful activities for the class was its "Who is that masked man?" email series in which class members were invited to submit identical photos of themselves masked and unmasked for their classmates to identify them. A later meeting revealed who the "masked men" were.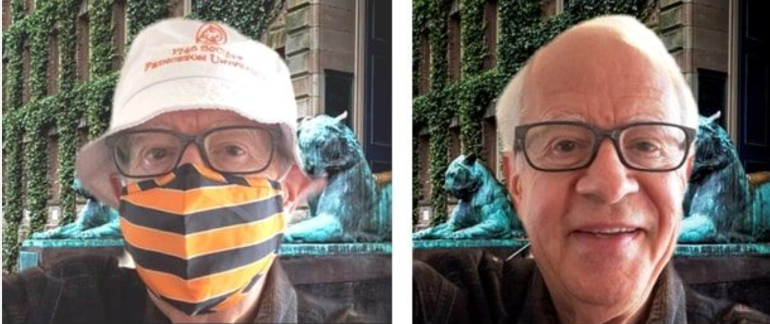 "You have to understand that at our age we all look the same masked," said Jon Holman '66, vice president of the class and pictured above. "We thought it was a bit of a lark, to be honest, in the beginning, but it turned out to be hugely popular; and interestingly enough, what was popular was the backgrounds of the classmates. People were interested in learning about who they went to school with."
Tasting Events
Right before the shutdown began, the Princeton Association of New England (PANE) had planned a number of in-person tasting events in April. "At first we only canceled them through May, thinking things will probably be fine soon after," said Raquel Frisardi '06, president of PANE.
Needless to say, she quickly realized that the pandemic was going to last more than a few weeks, so she considered the next best thing: a virtual wine tasting. Her favorite local wine store was promoting these types of events, and she thought planning one for PANE could be a great way to bond over wine (and Zoom) and have some fun since everyone was home quarantining. For the event, alumni received a wine kit and an invitation to join a Zoom meeting led by a wine expert who shared his knowledge with the group who could also ask questions.
And the virtual wine event had one great benefit, Frisardi added: "You didn't have to have a plan in place for getting home."
The wine tasting model turned into craft beer tasting for the group. "We had many people tell us that they had lived here for 10 years and this was the first event they had ever been to," Frisardi added.
Lunar New Year
Every year, members of the Asian American Alumni Association, or A4P, plan their signature Lunar New Year events in regions around the world with festive traditions, food and drink. This year was no exception, other than it was planned on Zoom.
"The question was never that we weren't going to do it, but how were we to creatively pivot?" said Hyeseung Marriage-Song '01 (pictured at top), a member of the Lunar New Year Planning Committee, which helped organize the event.
 he New Moon" and organizers planned to "follow the new moon" by hosting one continuous Zoom session in which participants in various parts of the country and world could join at different times with alumni leading Zoom breakout rooms.
"We included everyone: Thai, Japanese, Chinese, Korean," Marriage-Song said. "We wanted to celebrate all cultures in one sweeping event" and made sure that the time worked well so that alumni in all time zones could participate.
In advance of the event, participants were invited to share their family stories, recipes, photos and videos that were then shared during the Zoom session and discussed by the participants.
"[Through this event] I've had a chance to meet more people and be more involved in Princeton than ever before," added Benny Mah '82, member of the Lunar New Year Planning Committee.