It wouldn't be much of an exaggeration to say that Leslie-Bernard Joseph '06 has been in school for most of his life. And that's exactly where he wants to be. As CEO of Coney Island Prep, Joseph has devoted his career to serving the more than 1,000 students who attend South Brooklyn's first public charter school, grades K-12, which includes four campuses: two elementary schools, a middle school and a high school.
"Our high school is less than five miles away from a prestigious private day school in the city where tuition for kindergarten is $50,000," Joseph said. "Our job is to serve kids in that same neighborhood whose families don't even make $25,000 a year and make sure that their kids can attend great colleges and universities too. And I hope more and more schools continue to see their mission as not one just of educating all students, but making sure that we serve communities, in particular, that have significant need."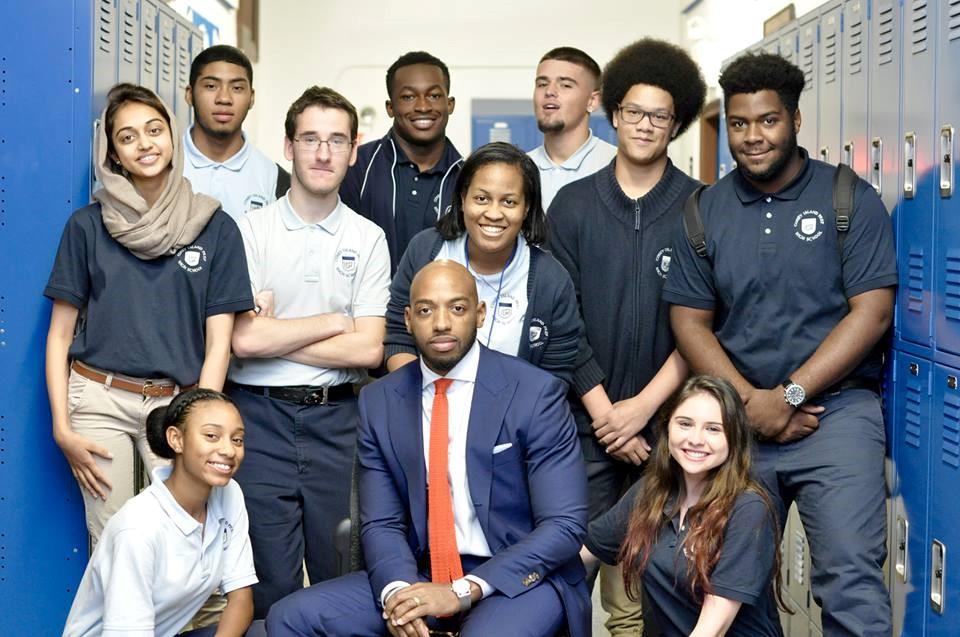 After graduating from Princeton in 2006 as both the student body's and Black Student Union president and with a concentration in politics and African American studies, Joseph began his career with Teach for America. For several years he taught fifth grade in the Bronx at one of the largest elementary schools in New York, before joining the founding team at Coney Island Prep in 2009 as the school's first dean of students. He left for a few years to earn both his law and master's degrees from Stanford in 2015 and to work in industry as an associate in both a law and consulting firm, as well as a managing director at Harlem Children's Zone before returning to Coney Island Prep.
Over Zoom, Joseph answered five questions about his hopes for education, Coney Island Prep and his students.
What keeps you up at night?
I think it's incredibly tough to be a student of history, look at the challenges we're facing as a country today and feel incredibly optimistic. We're at a real crossroads, in terms of climate change, income inequality, racial justice, political polarization and political process malfunctions. These are historical forces and the next generation will benefit from our successes, or have to deal with our failures.
What keeps me up at night are the kids that we're serving right now who are coming out of a pandemic that's forever changed their conception of the world as they've lost loved ones, and watched their parents struggle. Are they going to be the ones who have a seat at the table and decide what the future in the next world looks like? And how do we make sure that we've prepared them, to make sure that they have the right values and understand humanity and difference and diversity well enough that they create something that is better on the other side of this.
What also keeps me up at night is making sure that our 1,100 kids have the right teachers and staff. That in a competitive environment for staffing, we have teachers who understand both race and racism, but also can remove our own biases from how we teach students. We want teachers who understand class and difference, but who understand that lack of income does not determine a student's ability. So I think finding teachers who gets those sensibilities, but are also excellent at teaching physics or chemistry or algebra or phonics and phonemic awareness is always challenging.
Who inspired you? How did you get into education?
I think it is both my mother and personal story. People who know me well will know I grew up in Jamaica, Queens, and my mother had me zigzagging across the district trying to find the best schools for me. By the time I was in third grade, I was in my third public school. By the time I was in sixth grade, I was getting bussed out of the district that was 99% Black to a district that was more than 80% white and Asian. So at a very young age, I was being taught that to get an excellent education I had to leave my community. I ended up attending a private, very wealthy boarding school.
I think the contrast between where I grew up and Deerfield Academy and Princeton just crystallized for me what educational inequity looked like. My experience at Princeton had me feeling really lucky to be there. But then at times, looking at my classmates, and realizing that they felt a sense of ownership and that they expected to be a Princeton. I wanted that sense of ownership, too, that sense of 'I belong at this place and this place belongs to me.' So I think what inspires me to do the work is making sure that other kids have that same opportunity. And that coming to Princeton doesn't feel like luck, but really feels like a product of your hard work.
What excites you most about your work?
I'll give you a very recent answer. Our school was founded by a Princeton graduate school alum who attended Middlebury for undergrad. And this year we have our first high school graduate going to Middlebury on full scholarship. We have three Black women at the University of Virginia on full scholarship, three kids at NYU School of Engineering, one going to NYU Madrid, a young woman studying fashion at SUNY Korea, two students who are going to go to St. John's in Queens on full scholarship. And I think knowing those students from when they were really young and seeing their trajectory and who they are growing up to be is, hands down, the things that excite me and is the reason why I keep coming back. I think we are getting really good at making sure that kids have life-changing opportunities.
How do you hope that your work will help create a better future?
I hope our school will see it more directly next year when we will have four alumni from our first high school graduating class returning to work with us full-time. They are young women that I've known since they were 10 years old. I hope they push us to reimagine what we should be doing for all of our other kids and families. I hope we really have a broad impact on our community, on Coney Island and our district. I hope 10 years from now, the census data doesn't look like a community where the median income for a family of four is $36,000. I hope there's more racial tolerance and acceptance across lines of difference as a result of our school, which is incredibly diverse. I hope we're a beacon for what's possible for other schools, for our kids, for our families.
What does forward thinking mean to you?
I used to ride motorcycles and the thing you learn very quickly is in order to go fast, you have to raise your gaze and look further towards the horizon. Particularly if you're on a curve, you can't look down at the ground or at the wall close to you because you will slam right into that. You have to see around the curve. Forward-thinking, to me, is both what we've had to do as a school during the pandemic: see around the curve, taking our days away from the most pressing problem, as urgent as it might be, and looking further down the road, so that we can accelerate progress.
Coney Island opened in 2009 with just 90 fifth graders, and it has expanded significantly. We now serve more than 1,100 students across four campuses, and we're going to serve 1,500. Our community really looks like New York City public schools. So 70% of our kids, or a little bit more, are Black and Latino. About 15% are white, mostly Eastern European immigrants, Russian Jews, and about 10% are Asian. More than 80% of our kids qualify for a free or reduced priced lunch, the federal marker for poverty. About more than 20% of our kids are special needs. They are amazing, and I think we really try to be a school that is in and of the community. We always say that we couldn't be Everywhere Academy or Cornerstone Prep. We really try to be a school that's in and of a place.
During Reunions, Joseph shared his thoughts about the future of education as a panelist for the Alumni-Faculty Forum on Future Learning: American Education in a Post-Pandemic World. Watch it now.