In 2000, Bill Addy '82 knew the smart move was to stay the course. He'd worked for The Boston Consulting Group (BCG) for more than a decade, making partner while working in BCG's Sydney, Australia office and then returning to the United States to help launch a new BCG branch in Dallas. He and his wife, Lydia, had four boys under the age of 10. Things were comfortable in Texas, and their future was bright. But for as long as he could remember, he'd wanted to start his own company.
So Bill quit his job.
"In hindsight, it was actually a big, big risk, but I was confident," he said, of stepping away from a thriving consulting career to launch his own company. "I don't think either one of us knew how much risk we were taking. I didn't pay myself a salary for four years — but it was fun."
"Some things are good not to know," added Lydia. "Just go for it."
The company Bill started in 2001 was ISN Software Corporation, an online platform service that enables leading enterprises in industries such as energy, steel and pharmaceuticals to source and manage third-party relationships with contractors and suppliers. In 20 years, he's more than made up for those lean years. ISN is a global leader with 12 offices on three continents, serving 75,000 active customers in more than 85 countries — including 170 Fortune 500 companies.
Cheerful Givers
Bill and Lydia wanted to make a difference in their North Texas community, and even before ISN took flight, Lydia got involved locally, applying the skills she'd acquired with her MBA from Northwestern's Kellogg School of Management. What began with volunteering at their church and their sons' schools evolved into larger community revitalization projects and efforts to improve educational opportunities for young children.
"Mental health is a big deal, too," Lydia said. "That's the root cause of so many problems in areas that are really underserved. If you can tackle that issue, then maybe you can start to help people change the direction of their lives."
The Addys' generosity found new inspiration soon after they settled in Texas. "Father Anschutz and Father Power, two priests at our Episcopal church, would do a stewardship sermon every year," Bill said. "One would take the Old Testament and the other would take the New Testament, and they would explain through scripture why it's better to give than to receive. And that struck a chord. We found that it feels great to give."
In 2015, Bill and Lydia formed the Addy Foundation to organize their philanthropy and volunteerism in the North Texas region, and redoubled efforts to make an impact in the areas of civics and community engagement, culture, education, health and social services.
Outside of Texas, the Addys have been stalwart advocates for Princeton University, where Bill holds a perfect 39-year Annual Giving record, beginning with the $5 he sent to Princeton a year after graduation, when he was maintaining pipelines in the Rocky Mountains for Chevron. In 2012, they established the Addy/ISN North American Low Carbon Emission Energy Self-Sufficiency Fund, providing funding for innovative research aimed at reducing carbon emissions and creating an energy self-sufficient North America. They formed the Addy Fund for Excellence in Engineering in 2017, and they also have been generous supporters of Princeton's Center for Information Technology Policy and the lacrosse program, among others.
When the University announced its plan to build two new residential colleges to support the expansion of the undergraduate student body by 10 percent, the Addys viewed it as a perfect opportunity to support a place that is meaningful to their family. They agreed to make a major gift to the University to aid the expansion effort and name one of the new dormitories.
"Two of our four sons graduated from Princeton and their residential colleges were integral to their sense of community," Lydia said. "The dorms aren't just the homes where students create their first Princeton friendships. The built-in support system through the residential college deans is a proven model where guidance is just a phone call away."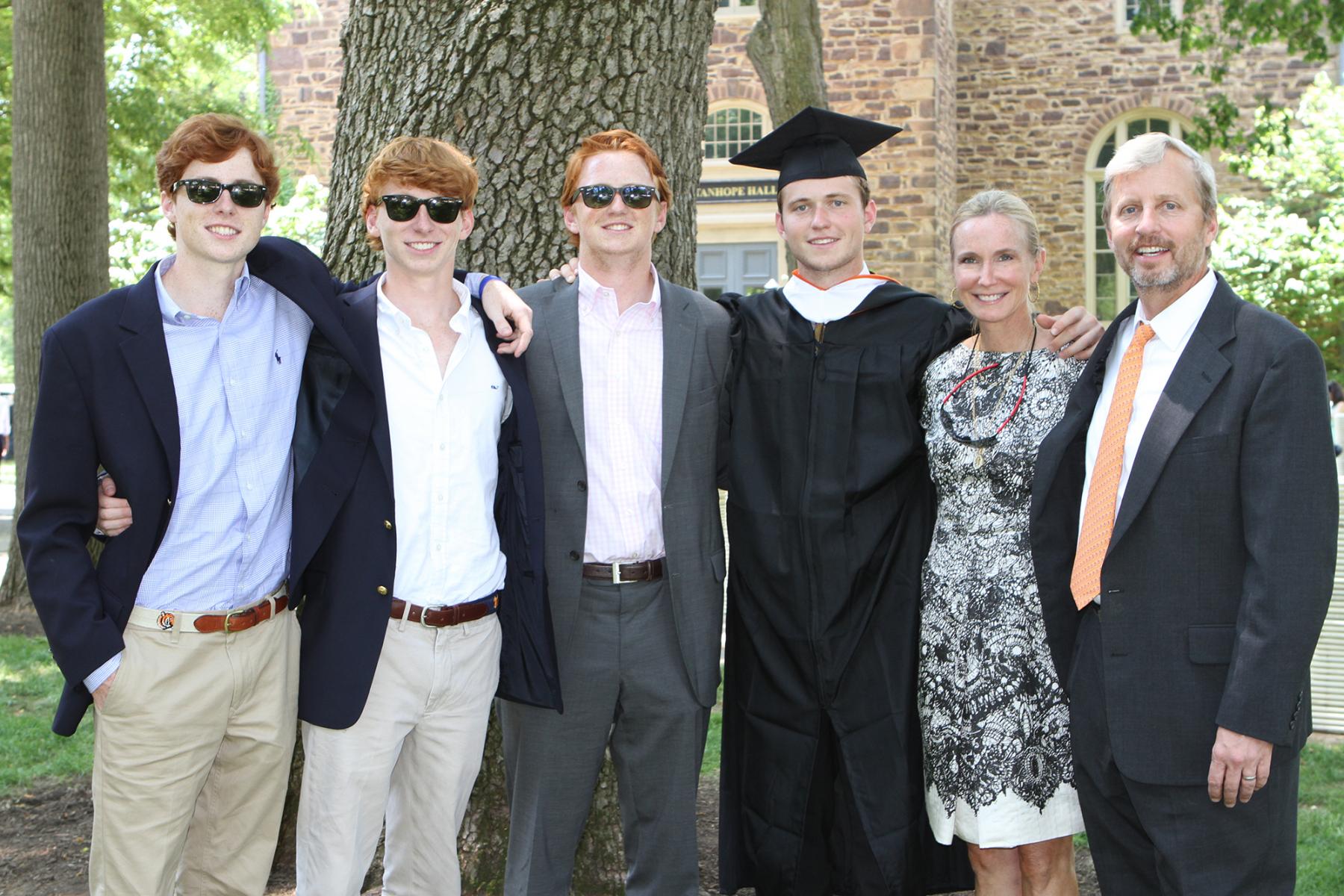 Bold Bets
When Bill applied to Princeton in 1978, he didn't know a single person who'd ever gone there. His father, an executive for Amoco, had promised to pay for college — as long as Bill studied engineering. Strong in math and science, Bill accepted the deal and studied chemical engineering at Princeton. But it was the other classes he took outside of engineering that really piqued his interest: the English classes, the economics classes, the "Varieties of Religious Experience" class. "That was always one of the great things about Princeton — the encouragement to follow your passion," he said.
When it was time to write his senior thesis, he approached Carol Hall, a professor in the chemical engineering department. Rather than delve into chemistry, he proposed writing a thesis on the economics of oil shale. "It was one part chemical engineering and nine parts economics, looking at ExxonMobil and what they were doing in western Colorado. Carol Hall had an impact on me just for letting me do it."
It was a formative experience — following his instincts, zigging when he was expected to zag. Princeton helped Bill gain the confidence to make those decisions, he said, and years before Addy Hall opens his doors, he's already excited by the idea that he'll play some role in Princeton students finding what they love and developing the courage to be bold.
"I vividly remember living in Laughlin, Holder, Patton and Little Halls during my four years at Princeton," Bill said. "I developed such wonderful memories and friends in those dorms, and while I didn't think much at the time about the people whose names grace those buildings, I certainly remember their names. Princeton made a difference in my life and as the University expands, I'm excited that more students will have their own Princeton experience, and perhaps one day look back and say, 'I lived in Addy Hall.'"
Main photo by Jake Dean