Brad Saft '00 is positively Princeton
Princeton Schools chair has reimagined alumni interviews.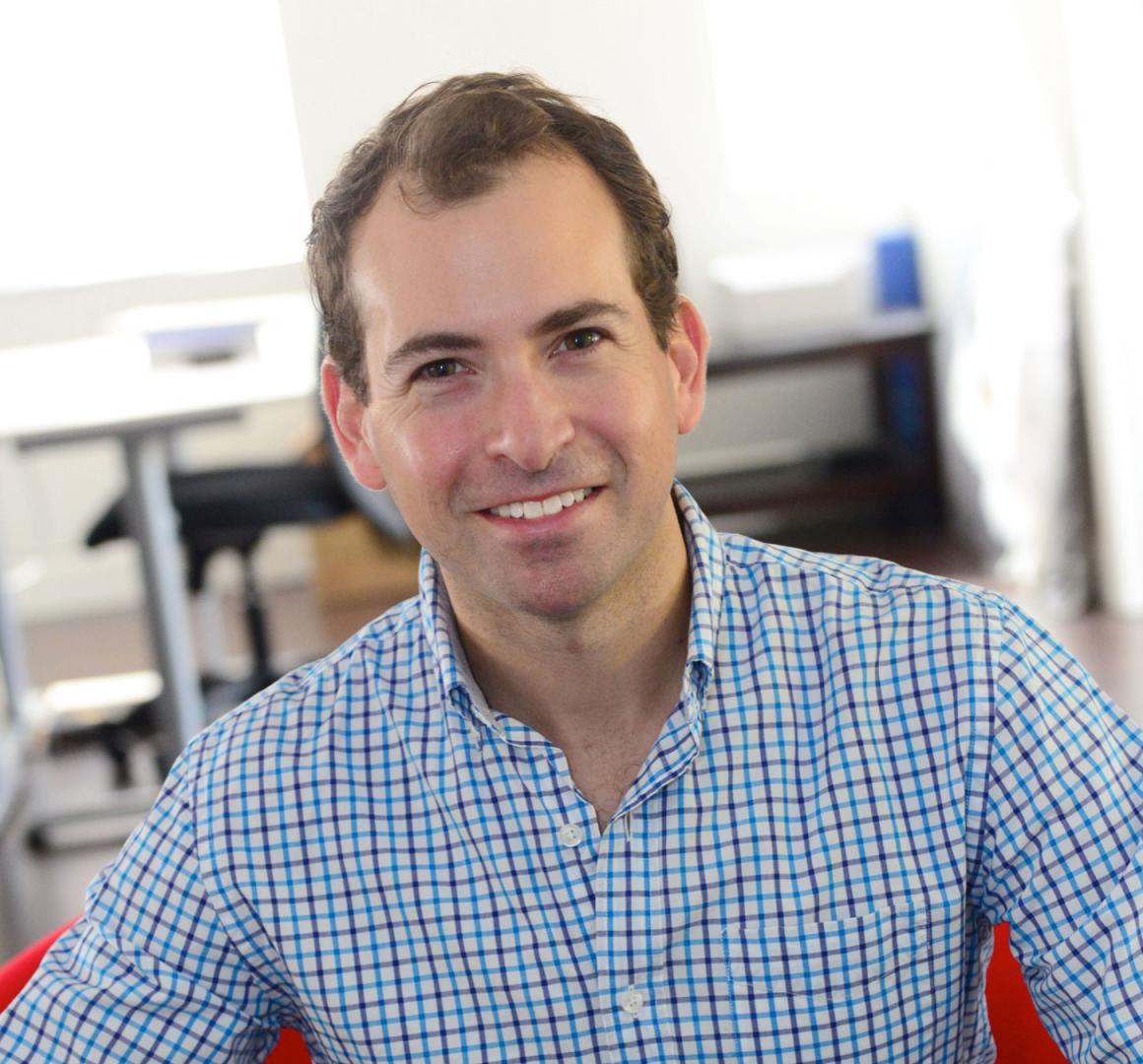 Brad Saft '00 recalls his unusual experience when he was interviewed as a prospective student in 1995. The alumnus asked him a number of "unrelated, difficult trivia-based questions" that left him feeling deflated. Saft vowed that if he ever had the "good fortune" to graduate from Princeton and become an interviewer, he would approach the interview process very differently. As the chair of the Princeton Schools Committee for the last two years, he has been able to do just that.
In collaboration with the Admission Office, he has led the effort in creating a "Positively Princeton" experience for interviewing prospective students, which, this year, reached record numbers of applicants.
"'Positively Princeton' is a different way of thinking about alumni interviewing," Saft explained. "It's seeing our role as ambassadors and reporters rather than as evaluators. And it is recognizing that the experience, for both of our constituencies — the applicants and the volunteers, needs to be a great one."
For many of the applicants, the alumni interview is the first, and perhaps only, time they'll ever interact with a Princetonian, so "the impact that we are making as volunteers can shape their impression of Princeton for their entire lives."
Saft first became involved with the Alumni Schools Committee (ASC) in New York City where he worked in investment banking following graduation. After years of interviewing, he was named a regional co-chair before being invited to join the Princeton Schools Committee (PSC), which oversees the worldwide operation of alumni interviewing (ASC), the University's largest alumni volunteer activity.
"Princeton has always meant so much to me, so I wanted to give back," said Saft, who now resides with his family in North Palm Beach, Fla., where he runs an education technology company. "There wasn't a moment that I didn't feel incredibly grateful to be at Princeton. Aside from meeting my wife and the birth of my children, being accepted to Princeton was probably the single most important moment of my life. I think that in some way, everything I've done, I owe to Princeton. I love the University with all my heart, in a way I never thought it would be possible to love an institution."
Joining the PSC afforded Saft the opportunity to understand how the entire organization worked, and then the ideas came flowing.
After being named vice chair in 2018, then chair one year later, Saft got to work putting "Positively Princeton" into action. First, he developed a strong communications plan for his volunteer base that includes nearly 7,700 alumni living around the world. This was especially critical this past year, as all interviews were conducted virtually because of the pandemic, and there was no Early Action admission cycle, which created a compressed timeframe for conducting interviews.
Saft explained that even with an approximate 5 percent acceptance rate at Princeton for the last few years, volunteers were still taking prospective student rejections personally, which greatly affected their volunteer experience. "Positively Princeton" aimed to change all that.
"When you, as a volunteer, are judging the value of your contributions by whether the person you met was admitted or not, you're inevitably going to be disappointed," Saft said. "But when you reframe your motivations, you can make the experience a positive one for yourself and the person across the screen from you."
Throughout his tenure, Saft was committed to increasing volunteer education. He, hosted two webinars featuring Karen Richardson '93, dean of admission, which provided a great opportunity for alumni to better understand the admission process and the important role of the alumni interview in helping students understand Princeton and, in turn, for the Office of Admission to gain a fuller picture of student applicants. Additionally, Saft, along with Helen Dorini '91, senior assistant dean and ASC liaison in the Admission Office, facilitated multiple training sessions for regional chairs around the world over Zoom.
"It was actually great to have Zoom," Saft said. "For years, I've worked with so many people that I've never seen and never met personally; our interactions were always over the phone. Zoom gave me the opportunity, along with Dean Dorini, to actually put faces to the names. From a relationship-building standpoint, Zoom was fantastic and helped us express the themes that we were trying to get across to our volunteer base."
And the data shows that his approach worked.
"The proportion of volunteers who interviewed multiple applicants this year rose dramatically," Saft said. "Alumni are doing more and more interviews, and we actually had quite a significant increase in the number of volunteers this year." In total, 7,665 alumni participated in interviewing this year's applicants, surpassing last year's total by more than 500 alumni.
The volunteers also submitted 5,800 more reports to the Admission Office during the Regular Decision period than last year.
While Saft's term as chair comes to an end June 30, he intends to continue to interview prospective students and recalls an email that he received a few years ago that continues to motivate him:
"Hi, Brad. I just got my result from Princeton, and unfortunately I was rejected. I was wait-listed to a bunch of other Ivies, but accepted to Vanderbilt!!! Although I didn't get in, I really wanted to email. Before calling you, I had interviewed around 10 times, and every one felt like I was walking towards defeat. My spirits were incredibly low, but you raised them through the roof. I had felt sick about the whole college process, but you definitely gave me hope. Hopefully, one day if I ever interview for the college I go to, I can do the same. Thanks for your inspiration. I really appreciate it."
It is emails like these, Saft said, that keep him inspired. He is grateful and satisfied that he helped build a team united around one thing: their love of Princeton.