As a retired physician and professor of medicine, Gordon Douglas '55 has long known about the links between diet and catastrophic illnesses such as stroke and heart disease. His own bout with high cholesterol prompted him to stop eating meat, which solved the problem and made him think more deeply about food and health. And then he audited an ethics course with his wife, Sheila Mahoney, which graphically illuminated the treatment of animals in large industrial farms. "It turned my world around," said Mahoney.
Global issues around food production—from CO2 emissions to loss of biodiversity—became a deep interest for Gordon and Sheila. They discovered that there were some Princeton researchers studying aspects of food who didn't know about each other's research.
The couple became a driving force behind the creation of Princeton Studies Food, a coalition of faculty, researchers, students, alumni, staff, and community members tackling the challenge of feeding the world's people while preserving the Earth and its resources. To date, Douglas and Mahoney have helped organize two conferences and a 2015 Reunions panel on the topic.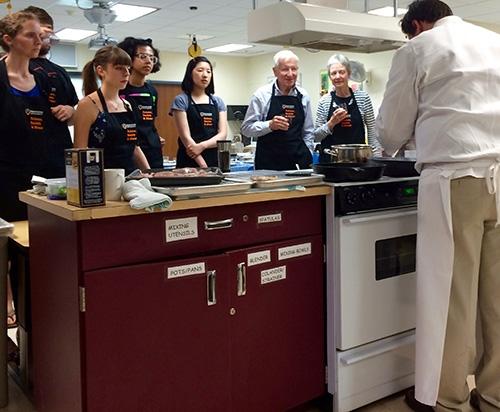 Leveraging Entrepreneurship
The most recent conference, held on campus in February, examined the role of entrepreneurship in feeding the planet's population while protecting Earth's finite resources. "Entrepreneurship is the way change takes place today," said Mahoney.
Among the panelists presenting innovative ideas were Lyndon Estes, an associate research scholar in the Woodrow Wilson School's Program in Science, Technology, and Environmental Policy, who is developing new techniques to collect data that can help quantify the trade-offs between agricultural development and environmental damage, and Shiri Avnery *12, cofounder and COO of Thistle, a start-up based in the San Francisco Bay Area that provides home delivery of plant-based meals and juices.
At a Career Services meetup run in conjunction with the conference, Princeton students talked about career opportunities in areas related to food with alumni, including Susan Friedman '94, director of agricultural sustainability at the Environmental Defense Fund, and Juhea Kim '09, co-founder of Peaceful Dumpling, a vegan lifestyle digital media company.
"We want to inspire a generation of young people who are interested in this problem, and get them into careers where they can make a difference," said Douglas. 
Gordon and Sheila, who are planning another panel to be held at Reunions in May, funded the two conferences and provided seed funding to support the launch of Princeton Studies Food programs. They have formed the Friends of Princeton Studies Food to build momentum and encourage more alumni to get involved as supporters and mentors.
They are members of the 1746 Society—which recognizes Princeton alumni and friends who have arranged a bequest or life income gift to the University—and intend to designate their charitable remainder unitrust for Princeton Studies Food. 
"We feel very strongly that students are the ones that are going to make these changes in the world," said Mahoney.