For Frank Klapperich '56, getting the job done right is a habit formed by a lifetime of focus and discipline. "I've always been very targeted in terms of what I was out to accomplish," said Klapperich, who worked for Kidder, Peabody & Co. for 30 years. "Staying on track was always very important to me."
His drive and instinct led to success in the business world, and he became a shareholder of Kidder, Peabody when he was just 30 years old. Those qualities also made him perfectly suited to lead the alumni community, and for more than 60 years, he has been a stalwart champion of Princeton and particularly the Class of 1956.
This year, as president of his class, he helped to spearhead a record-breaking effort for his class' gift to celebrate their 65th reunion. "I've always been someone who's knocked on doors and gone out to talk to people," Klapperich said. "But you can't do it by yourself. I believe in working with a team, and having good people working with you. Our class has a great team and that's why we've been very successful."
ROARING TO GO
Klapperich felt a special bond with his Princeton classmates from the very beginning. In the 1950s, a dramatic shift was taking place at Princeton as the admission office made a concerted effort to attract more students from public high schools. Klapperich's high school in Winnetka, Illinois, New Trier High School, had a well-deserved reputation as one of the best schools in the country, and his girlfriend's father, Tilden Cummings '32, and New Trier's dean, Frederic Kahler 1912, urged Klapperich to consider Princeton. Although his father had suggested that he attend the University of Illinois, Klapperich became one of more than a dozen new graduates of New Trier to matriculate at Princeton in the fall of 1952.
Klapperich remembers the moment he learned he'd been accepted to Princeton as "probably one of the most exciting moments in my life." Once on campus, he studied history, thrived in the Navy Reserve Officer Training Corps program and served as student manager of the Princeton baseball team. "I absolutely loved my four years of Princeton," he said.
After graduating, Klapperich served a stint in the Navy and went to Harvard Business School before landing at Kidder, Peabody in Chicago, where he quickly rose up the corporate ladder as part of the investment banking team. "As you can probably tell, I'm a very aggressive, very well organized, disciplined personality," he said, with a laugh. "It turned out I was pretty darn good at bringing in business. I stayed with Kidder, Peabody for 30 years. The only job I ever had, and I loved it."
He'd married Margaret "Mugs" Touborg in 1957, and the couple resettled in Winnetka to raise their family of four children. He also connected with the Princeton Club of Chicago, where his organizational and management skills were quickly put to use. He became involved with the Alumni Schools Committee and helped lead the region's Annual Giving effort. When the University launched "A Campaign for Princeton," he followed the lead of its chair, Jim Henderson '56, and helped rally Chicago-area alumni to help Princeton surpass its goal. Eventually, he served as the Chicago club's president. "The club was very successful in terms of membership," he said. "I think we had 700 or 800 members in those days. I think we set a record."
THE GREAT CLASS
Five years after Kidder, Peabody was acquired by GE in 1986, Klapperich retired, and he and his wife moved to Naples, Florida. They began hosting mini-reunions every year and he was soon asked to serve as president of the Princeton Club of Southwest Florida. Under his leadership, membership increased as the club held a series of memorable events. They hosted the Princeton Triangle Club and the Princeton Glee Club for sold-out concerts and welcomed Princeton's then-president Shirley Tilghman for a pair of lunches that drew record attendance for the club.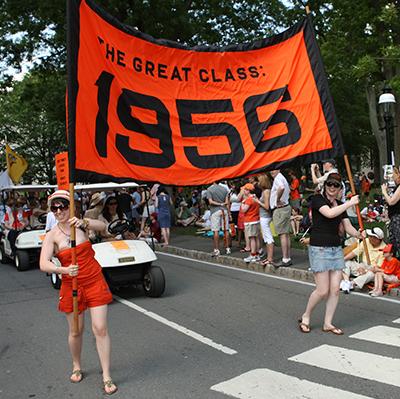 The Class of '56 remains a close-knit group, and Klapperich and his classmates continue to celebrate the bonds of Princeton whenever and however they can. "Somewhere along the line, the term the Great Class became our nickname and existed with us for years and years," Klapperich said. "When we started this campaign to break the all-time record for a 65th reunion dollar total, we talked about how if we reach our goal, should we change it to the Greatest Class? So some people in the class now are now calling ourselves the Greatest Class — at least for a year or two until another class breaks our record."
Klapperich isn't done yet. Although he's wrapping up his final year as president of the Class of '56, he's still hard at work in the final weeks of the Annual Giving campaign. It's an effort he's always supported — except for his first year in the Navy when the Postal Service never quite tracked him down. "My Annual Giving record is perfect except for that one year!" he said. "Now, I'm still helping, along with class agent Stephen Alfred '56 and many others, as much as we can to boost participation. The record our class set was dollars, but I believe participation is every bit as important as dollars."
Klapperich often reflects on the Princeton people who have supported him every step of the way. He thinks about Edgar "Ned" Jannotta '53, a celebrated New Trier alumnus turned football star who made Princeton seem possible to another kid from Winnetka. He thinks about the late Charles Wulfing '51, the Air Force veteran who lived across the hall and convinced Klapperich to pursue a career in investment banking. He thinks about Jim Henderson '56, the classmate and alumni volunteer who taught Klapperich everything he knows about fundraising.
"I love my Princeton classmates and friends, and being part of this University has been an unforgettable experience," he said. "I love the Harvard Business School, too, and some of my dearest friends in Naples are Yale graduates, but nothing quite matches up to Princeton. I've kidded people for years — that if you prick my arm, I bleed orange."