For Grace Riccardi '14, serving as an Annual Giving class agent is one of the most rewarding things about being a Princetonian. Every year, she connects with classmates not only to support the University, but to spark new friendships and replenish others that, in some cases, began when they were teenagers.
But during this past year, Annual Giving, like everything else that was impacted by the pandemic, was unconventional. Peoples' lives were turned upside-down and Riccardi was understandably uncertain how her Annual Giving calls might be received. "I had to be more creative about my reach outs because I didn't want to put pressure during a sensitive time," she said.
What she discovered, however, was that some alumni were more eager to engage during the pandemic. "Multiple people reached out saying, 'Did I miss Annual Giving? Can you call me?'" she said. "We've traced each other for the past seven years, and this is our chance to catch up. People valued the connection."
Riccardi, who works as chief of staff for SAP America in New York City, was always drawn to the sense of community Annual Giving engenders. Back in high school, when she was considering Princeton among other competitive schools, she reached out to alumni from her area in Southern California. "Every alum listed off the usual things, like the undergraduate focus, the senior thesis, the charming town of Princeton, the quality of Princeton's classes and professors, but one comment really stood out to me," Riccardi said. "One alum told me 'Princeton is for life — just look at Reunions.' That statement stood out to me because that's what I was looking for. I wasn't looking for a place to come and go. I was looking for a place where I could be part of a community forever. And it's proven to be exactly that."
When she arrived at Princeton, her more immediate community was the rowing team, but she was hampered by injuries that forced her to quit after her first year. "It was bittersweet after making it to arguably the best rowing program in the country, but it was the right decision," she said. "The first day I didn't go down to the boathouse, I vividly recall realizing that I'd never had so much free time in my entire life — I'd never had 4 p.m on a Tuesday available just to explore. When one door closes, another door opens. I suddenly had time to go hear the guest lecture at the Art Museum on that Tuesday at 4, and my world opened up."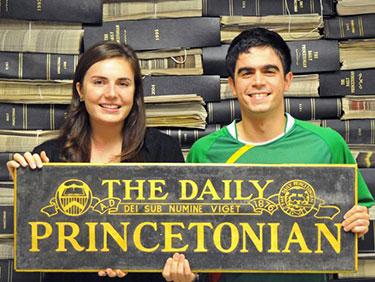 The Daily Princetonian newspaper, or "The Prince," became Riccardi's main student activity and ultimately steered her towards her professional career. Riccardi found her people at the paper, and she became its business manager by her junior year. "It was like running a small business. The paper runs on subscriptions and ad revenue, and I was responsible for leading the business team, as well as partnering with the editor-in-chief to present quarterly reports to The Prince's Board of Trustees," she said. "It was the most amazing 'real life' experience that I could do in parallel to my studies. It actually prompted me to work in the advertising technology industry when I graduated."
Her four years on campus instilled a love of learning that has driven her career in the technology industry. "Princeton allowed me to indulge all my intellectual curiosities. What I value most was the diversity of experiences I was exposed to, many of which I now know were due to the generosity of alums," Riccardi said. "Information is neither stagnant nor one dimensional, and Princeton taught me to have the humility, discipline and sincere curiosity to continuously learn."
One of these unique experiences included the "History of Photography: Pre-Raphaelite Photography and Painting" with Anne McCauley, the David Hunter McAlpin Professor of the History of Photography and Modern Art. "There was budget for the class to go to London and observe the history of photography firsthand," she said. "We weren't just seeing the sights, we literally had backdoor access to the Royal Archives in Windsor Castle to enjoy some of the first photos ever taken. These are the kind of crazy moments that really only a Princeton experience can give."
After graduating in 2014, Riccardi became involved with Annual Giving to pay it forward and to maintain a connection with the University and fellow alumni. "I would not have had the experiences I had without the benevolence of alums that came before me, and I make time to give back to Princeton with Annual Giving because I believe it's critical for future students to have the same," said Riccardi, who also mentors current students. "I genuinely believe in its mission, but it's these human connections with other alumni that keep me part of Annual Giving."