Every Princetonian learns about the University's commitment to service, but for Juan Goytia and others from the Class of 2000, that mission was imprinted in a profound way. They were first-year students when Princeton marked its 250th anniversary in October 1996, a celebration that featured luminaries and a redefining of the University's unofficial motto.
"Toni Morrison spoke and [former Princeton president] Harold Shapiro came up with 'In the nation's service and in the service of all nations," Goytia said. "You could feel that spirit across campus: We're so blessed and fortunate to be at Princeton, yes, but what are we going to do with our Princeton educations to make things better, to create value in whatever profession we choose? This focus on service really stuck with me."
Shortly after graduating, while working as an investment banking analyst for UBS in San Juan, Puerto Rico, Goytia volunteered to tutor at a nearby orphanage — to give back to the community that had been so good to him when he was growing up there. "These kids were so smart, but you could tell that they didn't have the resources," Goytia said. "What really struck me even more was that after we finished the tutoring sessions, they had a family hour, where the kids would tell me about their day. And I realized, 'This is what my parents and my brother did for me [when I was young].' I had been so blessed with emotional support, but what about these kids? What's their chance of upward mobility, what's their chance of getting out of the place where they are? I knew then that I always had to be involved with education in Puerto Rico."
That early experience at the orphanage cemented Goytia's belief in the transformational power of teachers: "One caring and motivated teacher or mentor can immediately steer the course of a student's life and career."
Goytia has worked with the Princeton Schools Committee, interviewing Princeton applicants from Puerto Rico since 2000. He also reconnected with Sep Kamvar '99, who founded the Wildflower Foundation, a network of decentralized Montessori micro-schools throughout the United States. Goytia thought the Wildflower model, which serves students from every demographic but especially children in lower income and disadvantaged communities, could help families in Puerto Rico. "We spoke at length about the challenges in Puerto Rico's public education system and discussed ways of how the Wildflower network could help talented teachers open better schools," said Goytia, who joined the Wildflower board and currently serves as its treasurer. "That first conversation with Sep led to many more, and now Wildflower is a thriving community of eight schools serving more than 60 students and their families in Puerto Rico."
EARNING HIS ALUMNI STRIPES
Goytia lives in San Juan with his wife, Priscila, and their 9-year old daughter, Gabriela. He is a business development consultant and entrepreneur, but he also views himself as an ambassador for Puerto Rico and loves to connect his Princeton classmates and colleagues with the island. "Through all my years as an alum in Puerto Rico, I love being able to help Princeton alumni when they visit, doing what I can to make sure that everyone who comes is taken care of," Goytia said. "It's such a joy, because you meet these wonderful alums. And I think what's so powerful about Princeton is that it's not a four-year commitment — it's a lifelong commitment."
Such traits made Goytia a natural choice to lead the island's alumni club after he graduated from law school, becoming its president in 2009. When he took office, the club was experiencing a lull in enthusiasm and activity, in part because local alumni had become discouraged by the shrinking numbers of local students who were applying to Princeton.
Goytia set out to "re-TIGERize" the association by spearheading a successful fundraising campaign, which led to more activities. He even finagled a 2011 campus meeting with Princeton's then-president Shirley Tilghman, explained his plans for revitalizing the club and invited her to Puerto Rico to meet with alumni. "She was so kind," he said. "She said, 'One way you can help me is spreading Princeton's principle message throughout Puerto Rico — not just to the usual feeder schools, but the public schools, too.' That really struck a chord with me."
"And then she said something that was so prescient. I asked her what should that main message be to students when we're competing against other great colleges. And she said, 'Princeton doesn't prepare you for one profession; it prepares you for any profession.'"
Goytia and the Princeton Club of Puerto Rico in collaboration with the local Princeton Schools Committee, launched an outreach initiative to visit high school guidance counselors and students in order to raise awareness of Princeton. "You can't assume that students know about Princeton," Goytia said. "So many of them were under the impression that Princeton and the Ivies are too expensive, but now it's much more accessible for them because of the University's no-loan financial aid program."
The outreach proved a success, with a 100% increase in applicants to Princeton. And it proved to be a major boost to the club itself, with members finding the engagement especially fulfilling. "The alumni that participated were so grateful for the experience of being in contact with those talented students," Goytia said. "We had a diverse group of alums joining the efforts — doctors, attorneys, university professors, business owners — making time to reach out to guidance counselors and students. They told me, 'This is fantastic. We have to do this more often.'"
The club's hard work did not go unnoticed. Though President Tilghman was not able to visit before she retired in 2013, her successor, President Christopher L. Eisgruber '83, made Puerto Rico one of his first major alumni trips in 2015. "It was a watershed moment for our club," Goytia said. "You could tell that we got really organized, that we had a plan, and you could see the results. It was a fantastic event and a great moment for us."
In 2017, the Princeton Club of Puerto Rico was awarded the John Maclean Award by the Princeton regional alumni associations, in recognition of its major reinvigoration efforts. Goytia stepped down from the club's leadership in 2018 but continues to volunteer with the University in myriad ways. He's been a member of the Executive Committee of the Alumni Council since 2017, has chaired the Committee on Awards for Service to Princeton, served as assistant treasurer of the Alumni Council Executive Council and was recently elected to become the Alumni Council's treasurer. And he continues to work with the Schools Committee, representing the University to interested students.
CAPITAL BEES
Goytia is excited to continue his role on the Executive Council, working with its new chair, Mary Newburn '97, and her team to "make Princeton alums feel more welcome, heard and respected."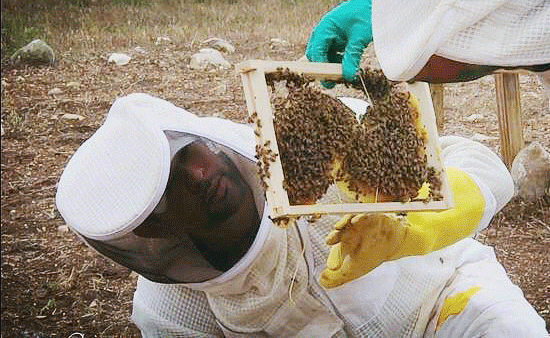 He's also buzzing about his new venture, a business he recently launched with another classmate, Hamin Abdullah '00. Together they co-founded Metanoia Bee Farms, based on a 20-acre farm adjacent to Puerto Rico's El Yunque National Forest. "I was looking to do something different, so we're going to harvest natural raw honey," Goytia said. "We're the guys with the bee suits, working with the bees. We're also going to plant all these specialty crops — lavender, rosemary, mint — all the good things that are really beneficial for the bees."
Marketing manager. Attorney. Investment analyst. Business consultant. Beekeeper?
Goytia thinks about Shirley Tilghman's words a lot — "Princeton doesn't prepare you for one profession; it prepares you for any profession" — and is forever grateful for his Princeton experience. Not only because of what he learned in Princeton classrooms, but because of the bonds he's forged with others.
"Being inspired by my classmates is something that has been consistent throughout my experience, and I think it is one of the unique aspects of Princeton," Goytia says. "I've been so blessed with opportunities to collaborate with classmates in the professional and nonprofit world, which so often leads right back to the theme of Princeton: In the nation's service and the service of humanity."