5 Questions with Kelsey Koelzer '17
The former All-America is the first African American ice hockey head coach in NCAA history.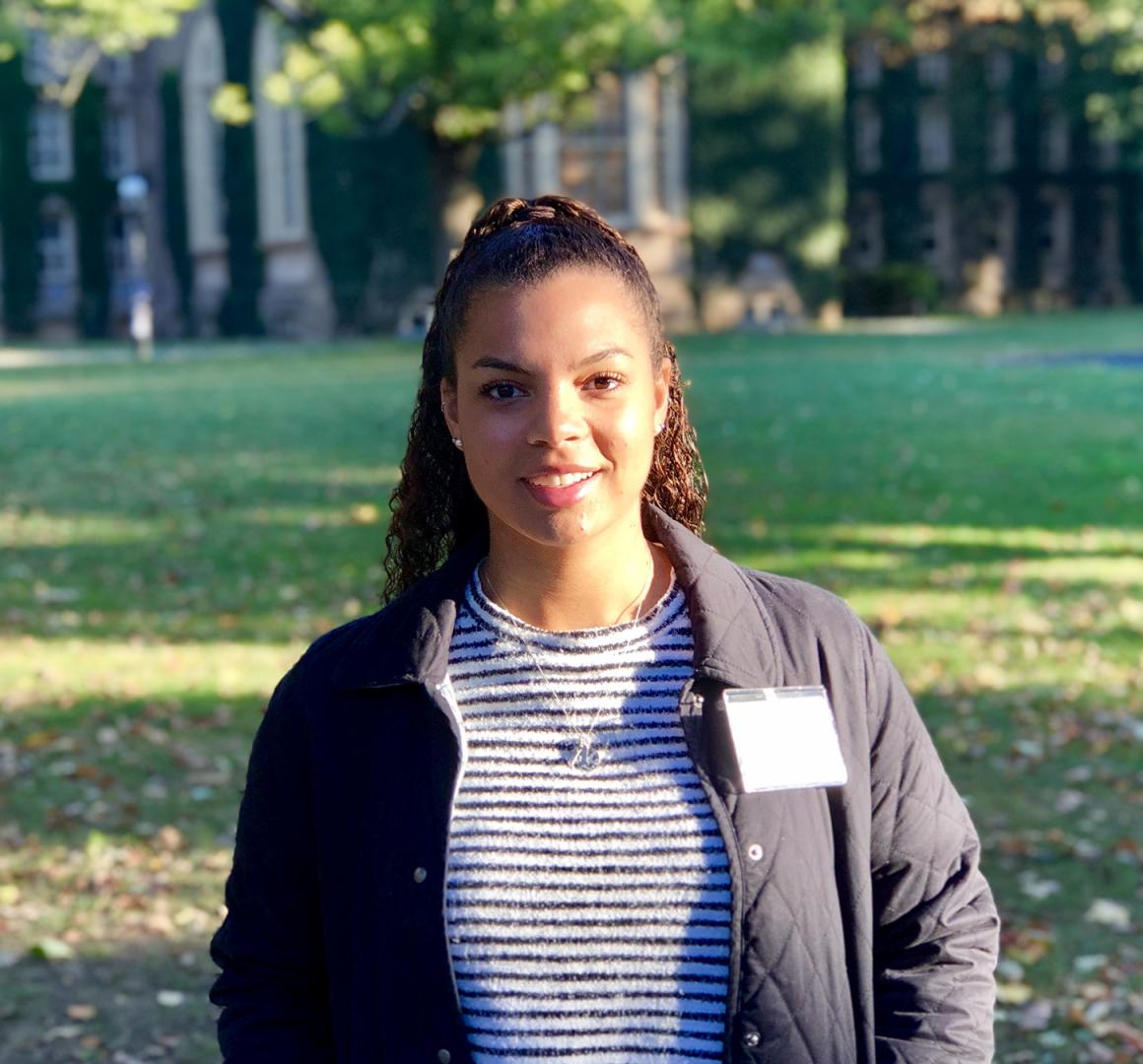 Ice hockey has been a consistent force in Kelsey Koelzer's life, from when she first learned the sport from her older cousins, to starring for Princeton and in the National Women's Hockey League (NWHL).
Koelzer, who graduated from Princeton in 2017, became the first African American ice hockey head coach in NCAA history when she was named coach of Arcadia University's women's program in 2019. She will lead Arcadia's team into its inaugural season in 2021-22, drawing on her experiences as a player that included powerful mentorship from her Princeton coaches, including then-assistants Cara Morey and Ashley Kilstein.
Koelzer's history-making streak began at Princeton, where she was the program's first-ever first-team All-American. It continued in 2016 when the New York Riveters made her the first-overall pick in the NWHL draft, making Koelzer the first African American to be drafted first in any North American professional hockey league.
Her dedication to diversifying ice hockey has also led Koelzer to serve on the NHL/NHL Players' Association Female Hockey Advisory Committee, a group formed to accelerate the growth of female hockey in North America and ensure that girls experience all the opportunities and benefits that the sport provides.
In this Q&A, Koelzer considers the role of athletics in education, hockey's growth as a sport and what "forward thinking" means to her.
What inspired you to play ice hockey and become a coach?
I started playing ice hockey at a very young age, so I've been around it my whole life. In my last few years at Princeton, when I started to think about what I wanted to do after college, I knew that college coaching was what I really wanted to do, but opportunities were few and far between.
I continued playing professionally with the Riveters and, after my second year in the NWHL, I started to think about potentially making a switch. When this job at Arcadia opened up, it was that "perfect place, perfect time" moment. It gives me the chance to give back to women's ice hockey. It's exciting to have the chance to work with young women and try to make their experience at Arcadia as great as my experience at Princeton was. College years are formative years. Obviously, I really love hockey, and I want to see us win, but I think there's more to college athletics than winning.
Has it always been easy for you to believe in yourself?
I had absolutely no problem believing in myself in high school. Then you get to Princeton, and it changes you. It's a complete 180 from being top dog at your high school. It's the first time you have to sit back and think, "Holy cow, I really have to work for this."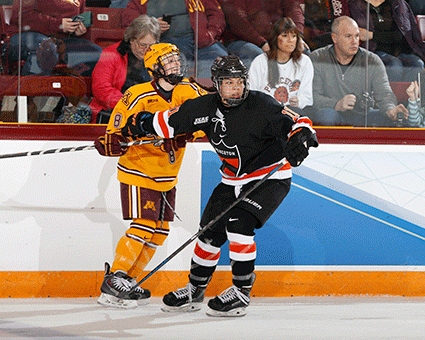 That's why having mentors has meant so much. Cara Morey was definitely instrumental in helping me find my confidence at Princeton, putting me in positions to succeed on the ice. That really led to confidence on the ice, which lead to confidence in the classroom and really turned around my academic success as well. Ashley Kilstein has always been someone who's helped me, as well. I called her when I got the offer here at Arcadia and asked her, "Am I ready for this? Is this something that I'm really cut out for?" I think with each success I've had, I've proven those doubts wrong, which really helps me flip that mindset moving forward. And I'm certainly seeing a lot less of that imposter syndrome as I've continued to grow throughout my professional career since leaving Princeton.
The Princeton Athletics motto is "Education through Athletics." What have you learned through athletics, and what do you hope the women on your team at Arcadia will learn?
I've always really liked that phrase coming from Princeton Athletics, because it is true. You learn just as much working with your teammates and competing for a season as you do in the classroom. The determination, hard work and organization, and working with all different people from all different walks of life as you come together to achieve a common goal — that's something that I think you don't always get in the classroom. It adds an element to your education on top of learning your own worth, the power within yourself, and your voice. I think that helps a lot after your athletic career — in the workforce — too: being able to work with someone that maybe you're not buddy-buddy with, or being able to power through when things aren't quite going your way.
College athletics, specifically when you're a part of clinics for local kids, is also the first introduction to how many young kids look up to you as an athlete, so I think it's really important to get those added educational pieces that you can't necessarily get from a textbook.
You worked with Melissa Parnagian '17, from the NHL's Office of Social Impact, Growth and Legislative Affairs, for congressional recognition of Willie O'Ree, the first Black NHL player. Do you feel a connection with O'Ree?
I definitely think there's a connection there. A lot of times when people ask me how it feels to be the first, there's this mixed emotion of being super proud and wanting to embrace it to its fullest, but also realizing how long it's taken to get from Willie O'Ree breaking the color barrier in the NHL to my role as the first black female head coach in the NCAA.
The sport has grown, and I think the incredible work that Melissa has done with the NHL has catapulted that growth. Seeing her working with Kim Davis, senior executive vice president of the NHL, as two powerful minority women taking hold of a league that has very much a white male base, is amazing. I'm fortunate to get to collaborate with Melissa.
What does forward thinking mean to you?
Figuring out the best way to break barriers. A theme of my career since my later years at Princeton is doing my best to not only do the work, but also surround myself with people who are on the same page I'm on to open doors so that other young girls of color can easily think hockey is the sport for them, that other females can want to have those leadership roles within athletics, and I'm just trying to make sure that they're not the last.
Forward thinking is also important in ice hockey. I think we've been stagnant for a while, and in the last five years, we've started to shift. If we want to compete with the other major sports, like basketball, football and baseball, we need to get into that forward thinking mindset and grow the sport as a whole, or else we're really going to fall behind. I think that's progress and acceptance, and knowing that the person next to you, no matter what they look like, just wants to love the sport as much as you love the sport. That's something that the world of hockey has been trying to move toward in the last few years.