Journalist Maria Ressa '86 awarded the Nobel Peace Prize
The CEO of Rappler, a news outlet in the Philippines, received the award for her efforts to 'safeguard freedom of expression.'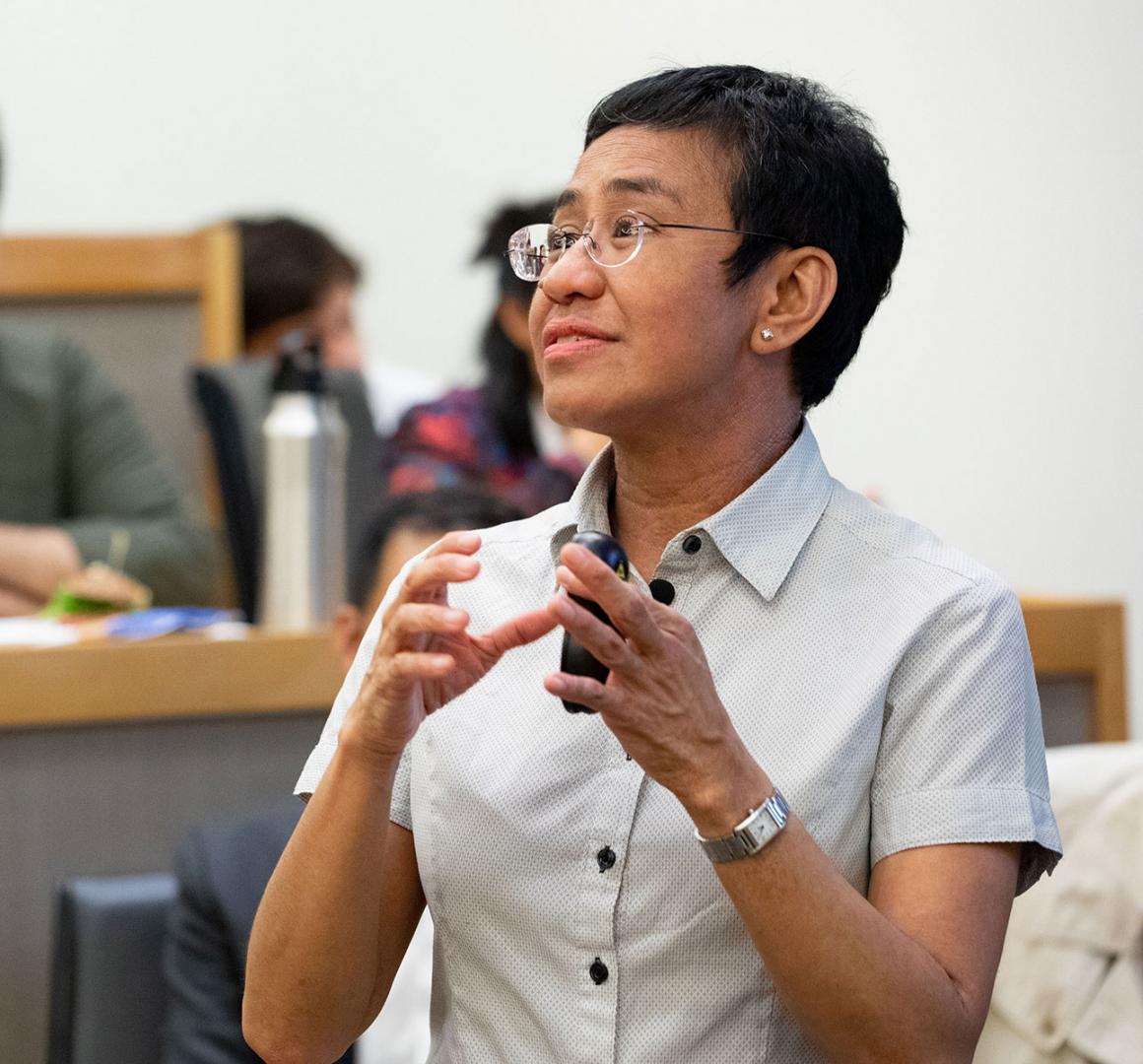 The 2021 Nobel Peace Prize was awarded today to Princeton graduate Maria Ressa '86 for her efforts to "safeguard freedom of expression, which is a precondition for democracy and lasting peace." She received half of the award, while the other half was awarded to Dmitry Muratov, founder and editor-in-chief of the Russian independent newspaper Novaya Gazeta.
Ressa is CEO and executive editor of the Philippines-based online news organization Rappler.com. She graduated from Princeton in 1986 with a bachelor of arts in English.
"Maria Ressa's courage, creativity, dedication and values are an inspiration to the Princeton community," said Princeton University President Christopher L. Eisgruber. "She exemplifies brilliantly this University's commitment to 'the service of humanity.' We join the Nobel Committee in celebrating her brave commitments to free expression, human dignity and democratic government."
Ressa's Nobel win caps an extraordinary week for Princeton. On Tuesday, Oct. 5, Princeton University senior meteorologist Syukuro "Suki" Manabe was awarded the 2021 Nobel Prize in physics. On Wednesday, Oct. 6, David MacMillan, the James S. McDonnell Distinguished University Professor of Chemistry, was awarded the 2021 Nobel Prize in chemistry.
Ressa has been a journalist in Asia for more than 30 years. In 2012, she co-founded Rappler.com, now one of the leading online news organizations in the Philippines. Previously, Ressa was CNN's bureau chief in Manila and Jakarta. She taught in Princeton's Program in Journalism in 2000-01 when she worked for CNN.
Rappler's reporting on the authoritarian administration of President Rodrigo Duterte has spurred repeated intimidation tactics by the Philippine government to discredit Ressa and the media outlet. In 2020, she was convicted in the Philippines along with a former Rappler reporter for "cyber libel." She is currently appealing that conviction.
"Maria Ressa uses freedom of expression to expose abuse of power, use of violence and growing authoritarianism in her native country, the Philippines," the Nobel Committee noted in announcing the award today. "As a journalist and the Rappler's CEO, Ressa has shown herself to be a fearless defender of freedom of expression. Rappler has focused critical attention on the Duterte regime's controversial, murderous anti-drug campaign. The number of deaths is so high that the campaign resembles a war waged against the country's own population. Ms. Ressa and Rappler have also documented how social media is being used to spread fake news, harass opponents and manipulate public discourse."
Rappler recorded an interview with Ressa today, in which she said the site has been "fighting for facts."
"When we live in a world where facts are debatable, when the world's largest distributor of news prioritizes the spread of lies laced with anger and hate, and spreads it faster and further than facts, then journalism becomes activism," she said. "And that's the transformation that we've gone through in Rappler, that we were on quicksand trying to figure out how to do what we do. How can journalists continue the mission of journalism?"
In receiving the call this morning to notify her of the award, Ressa exclaimed, "I'm speechless."
"This is a tremendous day for Maria, journalism and democracy around the globe," said Joe Stephens, founding director of Princeton's Program in Journalism, Ferris Professor of Journalism and lecturer in the Humanities Council. "Maria is the bravest human I know. She risked her life repeatedly to bring to light corruption and injustice, with huge impact. Just as important, she continues to inspire and embolden other courageous journalists everywhere. At the Program in Journalism, we're honored to call her one of our own. She's the very embodiment of the University's informal motto: 'Princeton in the nation's service and the service of humanity.'"
Stephens continued: "Maria was an inspiration when she visited us on campus in 2019 — smiling and cheery at a time when her very life and liberty hung in the balance. You would never guess that she had just been arrested twice and faced arrest again on her impending return to the Philippines. 'Heroic' doesn't even begin to describe her."
During her visit to Princeton's campus in April 2019, Ressa met with students, faculty and the campus community in large and small forums to discuss freedom of the press and how to combat disinformation.
Marissa Michaels, a member of the Class of 2022, attended the talk Ressa gave at Princeton in 2019, as well as a dinner with Ressa for journalism students. She said Ressa has been an inspiration to her as a journalist and as a global citizen.
"She instilled in me a sense of the importance of good journalism," Michaels said. "Since then, I've gone on to become a news editor at The Daily Princetonian and wrote my junior paper on the consequences of losing local newspapers in America. There are many. Ressa is exemplary in her efforts to keep an independent press strong, never backing down to pressure — even arrest. Her work using new digital tools including social media and network visualizations to combat disinformation shows the creativity that is necessary to keep telling the truth. I would encourage all Princetonians to embody Ressa's bravery in whatever path they choose."
Ressa sat for an interview with Princeton's She Roars podcast about the weaponization of social media in the Philippines and the dangers of her work.
"The only defense journalists have is to shine the light," she said on the podcast. "And part of what's keeping us safe is because of the coverage that international news groups are giving what's happening in the Philippines, both the drug war, the information war and the attacks against Rappler."
Ressa, in her address to Princeton graduates during the University's virtual Commencement in 2020, advised them to make the choice to learn, to build community while "avoiding the mob," and to embrace fear.
"Imagine what you're most afraid of, touch it and hold it so that you rob it of its power," she said. "I admit that it took me more than a month to defang the fear of jail. I hated that the baton was passed to me at this moment in time, but I also knew I wasn't going to drop it. That's where courage comes from."
"What a wonderful honor for Maria and how richly deserved," said Jill Dolan, dean of the college, the Annan Professor in English and professor of theater in the Lewis Center for the Arts. "Her inspiring visit to campus in 2019 and her moving talk for the Class of 2020 Commencement modeled the importance and pleasure of recognizing one another's full humanity. Her exhortation to 'imagine and create the world as it should be,' and to 'make the choice to learn, embrace your fear, and build your community' should be aspirations for us all."
Anne Cheng, professor of English, who was a classmate of Ressa's at Princeton, said that as a student, Ressa was "a force to be reckoned with" in the theater community, directing at least five plays — three by David Mamet — at Theatre Intime. "Her creative and intellectual energy was always infectious and invigorating," Cheng said.
"Maria is a soft-spoken powerhouse, always has been," Cheng continued. "The best way to describe her is: a generous soul with a steel-rod backbone. She has been in danger for many years now, for speaking up for her convictions, and I hope this global recognition will afford her some measure of protection."
Ressa has been honored around the world for her work in fighting disinformation, fake news and attempts to silence the free press. In 2018, she was named TIME magazine's "Person of the Year" and won the prestigious Golden Pen of Freedom Award from the World Association of Newspapers and News Publishers. She also received the 2018 Gwen Ifill Freedom Award from the Committee to Protect Journalists. This year, Prospect magazine selected her as one of the world's top 50 thinkers.
"Days before we named her a TIME Person of the Year in 2018, Maria said something that has moved me ever since: 'Now is certainly not the time to be afraid,'" said Edward Felsenthal, Class of 1988, editor-in-chief and CEO of TIME. "All of us who treasure a free press celebrate, as the Nobel committee has today, Maria's fearlessness in taking great risks in pursuit of greater truths."
Tom Weber, Class of 1989, a journalist and contributing editor at TIME, said Ressa's courage and work inspire journalists everywhere. "The persecution she has endured reminds us of how precious our freedoms of speech and the press are, and the darkness that confronts us when they are threatened," Weber said. "Maria's steadfast pursuit of the truth is a beacon for all."
Ressa is the author of two books, "Seeds of Terror: An Eyewitness Account of al-Qaeda's Newest Center of Operations in Southeast Asia," and "From Bin Laden to Facebook."
Ressa joins a number of other Princeton faculty and alumni who have been awarded Nobel Prizes, and is Princeton's second winner of the Nobel Peace Prize.
Woodrow Wilson, Class of 1879, member of the faculty and president emeritus of the University, received the Nobel Peace Prize as sitting president of the United States in 1919 as the leading architect of the League of Nations, which was founded to ensure world peace after the First World War.
Jamie Saxon contributed to this report.