In season of gratitude, Mariana Corichi Gómez '21 spreads glee to Trenton students through music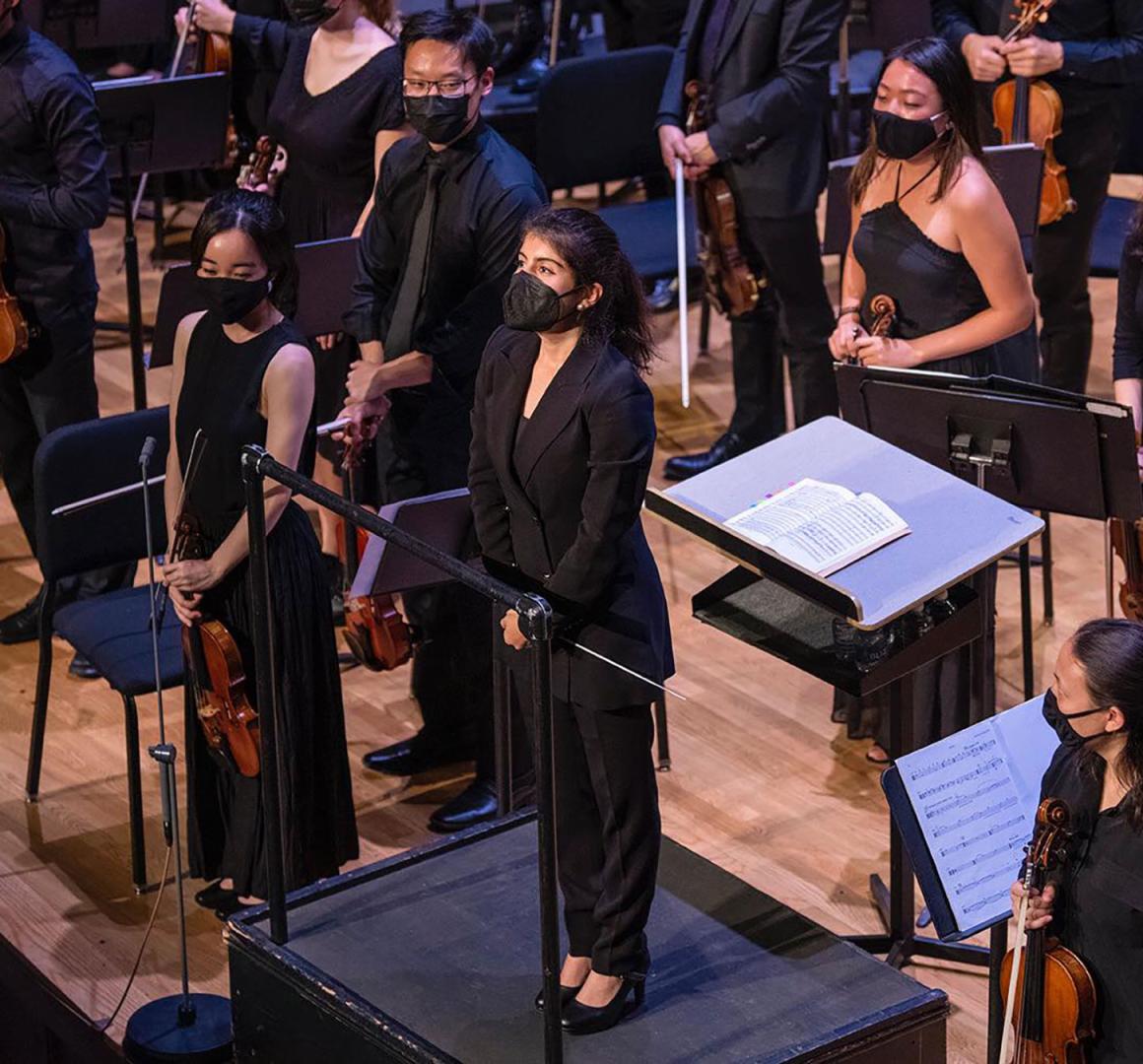 Early on Saturday, Mariana Corichi Gómez '21 stands by a bus in Trenton, notebook in hand as students from Trenton Central High School and Hedgepeth-Williams Middle School check in for a morning of music at Princeton's Lewis Arts Center. It's around 8:30 a.m., and as students climb aboard, some faces are smiling, eager to get started. Others are still in the stages of waking up, perhaps second-guessing their decision to rise so early on a Saturday. 
The students are part of the Saturday Morning Arts program run by Trenton Arts at Princeton (TAP), and once they arrive at the Lewis Arts Center, they're met by Princeton undergraduate volunteers who split them into four groups — dancers, orchestra, singers and theater — and serve as mentors and collaborators. Corichi Gómez is TAP's program associate and director of the Trenton Youth Singers. "Those rehearsals on Saturday mornings are my favorite, especially getting to talk with the kids before and after [on the bus]," she said. "Sometimes I think that maybe they're shy when I pick them up, but then I talk with them afterward and they're so excited to be a part of TAP. Some say that it's the best part of their week, and that obviously makes my whole life — to know that they enjoy it."
Trenton Arts at Princeton is the brainchild of Lou Chen '19, who founded the Trenton Youth Orchestra when he was still a sophomore and built upon its success to establish TAP in 2019. Corichi Gómez served as a Trenton Arts fellow during her senior year at Princeton, and she welcomed the opportunity to play a larger role upon her graduation.
For her, it is not only an extension of her passion for music, but a commitment to service and the nearby community. "We have students who have been in the program since the beginning," Corichi Gómez said. "They have continued to grow, developing their voices and also developing their confidence."
Corichi Gómez can relate. As a young girl in Morelia, Mexico, she was an unpolished gem with a powerful voice. Her mother introduced her to the greats of Latin American folk music as they sat together in the car, listening to CDs while they idled in gridlock traffic. Her mother would explain how certain songs and singers were meaningful to their heritage and why it was important to pass those classic standards on to the next generation.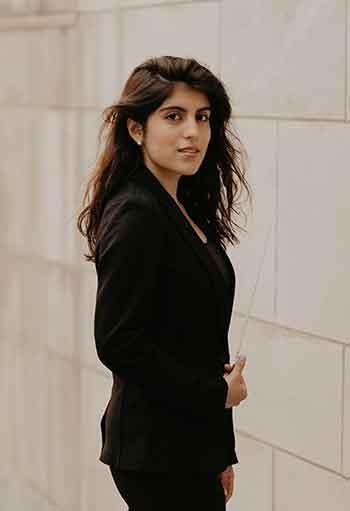 When she was 9 years old, she performed for the residents of a nursing home, and everyone took notice when she sang the standard, "Without a Song." "I remember being confused as to why people thought it was so impressive that I was singing," she said. "It felt so natural, and I loved that I was able to connect with audience members."
From that moment, Corichi Gómez knew that music was her path. At Princeton, she was a member of the Glee Club for four years, as both a singer and student conductor, and she also served as conductor of Princeton Camerata, a chamber orchestra dedicated to performing new works. "What I love about conducting is how I connect with a roomful of people," she said. "When you're singing, you're kind of in your own bubble and people just consume what you're putting out. Whereas with conducting, it's like a conversation between me and the ensemble."
Her role as a conductor allowed her to propose new ideas for Princeton's musical ensembles. In 2019, she conducted an orchestral concert of classical Mexican music. "I believe in sharing music from other countries with people who haven't really played it before, because we should be playing music outside of our comfort zone," she said. "The music I chose was based on famous Mexican classical music that I knew we could play well."
In 2020, she sang with and conducted the Glee Club as they performed in Mexico City, a homecoming of sorts. "My extended family — grandparents, cousins, uncles and aunts — came to see us, and that was super special because most of them had never see me perform, ever," she said. "We sang the program, but then I also got to conduct the bolero, 'Bésame Mucho.' It was very magical."
Those successful experiments with Latin music led to the formation of Alegría, a new University choir that Corichi Gómez and the Glee Club launched this fall that is dedicated to performing works by Latinx composers and Latin American folk music arranged for a full choir. In October, Alegría participated in a joint concert at Richardson Auditorium, performing songs by Carlos Guastavino, Chabuca Granda, and M.E. Valverde. "It brings me immense joy to share music I loved since I was a kid with my peers and the community," she said.
With the Trenton Youth Singers, Corichi Gómez currently is teaching songs from Disney musicals and the 1990 film, "Home Alone." "We want the kids to love what they're singing and to connect with the music, so a lot of times we gravitate toward familiar songs or popular songs," she said. "I've learned it's so important to connect with students by meeting them where they are and not expect something unreasonable."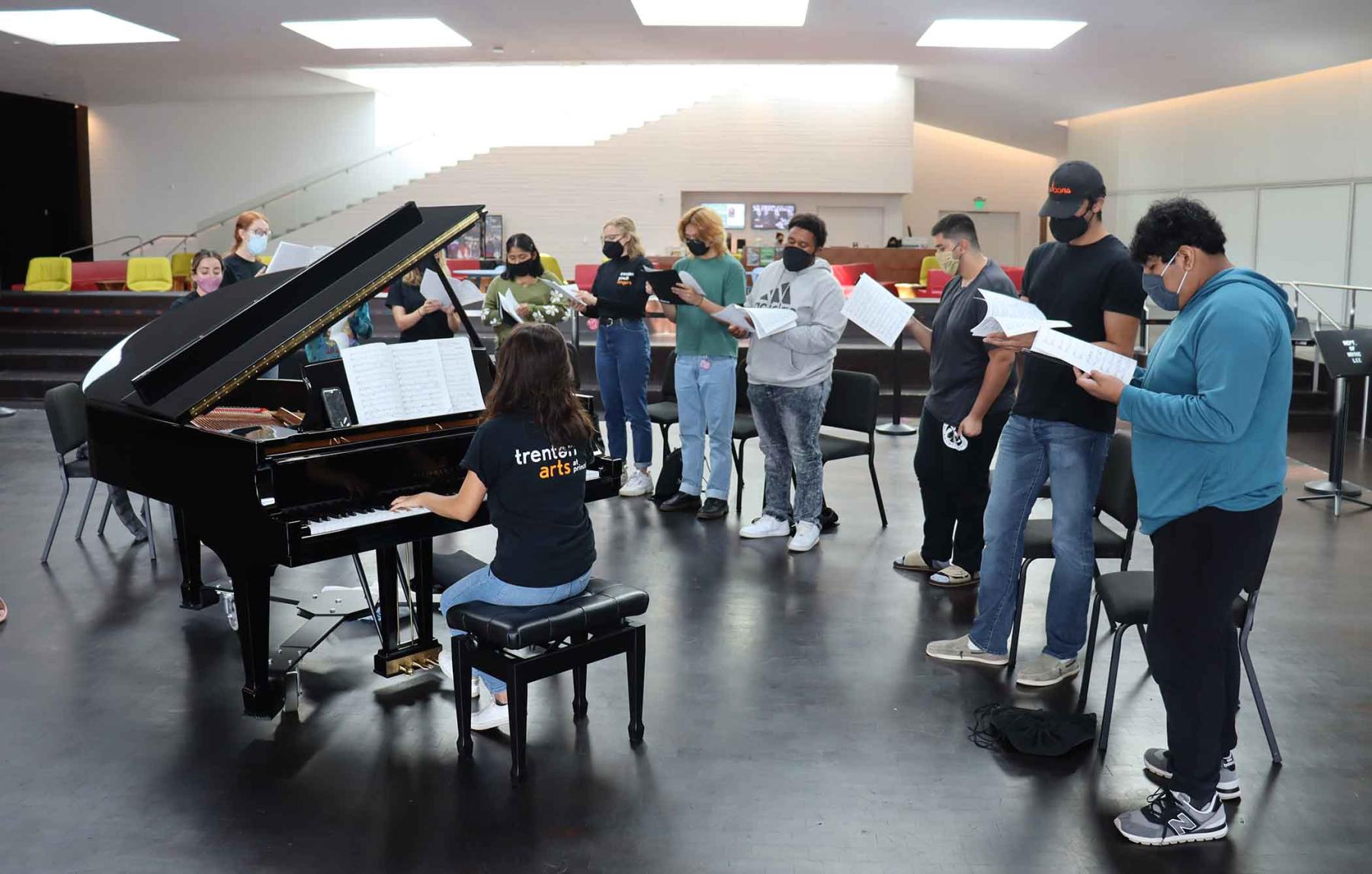 That doesn't mean Corichi Gómez doesn't challenge them creatively. During the worst of the pandemic, when in-person rehearsals were not possible, she organized creative Zoom sessions where the Princeton undergraduates gave presentations on K-pop Korean music, Latin American music, Bollywood and other genres. She arranged special guests from Broadway shows and the opera world to perform and talk about their work. "My favorite part was getting all these amazing musicians to come and inspire the students," she said.
As a leader in the Princeton and Trenton communities, Corichi Gómez wants to do even more for the students in her program. She thinks specifically of one of her youngest students, a seventh grader with a bright smile and a head-turning voice. "She's so funny and really loves to sing," Corichi Gómez said. "She has a lovely voice, and this is really her moment to get comfortable in her voice and take it to the next level."
The next level for TAP is to develop more college-access resources for students who want music to be a central part of their lives. "It says a lot that our students continued in the program through the pandemic and are now back and engaged in learning," she said. "This program is fostering some determination and inspiration to pursue arts after high school, and it makes me so happy to be a part of that."
On Nov. 22 at 7:30 p.m., Corichi Gómez will conduct the Glee Club and the Princeton Masterworks Chamber Orchestra in the University Chapel. The ensembles will perform Maurice Duruflé's Requiem, celebrating the 50th anniversary of the composer's visit to Princeton.