Be overprepared and pounce on every opportunity.
During his four years as a member of Princeton's men's basketball team, Marty Mannion '81 absorbed that work ethic from longtime coach Pete Carril, whose obsessive attention to detail was legendary. "The thing you learned with Coach was that there was no such thing as overpreparing, so oftentimes we knew what the other team was supposed to do better than they did," said Mannion, a member of the 1981 Ivy League championship team.
"He believed the way you compete on the court is the way you're going to live your life. If you work hard and you're a good teammate and you care, you might have a shot at succeeding. And it was a good lesson."
Mannion has applied that ethos to all his endeavors since he graduated from Princeton, through a career that has taken him to IBM, Harvard Business School, Summit Partners — a Boston-based private equity firm where he's worked since 1985 — and numerous corporate boards. But he also recognizes that he developed those skills and talents because of the opportunities that others extended to him. "Lots of people along the way were extraordinarily nice and really helped me," Mannion said. "I've been incredibly lucky."
Recently, Mannion and his wife, Tristin, made a major gift to Princeton that will support the University's effort to welcome a greater number of talented students to campus. Mannion Hall, a dormitory in New College East, one of the new colleges currently under construction near Poe Field, will open in the fall. "I think the world of Princeton," Mannion said. "When I look back, I realize not everybody would have taken the chance on a kid with a heavy Bronx accent, polyester clothes and a mullet and given him the opportunity at one of the best schools in the world. And I am thankful for that."
The extraordinary kindness didn't begin at Princeton. At Regis High School, a renowned Jesuit school in Manhattan, Mannion did well in his classes and became an All-City basketball player, averaging 29 points per game in his senior year. "Regis had an incredible academic track record and served families that didn't have high incomes with a tuition-free education," Mannion said. "At the time, there were many children of immigrants at the school, which gave it a sense of diversity."
That support at school was crucial for Mannion's family. His father died when Mannion was just 6, and his older brother, Shaun, died suddenly from cardiomyopathy as a teenager. His mother, who had emigrated to New York from Ireland when she was 17, went to work as domestic worker for a Manhattan family — a job she would keep for 43 years — in order to support her own family. "She had a very tough life, but she never gave up hope, which would have been easy for her to do," Mannion said. "Growing up in her house, it was like, 'If you commit to something, go do it.'"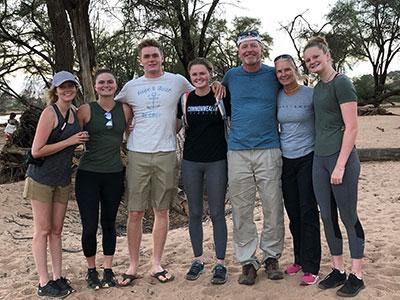 Even after all his success at Regis, Princeton was a culture shock. "My freshman year was a real adjustment," said Mannion, who grew up in a modest fifth-floor Bronx apartment and jokes that he arrived on campus in 1978 dressed like an extra in "Saturday Night Fever." "Nowadays, schools realize that there's a whole bunch of factors that make adjustments for kids who come from different backgrounds a lot harder, but back then they didn't focus on it. So the start was rough, and that's one of the reasons that my wife, Tristin, and I have focused our philanthropic efforts on complete financial aid for students."
Mannion helped pay for school by working at Andy's Tavern, a legendary Princeton hangout that used to be located on Alexander Street. "I needed some income, and the Fasanella family was nice enough to have me," Mannion said. "I cleaned the bar six nights a week."
In the classroom, Mannion gravitated toward economics, taking courses taught by professors such as Uwe Reinhardt and Alan Blinder '67. "Reinhardt was generally regarded as the best healthcare economist in the world, and Blinder went on to become vice-chair of the Federal Reserve," Mannion said. "I really grew to appreciate listening to their stories and their life experiences, and it got me interested in trying to pursue a career in business."
It was a statistics class, however, that stands out for defining Mannion's Princeton academic experience. On the first day of class, he realized he was the only non-engineer in the group of 20 students. But when he approached the professor afterward and politely told him he intended to drop the class, the professor refused. "When I asked him why, he said, 'Because I know you can do this. Come see me if you have any questions,'" Mannion said.
"A couple times during the semester, I went to see him, and it ended up being my favorite class. If he hadn't done that, I never would have fought through it. That taught me that if you're interested in something, the Princeton faculty is really willing to invest their time and get you up to speed."
After graduation, Mannion spent two years at IBM, which "taught me how to sell something, which I think is an important skill to have," he said. "IBM had a world-class training program, and again, it emphasized being prepared and being able to think on your feet."
Finding that he wanted to pursue a more entrepreneurial future, Mannion headed to Harvard Business School, where he earned an MBA and was president of the student government. Post graduation, he landed a job at Summit. "I lucked into the private equity business in 1985, when no one thought that private equity was the place to go," Mannion said. "I sent out 300 letters to every firm that I could find that was doing private equity or venture capital, and I jokingly say I got 400 rejection letters — which is true because I got multiple turndown letters from some firms. But I just kept cranking away at it, and I was lucky enough to find the Summit guys who were just starting a firm at the time and needed another person."
Since Mannion joined the company, Summit has invested in more than 550 companies across growth sectors of the economy, completed more than 175 public offerings, and currently manages over $42 billion in capital. Mannion officially retired from the firm in 2017 but remains involved as a senior advisor and chair of Summit's board of managers.
He married Tristin in 1998, and the couple has five children, including two daughters who have attended Princeton and swam on the women's varsity team. Both Marty and Tristin were recipients of student financial aid in high school and college, and since they established the Mannion Charitable Trust, they've focused on efforts to increase access and opportunity at a variety of institutions and organizations.
Princeton has remained an important part of Marty Mannion's life. Not only has he been able to enjoy the experience of being a Princeton parent, but his career kept him in touch with Princetonians from different generations.
"Ten or 15 times a year, it seemed, I'd go into meetings and run into somebody that I knew from Princeton — half the time they were athletes," Mannion said. "And my partners at Summit would always say, 'What's the story with the athletic program at Princeton? You all turned out to be really successful, and you're obviously really friendly.' And that was the special thing with Princeton: Everybody competes, but everyone also feels good when the others are successful. It's a special place because of the relationships you build during those four years on campus."
If you work hard and you're a good teammate and you care, you might have a shot at succeeding…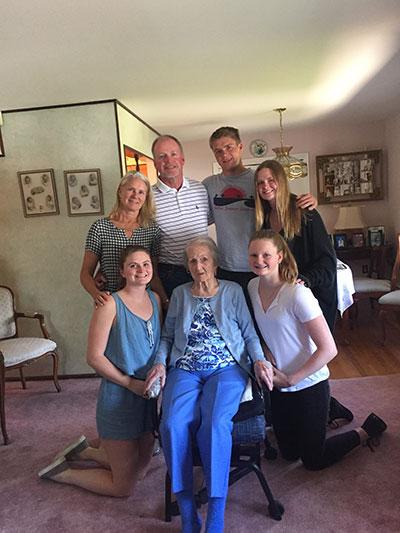 Not long ago, when Mannion was back on campus, he reconnected with Coach Carril, now 91. The Hall of Fame coach asked about Mannion's mother, who he fondly remembered from her frequent post-game critiques. "She came to every basketball game at Jadwin even though I didn't play a lot," Mannion said. "She was an amateur basketball analyst, and after the games, she'd tell Coach her opinion. He was always very nice to her."
Last March, Mannion's mother passed away at the age of 93. Looking back now, Mannion remembers his Princeton commencement through her eyes. "I was the only one in my family to graduate from college, and it was a big deal for my mom," Mannion said. "She had worked as a nanny and as a caretaker for this one family for years, and she'd seen a lot of successful people whose kids all went to places like Princeton, Harvard, Yale and Dartmouth. And now she had a son who'd graduated from Princeton. I do remember she was very touched by that idea of 'Hey, maybe my kids can do better than I did… America really is the land of opportunity.'"
"Princeton has had a huge impact on my family's lives, and I am so grateful," Mannion said. "I grew up in a fifth-floor Bronx tenement, the son of Irish immigrants, and very soon, there will be a building on Princeton's campus with our family's name on it. Maybe some future students at Princeton will see Mannion Hall, learn that story and think, 'I can do that, too.'"