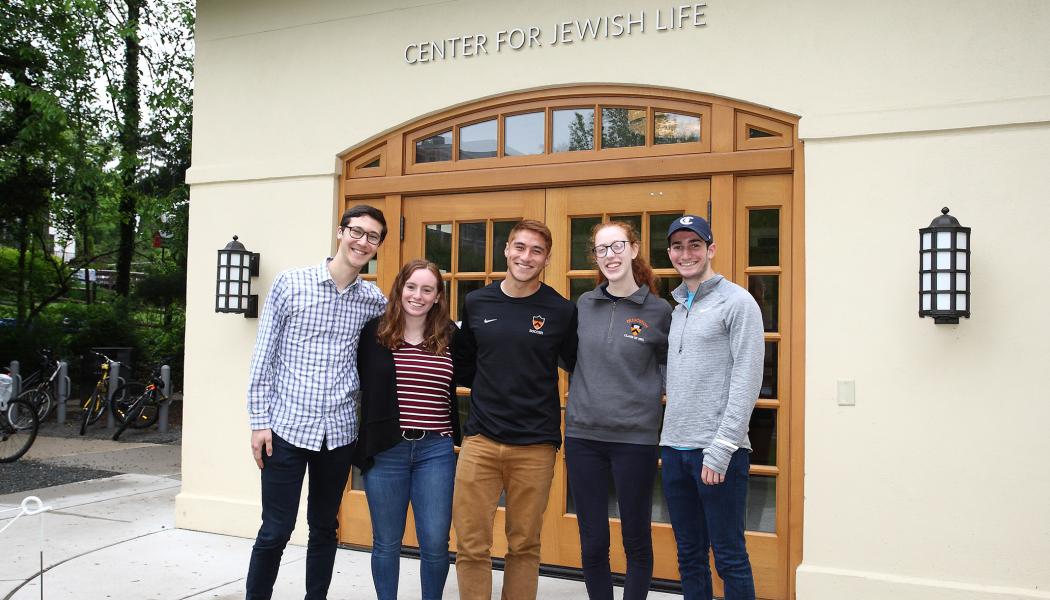 Courtesy of the Center for Jewish Life
Posner Foundation establishes fund to enhance Jewish life at Princeton
The Posner Foundation of Pittsburgh has made a gift to the Center for Jewish Life (CJL) at Princeton University to establish an endowment fund that will grow the center's existing, nationally recognized programs and provide resources to develop new initiatives and innovative approaches for strengthening Jewish life at Princeton. This significant gift was made in the fall of 2022 as part of the University's Venture Forward campaign.
"We are so grateful for the partnership of the Posner Foundation, and specifically for our longstanding relationship with Henry, Anne and Ida," said Rabbi Gil Steinlauf '91, CJL executive director.
"The Posner family represents three generations of Princetonians who have been deeply committed to building vibrant Jewish life on campus and, in particular, to establishing the CJL back in 1993. As we celebrate CJL's 30th anniversary this year, it is especially meaningful that the Posner family has established this endowment to ensure that generations of Jewish Princetonians will have increased opportunities to meaningfully connect with Jewish life on campus and to make a substantive difference in the world through their future endeavors and leadership."
The Posner Foundation was founded in 1963 by Henry Posner Sr. to support charitable causes in the Pittsburgh region and was later expanded by his son Henry Posner Jr. '41 to include support for global philanthropic endeavors, especially within the former Soviet Union. Today, the foundation focuses its grantmaking on social, economic and environmental challenges around the world. Henry Posner III '77 and his wife, Anne Molloy, are both trustees of the foundation and their daughter Ida Posner '12 serves as an advisor.
Henry Posner III '77 earned a B.S. in civil engineering from Princeton University and an MBA in finance from the Wharton School of the University of Pennsylvania. Posner is chairman of Railroad Development Corporation (RDC), which holds interests in railroads in Latin America, Europe and the U.S. He has served on Princeton advisory councils including the Princeton Institute for International and Regional Studies (PIIRS). Posner is also an adjunct professor in the Dietrich College of the Humanities at Carnegie Mellon University.
Anne Molloy graduated from Simmons University and earned an MBA from the Wharton School and a master's of library and information science from the University of Pittsburgh. She currently serves as the executive director of the Posner Fine Arts Foundation. Molloy is a member of the board of trustees at Carnegie Mellon and has served on the Judaic Studies Advisory Council at Princeton. She has also served as president of Rodef Shalom Congregation in Pittsburgh, executive board member of the World Union for Progressive Judaism and board member of the Union for Reform Judaism.
Ida Posner '12 is vice president, strategic planning and chief of staff at RDC. She is also a strategic advisor to the Posner Foundation of Pittsburgh, where she leads the foundation's growing portfolio of investments in food waste solutions. She is a board member of American Jewish World Service, a global nonprofit working to end poverty and promote human rights. Ms. Posner holds a B.S.E. from Princeton University and an MBA from Columbia Business School and remains active with both, serving on the Princeton Civil and Environmental Engineering Advisory Council and Columbia's Deming Center Advisory Board.
In addition to this gift, the Posner Foundation is recognized for its leadership annual contributions as a CJL Honorary Trustee.