Four Princetonians were honored with the Award for Service to Princeton award during the annual meeting of the Alumni Council that was held online Friday, May 21 over Zoom. Awarded by Donna Cain '93, chair of the Committee on Awards for Service to Princeton, the honorees are Frederick E. Cammerzell III '72 P25, Nancy Lin '77 S76 P10, Susan Katzmann Horner '86 S79 P20 and Laurence G. Latimer *01, who were each in attendance and thanked the committee for its work and selection in a pre-recorded message.
As Cain explained during the ceremony, the award was established to recognize outstanding service contributions to Princeton by any member of the Princeton family, with special emphasis on those who serve significantly, but inconspicuously.
Frederick E. Cammerzell III '72 P25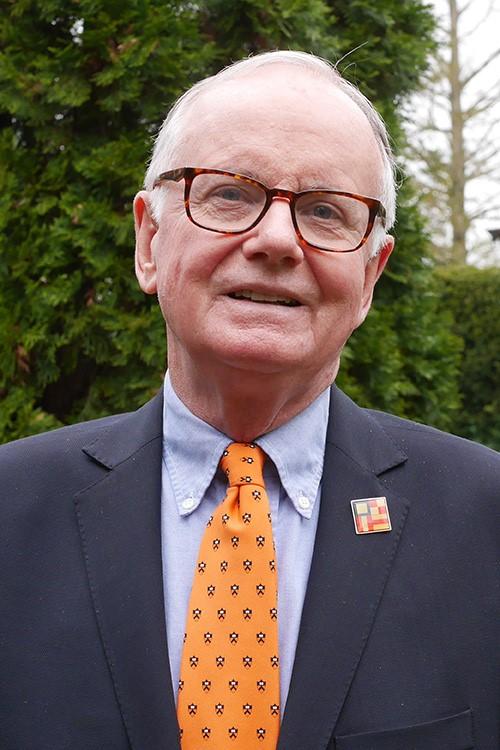 For nearly 50 years, Fritz Cammerzell III '72 has served as an exceptional volunteer. He has been vice president and president of his class and sits on its executive committee. He has served as the president of the Princeton Area Alumni Association, chair of the regional Alumni Schools committee and has taken his turn as a P-rade marshal. He was the president of the Princeton University Hockey Association and headed a fundraising campaign that helped refurbish Baker Rink.
Perhaps the most public of Cammerzell's roles is his long-standing leadership of the Class of 1972 reunions. The class' major reunions are known to be award-winning and record-breaking, and the off-year reunions are just as memorable. For decades, he has hosted class dinners at his Princeton home, and his hospitality is legendary. As many as 80 classmates and friends regularly gather at what is affectionately known as the Fritz Carlton.
Additionally, he invites students who have already been identified for the next reunions crew. This is a glimpse of the less visible, but perhaps the most long-lasting service that Cammerzell has been giving to Princeton: his decades of mentoring students.
The student might be the class scholar for '72 or an athlete from one the many teams that Cammerzell routinely cheers on. Often the students are far from their families. He offers a home-cooked meal or an important network introduction, help with a thesis or support during a family emergency, and along the way he introduces the rich traditions of Princeton and instills a love of the University. With Cammerzell as a model, these students, in turn, regularly become committed engaged alumni. That's a gift of service that keeps on giving.
Nancy H. Lin '77 S76 P10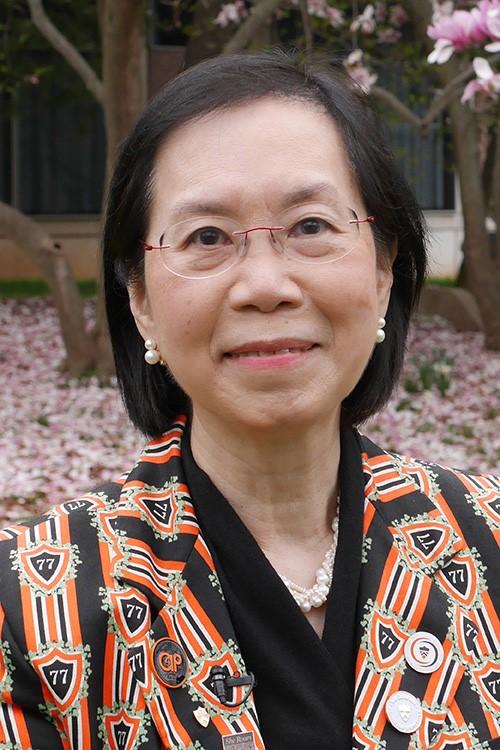 After her 2013 retirement from ExxonMobil, Nancy Lin '77 and her husband left Houston to return to live in Princeton. Once back home, she found time and she a new passion: Princeton volunteer leadership.
Already familiar with the Asian American Alumni Association of Princeton (A4P) from helping to organize an event in Houston, Lin became a board member in 2015 and co-chair in 2017. Employing her finely honed skills in strategic management, she has been cultivating a vibrant group that continues to expand engagement across generations. Beyond A4P, Lin works with Princeton Internships in Civic Service to encourage alumni to create opportunities for summer interns and helped to found the Princeton Women's Network of Greater Princeton.
Her range of connections is far-reaching, including current students and administrators, undergraduate and graduate alumni, recent or seasoned. And her generosity is both deep and wide, from creating the Lin Family Endowment for Asian American Studies to personally funding student interns to work on a history of A4P. Her fellow volunteers benefit as well, delighting to share photos of each other wearing customized baseball caps that Lin gives to her team.
Her generosity also extends to her time. She helps Asian students with Asian grocery store runs and mentors not only a current student in chemical and biological engineering, which had been her concentration, but also new students through the Princeton University Mentoring Program (PUMP), sponsored by the Carl A. Fields Center.
Lin is a Zoom master who also won't hesitate to just pick up the phone or hand-deliver a gift to nurture relationships and connect volunteers. She will do anything she can out of pure joy in growing the Tiger family.
Susan Katzmann Horner '86 S79 P20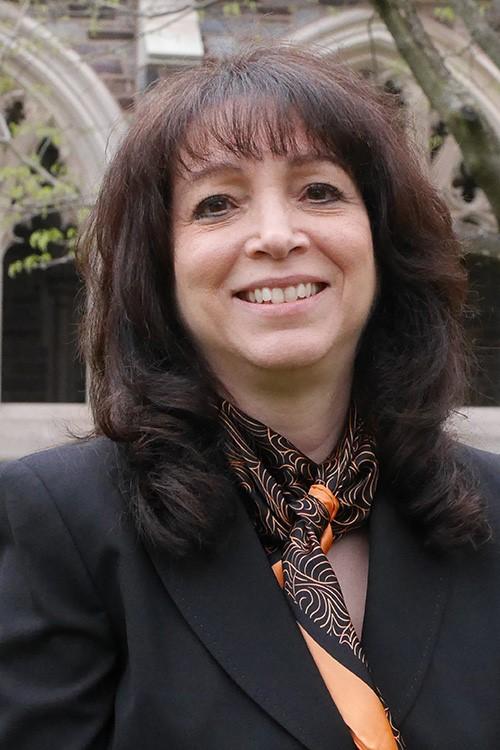 Susan Horner '86 has worn many hats during her 30+ years of service to Princeton. With her early years of Alumni Schools interviewing as the foundation, Horner's volunteer roles have expanded exponentially since 2003.
Her regional leadership roles for the PC of Northwest NJ, including its Schools Committee, led to membership on, then the chairing of the Alumni Council's Princeton School's Committee. Next, she helped to launch the Princeton Women's Network (PWN) for northern New Jersey in 2016, and in 2017 became the chair of the Alumni Council's Ad Hoc Committee on Alumnae Initiatives. At the same time she was asked to serve as a co-chair of the Steering Committee for the 2018 "She Roars" conference. Following the huge success of that conference, Horner was charged with transforming the ad hoc committee into the Princeton Women's Network Advisory Council, which she has led since 2019. Under that new banner, the number of regional PWN chapters has doubled, with a 33% increase in alumnae now served by a regional PWN.
And that's just a taste of what she has done. Why has she done it? The answer always is community. Why expand ASC involvement at college fairs? To assist the Admission Office's increased outreach to underrepresented communities. Why expand the PWN network? To build a convivial community where alumnae can foster programs of value to women.
Then there is how she has done it. She leads by example, elevates those who work with her, and cultivates the next generation of leaders, all with grace and unflagging good cheer. As one colleague summarizes, "Truly, she represents the best that Princeton has to offer."
Laurence G. Latimer *01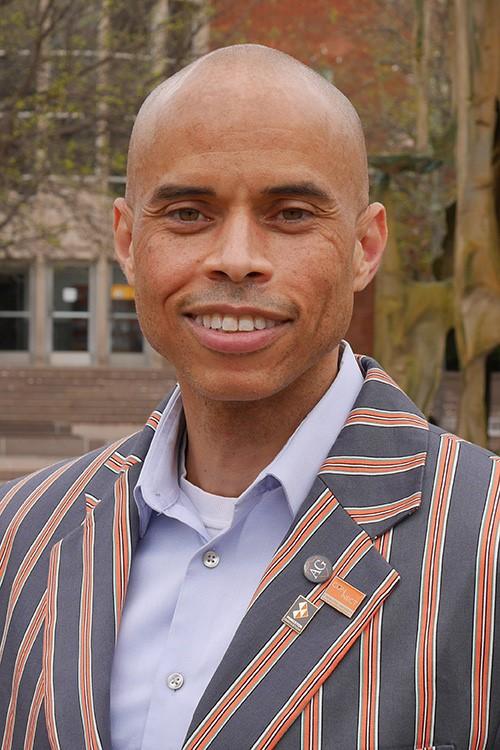 When Laurence Latimer attended the 2013 graduate alumni conference, "Many Minds, Many Stripes," he had been the agent for his SPIA class for one year. He went to a session on volunteering and, as he remembers, "got into the flow of things." Afterwards, he shared with one of the presenters that he would like to get more involved, and the floodgates opened.
His first stop was his regional association, Princeton Alumni of New York City, where he coordinated a graduate alumni event and was soon the regional graduate alumni chair. Now on leadership's radar, Latimer moved on to become chair of Graduate Alumni Annual Giving. Then there was 2018, when he was made (1) vice chair of the Annual Giving Committee, the first graduate alum to be named to that post; (2) co-chair of the Connect Initiative, focusing on increasing Black alumni engagement among both undergraduate and graduate alumni; and (3) a member of the Campaign Executive Steering Committee.
He is also an ex officio member of the Graduate School Dean's Leadership Council, on the board of the Association of Princeton Graduate Alumni (APGA), and on the Alumni Council's Executive Committee. He sits on the Alumni Advisory Committee of the Center for Career Development and is a mentor for the Princeton Entrepreneurship Council. He also remains very much engaged with the Princeton Alumni Angels, the group of passionate alumni who are committed to finding great investment opportunities and supporting exciting startups whose Greater New York chapter he helped to found in 2016.
All of that in just his first 10 years of getting "in the flow" of service to Princeton.