Tiger Rising: Mary Newburn '97 reflects on her term as Alumni Association president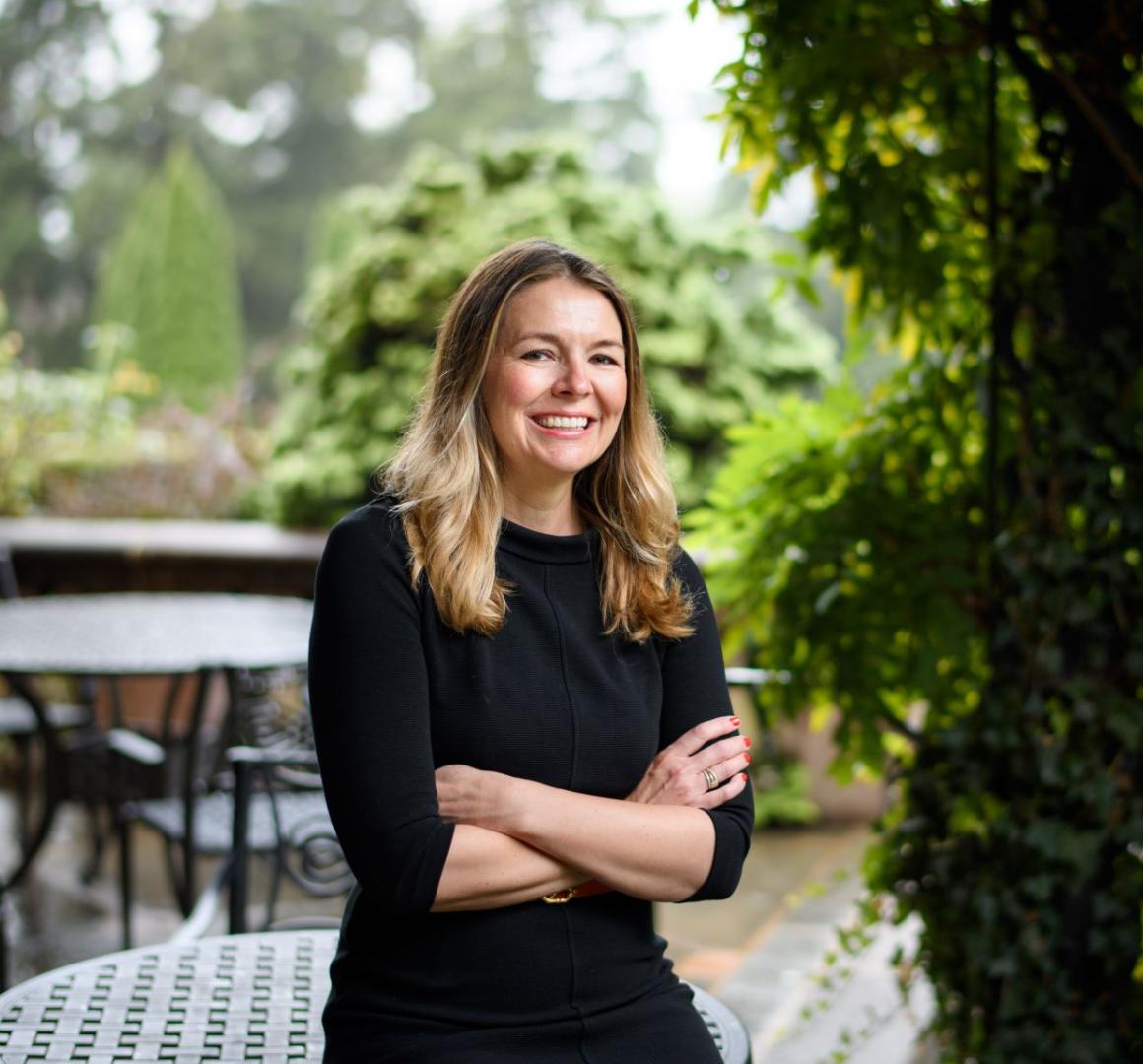 Mary Newburn '97 became president of the Alumni Association and chair of the Alumni Council when everything was virtual due to the pandemic. Taking the leadership theme of "Tigers Rising," she kept spirits high as the world gradually returned to normalcy, and led several major initiatives throughout her term.
Newburn, who concludes her two-year term on June 30, talks about her service as president and chair, creating an atmosphere of belonging, and why magic happens when Tigers get together.
When you started your tenure, everything was virtual with no face-to-face meetings. What was the key to reconnecting with the alumni community after such a huge disruption?
Honestly, it was a daunting leadership challenge to build the connective tissue that makes a successful team operate when you're at a distance. How do we create an atmosphere of welcome and belonging for people coming together from all over the world amidst uncertainty about when we can reconvene in person? To the credit of the entire Alumni Council, we rose to the challenge. I'm proud of the way our team created an atmosphere of welcome and belonging through spaces and events and opportunities for alumni to see themselves in the alumni journey. From Orange & Black Day to Reunions, Wintersession to the work of the Task Force on Affinity Programming, we have offered so much to our alumni.
Reunions returned to campus in 2022. How did it feel to be back together after two years?
While the virtual world sustained us, I have to say that it's nice to be back in person. Reunions have always had such fantastic energy, but last year's was especially memorable because so many people knew how important it was to be there in person. After spending many months at a distance, being back together felt like a collective exhale, a sense of relief. I remember talking to a class president at the end of Reunions weekend about how magical it was to have Tigers back together. And she said being back with Tigers on campus felt like touching home base. That after what we all had been through with the pandemic, we needed to see each other and touch base. I couldn't agree more.
You introduced several new initiatives during your tenure. Which ones are you most proud of?
There are two that immediately come to mind. Orange & Black Day was conceived as a virtual holiday to get people worldwide to celebrate Princeton's birthday, and it was incredible to see this new event take flight on October 22, 2021, the University's 275th birthday. I loved how many leaned into this new holiday — including students, administrators and the entire campus community as well as alumni worldwide. This past October, roughly 90 regional associations around the world requested Orange & Black Day party kits. It was exciting to see regional clubs from Japan, India, and the United Kingdom plan events.
Another achievement I'm proud of is our "Alumni 101" contribution to Wintersession — an innovative workshop for undergraduate and graduate students. We initially proposed the idea to address some of the knowledge gaps about traditions and the alumni experience that were created as a result of the pandemic. It was exciting to have an opportunity to show students what the alumni journey looks like once they graduate and to illustrate the real lifelong value that comes with being a Princeton alum.
Your tenure also involved a lot of travel, most notably for the Venture Forward events in San Francisco, London, Boston, Chicago and Washington, D.C., with President Eisgruber. What were your most memorable experiences from these trips?
Oh, my goodness, that's a hard question because they were all great. I met so many spirited Tigers who brought out their best orange and black jackets, blazers, boas and fun shoes for the events. I wish I could bottle the energy that comes from being back together at these events; the Tiger spirit was so positive and palpable. I'm grateful that the Venture Forward campaign established alumni engagement as a strategic pillar. It's shining a bright light on our efforts, allowing us to ask alums to take a fresh look at the ways we can engage. We hope everyone feels an open invitation to participate, in whatever ways are meaningful to them. There's something here for everyone.
The theme of your tenure was Tigers Rising. Does this theme mean something different to you now as you look back?
Yes, I think it does. When we started, we were operating in uncertainty and wanted people to feel like no matter what the circumstances were, that they could always find a home in our community. I'm proud of the theme because it reflects what we hoped to capture, which was that we would all be brave and meet the moment. There is a certain hopefulness embedded in Tigers Rising. And now that we're back together, I think Tigers Rising means that we're going to continue to lean in and do our best to engage all alumni.
What do you take away from your time as president of the Alumni Association and chair of the Alumni Council?
I've always been proud of Princeton and so proud to be a Princeton alum. And I leave this role even more proud of Princeton and the people who lead the institution because I've seen the thoughtfulness that goes into every challenging decision. Princeton continues to move forward.
Your next volunteer role will be as co-chair of the Advancement Task Force on Recent Alumni Engagement. How are you hoping to get recent Princeton alumni more involved?
So, when I graduated from Princeton in 1997, communicating via email was considered "cutting edge" and virtually no one had a cell phone. Now, with multiple avenues for communication — text, email, apps, social media — we're presented with both an opportunity and a challenge when it comes to engaging recent alumni. With the help of an immensely talented team, the task force is hoping to listen, learn, collect data, and ultimately create a set of recommendations to guide efforts moving forward.
As a 25-year veteran of the Princeton alumni experience, the personal benefits of joining the alumni journey are tremendous — presenting so many opportunities for learning, service and connection across a lifetime. I hope all alumni — including recent alumni — find ways to lean in!