A conversation between leaders
Michael Schill '80, president of Northwestern, interviewed Rodney Priestley, dean of the Princeton Graduate School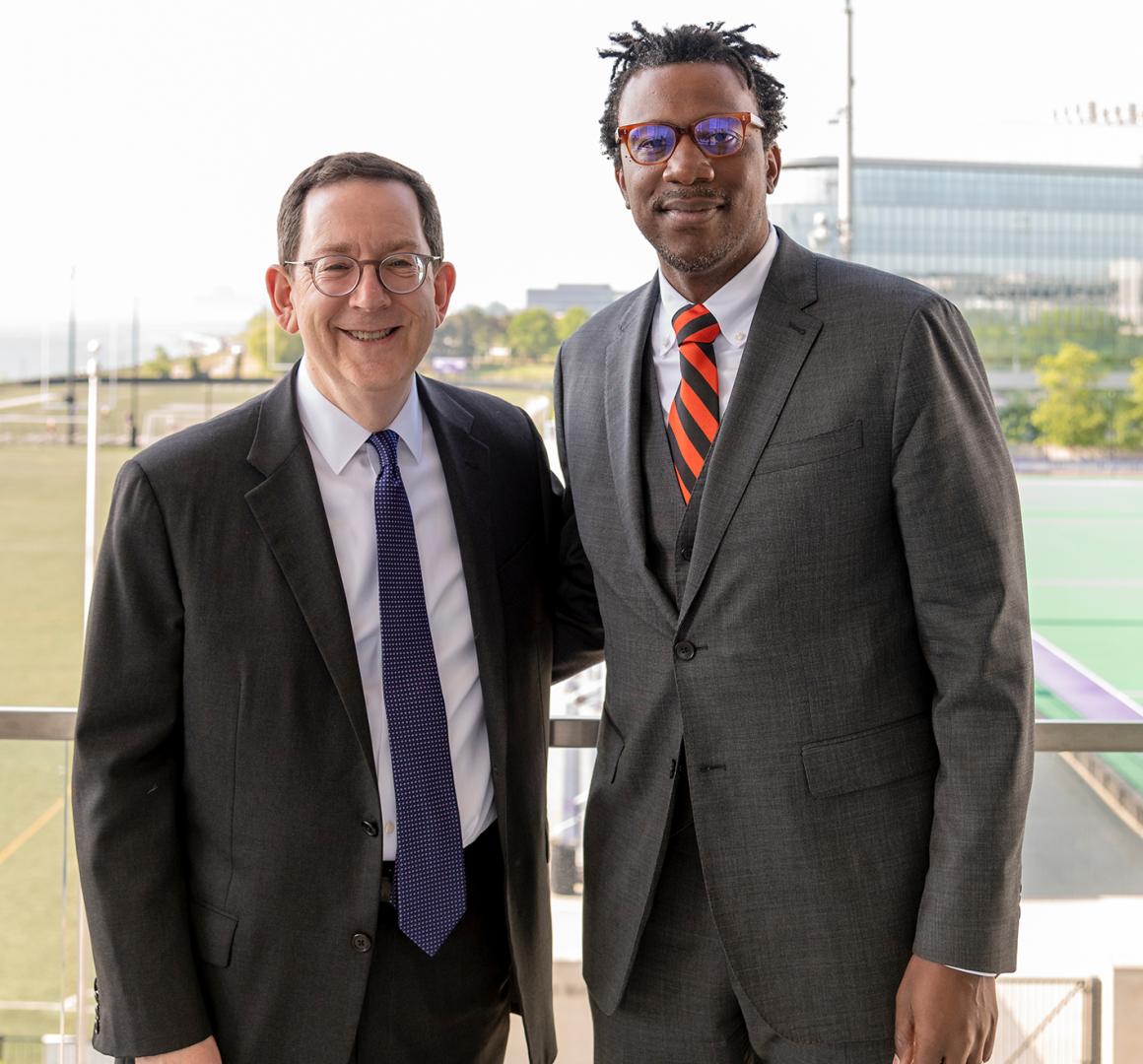 Northwestern University President Michael Schill '80 (left) and Princeton Graduate School Dean Rodney Priestley.
On May 24, Rodney Priestley, dean of the Princeton Graduate School, was interviewed by Michael Schill '80, president of Northwestern University. It was a noteworthy moment for both: Priestley is a Northwestern graduate alumnus completing his first year as dean, and Schill is a Princeton alumnus in his first year as president. Excerpts from the conversation have been edited.
Schill: As a distinguished faculty member at Princeton doing great research in polymeric and hybrid systems, what made you want to go into administration?
Priestley: I still recall when I arrived at Princeton as a faculty member, walking into an empty lab, being joined by my graduate students and postdocs, and realizing that we had an opportunity to build something amazing together. Both of my administrative roles — as dean, and previously as inaugural vice dean for innovation — have been motivated by my experience mentoring graduate students. Being dean offers an opportunity to pay it forward from a time in my life as a Northwestern graduate student that holds significant importance to me and that helped launch my career.
As you mentioned, you were the first vice dean for innovation at Princeton. What do you see as the most significant opportunities for innovation and entrepreneurship at a university that also proudly embraces its liberal arts identity? I got a fabulous liberal arts education at Princeton.
There isn't a single major challenge we face in society that will be met only by technology — the humanities and social sciences help us define the questions and problems that we need to solve. So, we have been deliberate in ensuring that the natural sciences and engineering are integrated with the humanities and social sciences as we build out innovation and entrepreneurship. Graduate students drive much of the University's research and innovation — they're often the first authors on publications and co-authors on patents. I think it's important to train graduate students to take risks, and entrepreneurship is a mindset to take calculated risks knowing they may lead to failure.
You can't read higher education news without hearing about challenges in the humanities, in terms of enrollment and post-graduation jobs. How are you seeing this play out at the Graduate School?
Professional development has been a central focus in the Graduate School over the past several years with the launch of our GradFUTURES program. We want to give our students a competitive advantage in the jobs market by providing them with the skills beyond research and teaching that they need to be successful in both academic and nonacademic careers. Alumni can be very important mentors.
When one takes on a new leadership role as we have both done, it is often a time for setting a strategic vision. Plus, Princeton is approaching its 125th anniversary of graduate education — a milestone. What strategic priorities have you identified for Princeton's Graduate School?
This is a great time for reflection about graduate education at Princeton. Through historic campus development, the University is investing in world-class academic and research facilities that will support scholars far into the future. We want students to come to Princeton because they can explore the best, most innovative programs in the country. So, in collaboration with faculty, we're developing new graduate programs, such as biophysics, bioengineering, and quantum science and engineering. It is also important that students in all disciplines have opportunities and resources to explore at the highest level. Increasing experiential learning opportunities and ensuring that we have a diverse population of graduate students on campus are priorities I have long focused on as vice dean for innovation, as director of graduate studies in my department, and now as dean of the graduate school. We have remarkable people and resources. At the Graduate School, we want to continue to be creative and innovative so we stay in the forefront, pushing the boundaries of what an institution can do.
Dean Priestley: Words to lead by
The role of a leader is to define reality and inspire hope. This is Rodney Priestley's leadership mantra based on the axiom of American Express CEO Kenneth Chenault in the aftermath of 9/11. "It's a simple concept that's hard to execute because defining reality requires bringing people together and building common ground," Priestley said. "And that won't work unless you are genuine, transparent and honest."
The phrase, and the following quotes, reflect Priestley's personal leadership philosophy:
"Extending opportunities to the most promising individuals from as many segments of society as possible is the right thing to do." By encouraging more scholars from underrepresented backgrounds, Princeton creates a welcoming community of scholars for all.
"Values should be set by what we do and by collaboratively working with students." Creating a values-driven culture through collaborative work between students and leaders of graduate education helps Princeton identify, attract and develop brilliant scholars.
"Empathy. Courage. Humility. These are the three words I try to live by as a leader."