Growing up in London, England, Grace Baylis '20 had a somewhat limited awareness of Princeton and the reputation of its spirited alumni community. "Back home, we didn't really get the whole Princeton thing," she said. "I just remember thinking, 'Well, the field hockey team seems good, and it would be cool to go to America and play.' But frankly, I didn't know too much about Princeton before I turned up here."
Baylis learned quickly. Not only did she thrive as a goalkeeper on the field hockey field, twice captaining the team and helping the Tigers to four straight NCAA tournaments and two Ivy League championships, but she embraced multiple opportunities to become part of the larger Princeton community. She became a student-athlete wellness leader, worked with the Office of Admission as a campus visit assistant, interned at the University's Office of Finance and Treasury and worked at Maclean House for Alumni Affairs. When a teammate suggested she join the student crew that works Reunions, she signed up without really knowing what to expect. "I heard about Reunions and how infamous it was, but I really didn't know what I was signing up for," she said. "It turned out to be the best job I had — probably the hardest, but definitely the best."
One of her assignments that first Reunions was to check-in alumni who had returned to celebrate with the 65th reunion class, and one of the first people she met became an important figure in her life. "Joan McKeown walked in, sat down at registration and spent the entire day with us," Baylis said. "Everyone knew her, and she was such an incredible, wonderful character — like no one you've ever met. We just really hit it off."
McKeown's husband, Samuel '47, had passed away in 2008, but she attended every day of Reunions, arriving early in her navy blue Chevy Impala so she could nab the best parking spot near Forbes College. "It was such an impactful experience for me to meet someone who had so many wonderful memories of her husband and Princeton and who still just absolutely bled orange and black," Baylis said. "That experience and seeing how wonderful the alumni community can be to people that have something in common was awesome. And I was like, 'I have to be more involved in this.'"
Each subsequent year of her undergraduate experience, Baylis worked as a crew manager with the 30th-reunion classes and reveled in the orange glow that alumni from every generation demonstrated towards the University and each other. "I've never seen anything like it in my life," she said. "The loyalty and love that people feel for Princeton is really unparalleled. It's like an English football following."
Baylis not only reconnected with McKeown each spring; they became close friends. "I'd get an email every week from Joan, saying, 'Grace, how are you doing?' and we would talk on the phone," Baylis said. "She actually came to my final home game and supported me. She was awesome."
For Baylis and her 2020 classmates, however, their final semester at Princeton, including commencement and Reunions, was turned upside down by COVID, which forced the University to send students home and curtail in-person activities. Her post-graduate fellowship, which would have enabled her to spend a year in Africa expanding upon the research she'd begun with her thesis, fell apart, and she accepted a job in banking that eventually led her to San Francisco, where she now works for the Royal Bank of Canada.
"I always preface this with saying that there have been a lot of hard things that have happened during COVID, far harder than students not being able to come back or not having a graduation, but that last semester wasn't what we wanted or imagined," Baylis said. "Senior spring, we were about to hand in our theses, we had all these fun plans coming up with friends. Then all of a sudden, out of nowhere, it was, 'Oh, actually, we're leaving.' Then, 'We're not coming back.' And then, 'We don't know when we're going to see each other again.' So it was unsettling at best. It's not like we were the only class of 2020 going through this — this was happening throughout the country and throughout the world — but I think the not knowing if and when we might be back left us a bit detached and a little disheartened."
Once pandemic conditions eased and the University announced that the Class of 2020 would finally celebrate their Commencement together on campus before an in-person Reunions 2022, Baylis leapt into action. She had already volunteered to serve as Reunions co-chair for her class, alongside Mariah McVey '20, but organizing a supersized second Reunion required an extraordinary amount of effort and a vast toolbox of creative and interpersonal skills. Baylis got the class's Reunions website up and running, and she's juggling multiple responsibilities that stretch her workdays deep into the evenings, from arranging the 2020 class jackets to organizing the catering for the class dinner.
"A massive part of our job has really been ongoing engagement, talking to classmates, and communication and outreach, which has become one of my favorite parts of the job," Baylis said. "It's only been two years, but coming back to Princeton for our official Commencement gives our class the feeling of a major Reunion year. Talking to my classmates, the frustration and disappointment of the last two years is really turning into excitement."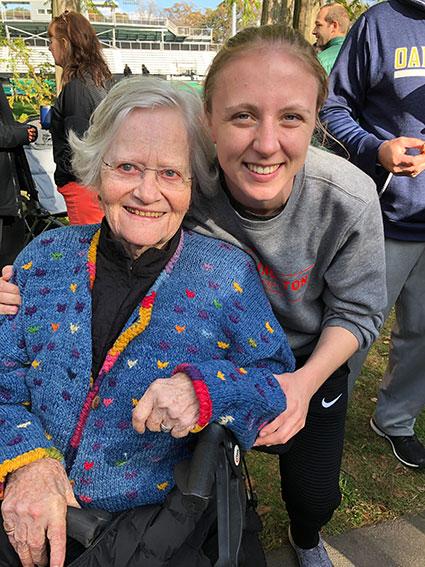 More than 82 percent of 2020 graduates have already confirmed their attendance for Commencement, but Baylis, McVey and other volunteers are working down to the wire to enlist every classmate. "A lot of the emails I receive are signed off with, 'Can't wait to come back in May,'" she said. "I think it's going to be awesome."
Baylis and others got a taste of what to expect when alumni attended two recent in-person gatherings with President Christopher L. Eisgruber '83 — one in San Francisco and one in New York. "Throughout the last six months, as things start to transition back to normal, I'd been thinking a lot about how it will feel to see so many people: Is it going to feel normal? Is it going to feel weird?" Baylis said. "But it felt so natural to have people back in the same room all together. Everyone is San Francisco was happy to be back in-person, and it made me even excited to see more Princeton faces at Reunions."
One person Baylis won't see at Reunions, unfortunately, is Joan McKeown. In October, the devoted Princeton spouse and grandmother of 10 died peacefully at the age of 90. It will be impossible for Baylis not to think of her, though. "Joan made me fall in love with Reunions and want to be involved in all of alumni outreach," Baylis said. "I keep a picture of the two of us, and I look at it when I'm working on Reunions to remember why I'm doing this."