Three students are exploring how we learn language, preparing to improve healthcare in India, and teaching American Sign Language, thanks to 1746 Society members Walker McKinney '50, R. Kenneth Perry '50, and Thomas Nichol Jr. '33, who combined loyalty and philanthropy by aiding students through their estate plans.
A bequest from McKinney is allowing Tracy Reuter to study how our brains acquire new words. Karis Cha '18 studies healthcare policy a with support from Perry's life income gift to Princeton. Jack Hudson '16 is creating an online teaching tool supported by Nichol's bequest. Here are snapshots of these students' promising projects.
Word Play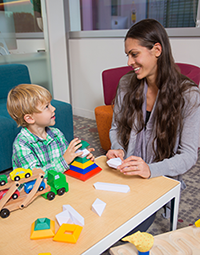 Language and how we make sense of it fascinates graduate student Tracy Reuter, who investigates language development in infants, children, and adults.
Consider: given the incredible complexity of language, how are we still able to finish each other's sandwiches?
If you just re-read that, you experienced an important aspect of language. We don't process word-by-word. We generate predictions about upcoming information. "It is not a conscious process," Reuter says. "We're engaged in it constantly."
When Reuter works with preschoolers, she employs an eye-tracker as the child views objects on a large digital screen. As the child hears a statement, the eye-tracker records which object the child looks at first. These eye movements signal which word the child thinks should finish the sentence.
Reuter hypothesizes that children's errors influence word learning. This may open a window to how the developing mind works, and lead to new strategies to reach those struggling or behind in acquiring language skills.
Policy and Practice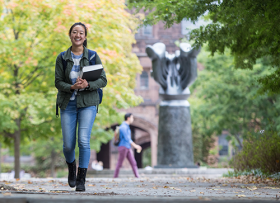 Karis Cha '18 has her sights on a future as a doctor and health policy expert. The Woodrow Wilson School concentrator and pre-med student says "Healthcare is a tangible way to help people. If you help to care for their bodies, they know you care for them."
Cha, grew up in Uzbekistan and Kyrgyzstan. As an infant, her family visited India, where she contracted a serious illness. A local doctor saved her life. Now she wants to return "to give my life to a place that almost took it."
This past summer Cha shadowed an obstetrician and observed several births. "Coming back to campus I am more motivated now to study," she says; her course load combines biochemistry and physics with ethics and policy research.
Learning Curve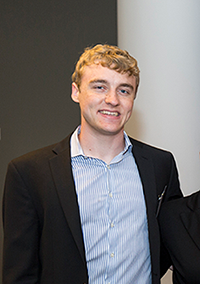 A sophomore year project turned into a full-time job for Jack Hudson '16, now a co-founder and chief technology officer for SignSchool, a website for learning American Sign Language (ASL).
Impetus for the project came from friendship with Colin Lualdi '17, who is deaf.
"I didn't really have web development experience coming into this," Hudson says. "Through SignSchool I was able to learn, and as a computer science major, build on those skills." He and his team polished their ideas and got expert advice in two summer Keller Center eLabs.
One challenge was how to give a person feedback on learning one of the 7,000 ASL signs now in the SignSchool database. Hudson devised practicing via a split screen—video of a teacher signing on the left, the student using a web camera on the right to copy and perfect the movement.
"My scholarship lightened my financial burden and allowed me to focus on school," Hudson says. "It inspired me to give back to the community, too."