Helm Award-winner Laurence Latimer *01 raises his hand for Annual Giving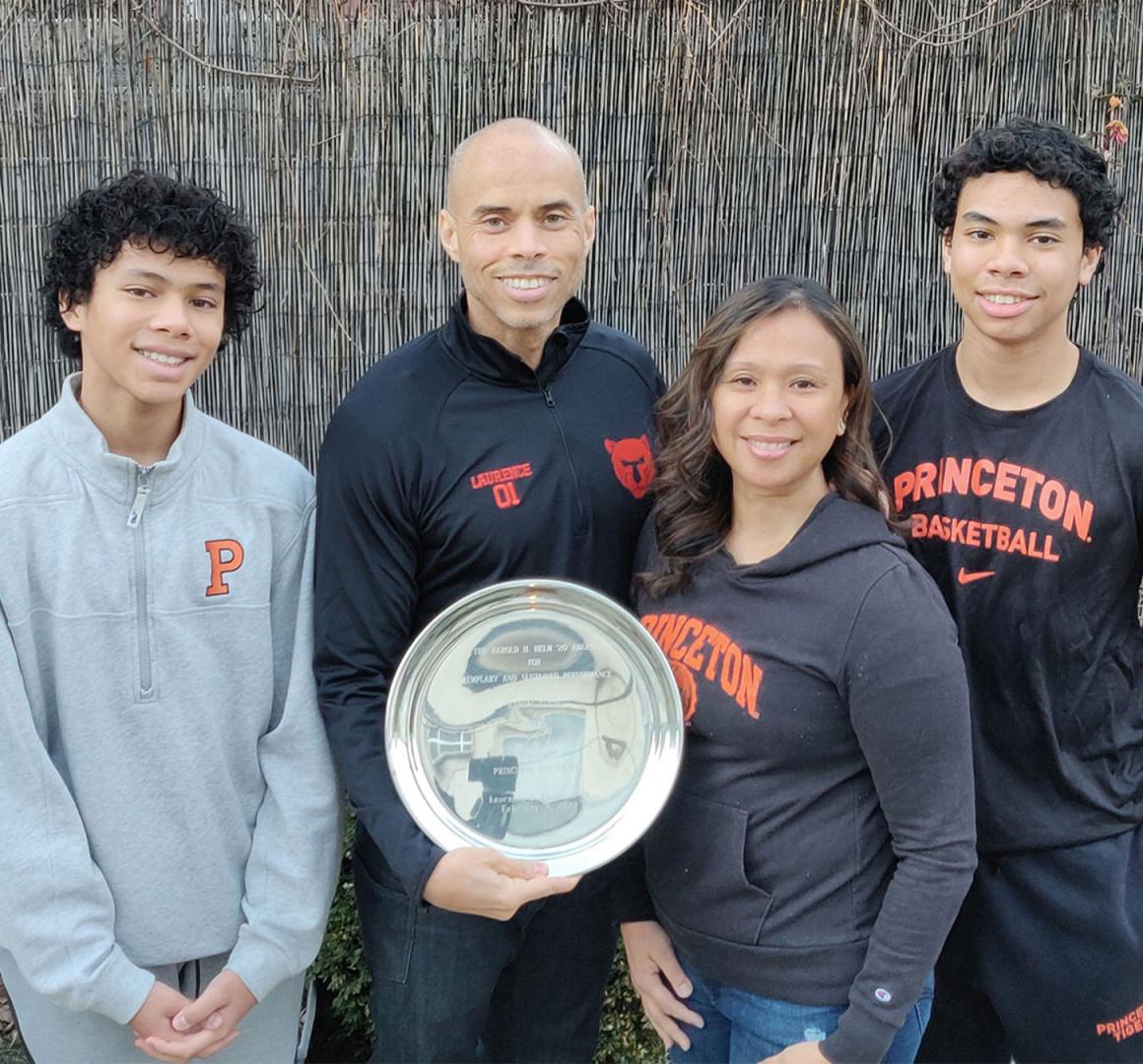 Laurence Latimer *01, holding the Helm Award, is flanked by his family, from left, son Xander, wife Sheila, and son Xavier.
More than 10 years after he earned a master's in public policy at the School of Public and International Affairs, Laurence Latimer *01's volunteer trajectory for Princeton took off. 
In a session on volunteering at the 2013 Many Minds, Many Stripes conference for Princeton's graduate community, Latimer stood up and said he wanted to help Princeton but there didn't seem to be an easy way to engage.
His comment set off a chain reaction of introductions, connections and opportunities that has kept Latimer busy on several fronts, notably for Annual Giving. Among his roles for AG, Latimer served as chair of Graduate Alumni Annual Giving and became the first graduate alumnus named as a vice chair of the Annual Giving Committee, a move he sees as an important symbol of the University's investment in graduate alumni. For his dedication, Latimer received the 2021 Harold Helm, Class of 1920 Award for "exemplary and sustained" service to AG. Named for the first AG chair, it is the highest distinction Princeton awards for service to Annual Giving.
"Princeton is a place where, when you reach out your hand for whatever reason, there is always somebody on the other side who's going to grab it and help you along," he said.
Arc of Engagement
Latimer is the co-founder and CEO of Dinara, a startup that is reimagining enterprise financial services for cryptocurrency businesses. He initially planned a career as a commercial pilot; flying a plane was something he learned to do at age 14. But after two years studying aviation at The Ohio State University, he found that as the planes got bigger, it became more button-pushing than challenging.
He shifted direction into political science. A fellowship brought Latimer to Princeton, where he said he felt warmly welcomed by John Templeton, then assistant dean for graduate admissions at SPIA. "John took an interest in me and invested in me even before I was a student here," Latimer said.
But Latimer readily admits that while on campus he kept mostly with his classmates and rarely was involved with the broader Princeton community. After graduation there was a busy time establishing his career and family. He also more than made up for not becoming a pilot by flying around the globe for business, making stops in Europe, Asia, South America and Africa.
"I often heard about how incredible the Princeton alumni community is, and frankly, I wasn't feeling it," he said. "Something just triggered for me right around that 10-year mark," and the Many Minds, Many Stripes conference became "a watershed event."
"The community is not as valuable and as inclusive as it could be if it doesn't welcome its graduate alumni as full members," Latimer said. "Conversely, graduate alumni are leaving all kinds of value — personally and professionally — on the table if they aren't full members of this incredible community. You become a full member by engagement, whether that's doing interviews for the Alumni Schools Committee, giving to AG every year, coming to speak at an event — whatever it is. But to be a full member of this community, we have an obligation to participate.
"That's why I got so connected: For me it was so important to really represent graduate alumni."
A 2021 Service to Princeton Award winner, Latimer has volunteered in other capacities in addition to Annual Giving. As co-chair with the Connect Initiative, he helped with the evolution and implementation of a multi-year strategic plan focusing on increasing Black alumni engagement and education for both undergraduate and graduate alumni. He also gave his time to the Princeton Association of New York, the Association of Princeton Graduate Alumni, and the Graduate School Dean's Leadership Council. He is a member of the Venture Forward Campaign Executive Steering Committee and serves as chair of the Dean for Research Advisory Council on Innovation and Entrepreneurship.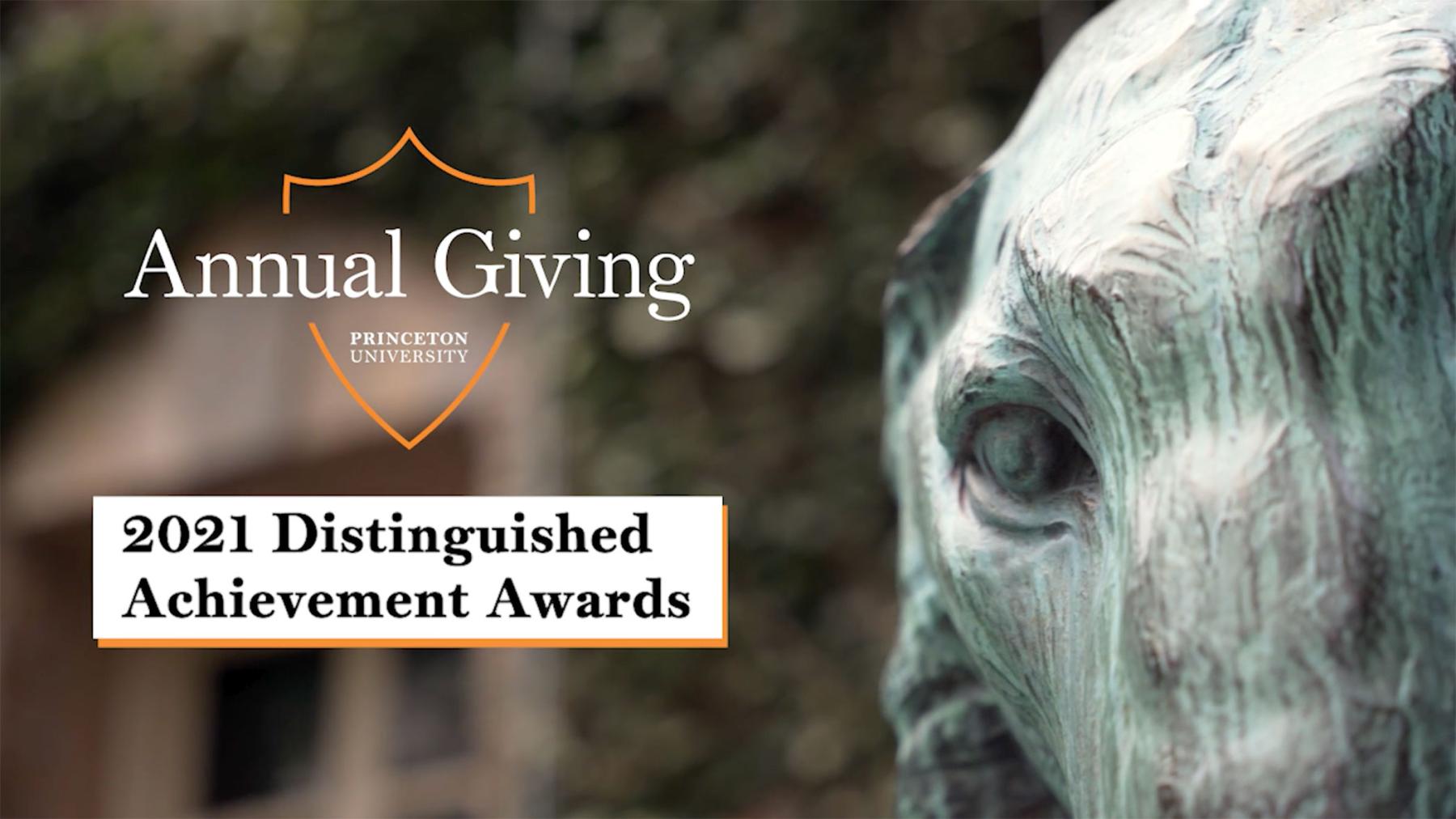 Onward and Upward
Latimer said he's seen the University make strides in making graduate alumni more involved and appreciated in the last 20 years. He cited the all-student reception for both undergraduates and graduate students at the beginning of the academic year; when he arrived in 1998, there was a SPIA welcome for his cohort but no extension to the broader community.
"Something as small as learning "Old Nassau" — I had no idea what that was," he said. "Now it's taught in orientation. These things that seem small actually create that sense of community and identity."
A sense of community connects Latimer to a broader sense of purpose and fuels his participation and service to Old Nassau.
"I've always held very dear Princeton's informal motto — 'in the service of humanity,'" he said. "It's not about me... It's about how we share the gifts that we have as Princetonians with the broader community."