Helm Award winner Paul Haaga Jr. '70 celebrates team spirit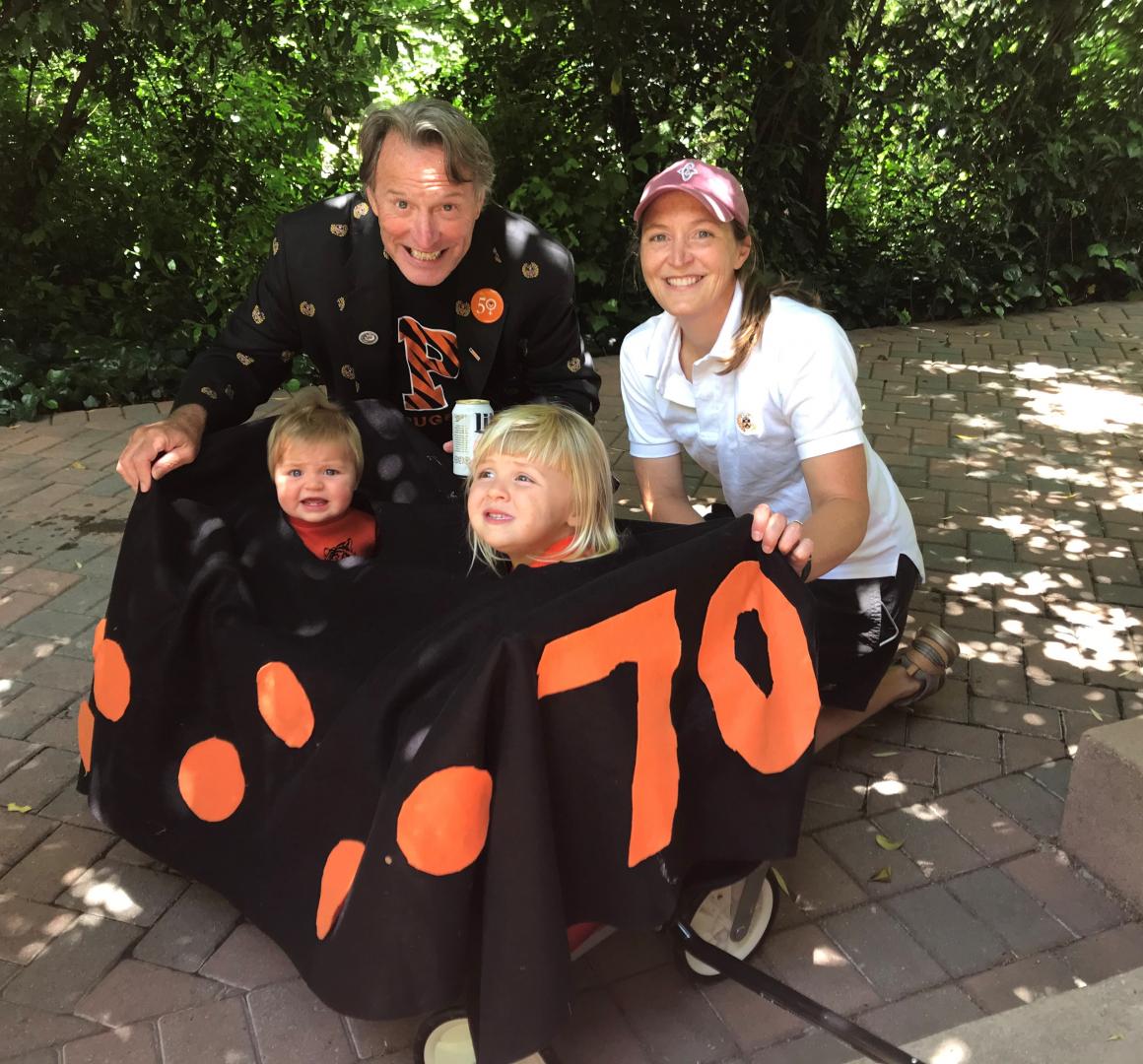 Paul Haaga '70, P03, P05 with daughter Blythe Haaga Parker '05 and grandchildren Adelaide Parker, bottom left, and June Parker, bottom right.
Paul Haaga Jr. '70, the 2021 recipient of Annual Giving's Harold Helm Award for exemplary service, knows he couldn't have done it without his team.
Team '70 that is. "I'm so happy to be to have been singled out among so many very deserving people who have worked so hard at Annual Giving, and the only thing that allows me to agree to be singled out this way is to accept it as an award to Team '70," said Haaga. "I accepted it as a team member. I consider the stalwarts of '70 are the Harold Helm winners, and I'm happy to accept it on their behalf."
The Helm Award honors sustained AG service, and Haaga, who received the award virtually on February 11, has helped with major reunion efforts for records at his class's 35th, 40th, and 45th campaigns in roles as special gifts chair, co-chair, and critical few chair. Most recently he was the critical-few spearpoint of '70's $7.4 million 50th campaign, a result achieved in the throes of the pandemic (and a two-month pause in the campaign from mid-March to May) and without the uplift of the quintessential milestone major Reunion gathering.
Despite pandemic restrictions, Haaga, whose two children are Princeton alumni, kept focused on an approach he has polished over the years in urging classmates to support Princeton: conversations about a shared experience and a shared sense of importance. Haaga's efforts for Annual Giving have been complemented by generous gifts to specific University programs as well, from athletics to the art museum to service internships.
As a senior working Reunions on campus, Haaga met Harold Helm, the father of Annual Giving, at Helm's Class of 1920 50th Reunion. Having just marked his own 50th Reunion, Haaga, sees parallels between the Class of 1920, and the interruptions Princetonians, and the Class of 2020, currently face.
World War I truncated the college experience for many of the Class of 1920. "They were a group who had not really had the cohesive four years on campus but had found ways subsequently to become cohesive as a class, by Reunions and the alumni network and all the things that Princeton does," he said
"I wish the Class of 1920 could talk to the Class of 2020 about what it was like to be here 100 years ago, and what it was like to have an interrupted college experience."
That goes for his own class as well. Although receiving the Helm Award and celebrating '70's 50th Reunion were virtual events, Haaga said he treasures the fact that "we're going to have the 50th (in person) sometime. It's no guarantee but I hope many of us can attend."