A group of Princeton University alumni has established the Sonia Sotomayor 1976 Scholarship Fund, in honor of Sonia Sotomayor '76, Associate Justice of the Supreme Court of the United States. The scholarship will be awarded to Princeton students from first-generation backgrounds who have demonstrated a commitment to service. 
"Justice Sotomayor not only exemplifies the mission of the University, but has helped recast it with her contribution to our informal motto, 'In the nation's service and the service of humanity,'" said President Christopher L. Eisgruber. "We hope that Sotomayor Scholars and every Princeton student will find inspiration in her example and seek out lives of service and excellence."
The daughter of Puerto Rican parents who grew up in a Bronx housing project, Sonia Sotomayor arrived at Princeton in 1972 and felt, as she has said, like "a visitor landing in an alien country." She dedicated herself to academics and service, becoming a leader of the Latino Student Organization, and sat on the governing board of the Third World Center (since renamed the Carl A. Fields Center for Equality and Cultural Understanding). She also organized Latino students as volunteers at the Trenton Psychiatric Hospital to provide Spanish-speaking translation for patients.
Sotomayor graduated in 1976 with highest honors in history from Princeton. She also received the Pyne Prize, awarded to the senior who best combines excellence in scholarship, character, and leadership. "At Princeton ... the size of the institution makes it possible to really get involved," she said in 1995. "You're paid attention to at Princeton, and you have a sense of having a positive impact."
"The genesis of the scholarship was the ¡Adelante Tigres! conference celebrating Princeton's Latino alumni in 2017," said José Figueroa '81, who conceptualized the effort. "The warmth and intimacy that Justice Sotomayor brought to the keynote event was a testament to the fact that she was a trailblazer and that she has this ethos of leaving no one behind. That sense of compassion carried through after the conference so that a handful of alums wanted to honor her legacy."
Along with Figueroa, the lead donors to the Sonia Sotomayor 1976 Scholarship Fund are: C. Kim Goodwin '81, Kathryn Hall '80, Katherine Brittain Bradley '86, The Hon. Yvonne Gonzalez Rogers '87 and Matthew Rogers '85, José Alvarez '85 and Suzanne McGilvray '85, and Bob Hugin '76.
At Yale Law School, Sotomayor was the editor of the Yale Law Journal, and she began her legal career as an assistant district attorney with the New York County district attorney's office. She was appointed a U.S. District Court judge for the Southern District of New York in 1992 and was confirmed to the U.S. Court of Appeals for the 2nd Circuit in 1998. In 2009, President Barack Obama nominated Sotomayor to the Supreme Court of the United States to replace Justice David Souter upon his retirement.
Justice Sotomayor has maintained a leading role in the Princeton community. She served on the University's Board of Trustees before her appointment to the Supreme Court, and she has returned to Princeton on numerous occasions as a guest speaker, most recently at the 2018 She Roars Conference. At Alumni Day in 2014, upon receiving the Woodrow Wilson Award, she credited the University with instilling in her a commitment to service, and suggested broadening Princeton's informal motto to include not just the nation's service but "the service of humanity." Her words subsequently were combined with Wilson's and etched in the stone medallion installed on the front lawn of Nassau Hall.
"We're so grateful for this generous gift in honor of Justice Sotomayor," said Dean of the College Jill Dolan. "She embodies the spirit of service to which we believe all Princeton undergraduate students should aspire, not just during their years on campus, but throughout their lives and their work: a thoughtful, engaged civic commitment, based in a rigorous intellectual understanding of how social structures might be transformed, and a deep compassion for our common humanity. Justice Sotomayor is a model for us all."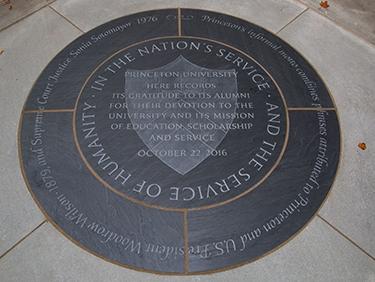 Princeton's pioneering financial aid program provides grants that do not need to be repaid, making it possible for students to graduate without student debt. The average grant is greater than the cost of tuition, while lower-income students receive aid that covers full tuition, room and board. More than 60 percent of undergraduates receive financial aid, and of the students admitted to the Class of 2023, 18 percent will be first-generation college students and 26 percent come from lower-income backgrounds.
The Sonia Sotomayor 1976 Scholarship Fund carries forward Justice Sotomayor's legacy of service and excellence to the next generation. At the 2017 ¡Adelante Tigres! conference, Justice Sotomayor said, "Service to me meant what my life has been. It's caring, it's giving, and that's where the phrase 'service in the name of humanity' came from. If we start there, everything else good will follow."