"So this is a college?"
Eighth-grader Sam Fendler is still sweaty as he collapses into the passenger seat of his mother's car and looks around the parking lot. His ice hockey team has just played a game at the storied Hobey Baker Rink, thrilling Sam and his teammates who are accustomed to the less-hallowed recreation rinks of Morris County. This is the first time he's visited Princeton University — it's actually the first time he has visited any college campus.
Now, as Sam's mother steers through campus on their way back to Parsippany after the game, he absorbs the beauty of the stone buildings and towering trees as they flash past the car window. 
"I think I would like to go here," he says.
Sam's mom smiles and tries to be encouraging, though she explains that getting in to Princeton will require a dedication to academics that he's yet to demonstrate.
"Okay, never mind," he says, imagining the stacks of homework. "This place isn't for me."
Twelve years after that youth hockey game, Sam Fendler '21 walks across the Princeton campus with the confidence of someone who has vanquished more than just his eighth-grade doubts. He can blend in with his Princeton peers—when he needs to—but there are clues that his road to Princeton was one less-traveled. For one, there is the direct way he engages in conversation: maintaining eye contact, listening intently, and then responding with thoughtful, no-nonsense answers. Then there are the tattoos that peek out from beneath his left sleeve that reflect his experience as a United States Marine.
Fendler, 26, came to Princeton as part of the first class of transfer students since 1990, a revitalized effort by the University to attract exceptional students from FLI, military or community college backgrounds. He transferred from Penn State University in 2018 after he served five years in the Marines, including wartime deployment in the Middle East.
He never seriously considered attending college when he graduated from high school in 2011, he says, and the Marines presented the perfect challenge. "I was ready to carve my own way," he says. "In the Marines, there's a healthy balance of extreme levels of competition and extreme levels of brotherhood. At 17 years of age, that's all I wanted."
Fendler saw combat in Afghanistan, trained with elite soldiers in Europe, and slept in sub-zero "snow graves" in the Arctic Circle. At every stage, he distinguished himself as a leader. When he returned to the U.S., he was stationed at The Basic School in Quantico, Virginia, where newly commissioned Marine officers are trained. There, he was selected to become a warfighting instructor with the Dugout Platoon — a small group of hand-selected enlisted men charged with teaching numerous academically rigorous classes. "As a 21-year-old sergeant, I instructed Harvard graduates, Naval Academy graduates, and a Rhodes Scholar," he says. "I think that's what really sparked the idea in my mind that I could succeed in college."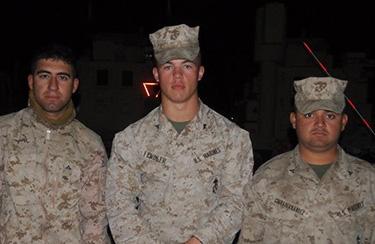 After he completed his service, he used the G.I. Bill to enroll at Penn State and found that military discipline had extinguished any academic indifference. But even as he acclimated to college life, he set his sights on something more. He wanted to work in government, to be the best, and he recognized the advantages of a place like Princeton to help him reach his goal.
On a whim — though fueled by his childhood memory of Baker Rink — he called Princeton in 2016 and asked if it accepted transfers. It didn't — yet — but an admissions officer told Fendler that the University intended to reinstate its transfer program soon. "I called them multiple times and checked their website daily waiting for the announcement to drop," he says. "As soon as it went live on the website, I started my application right away. I didn't even research any other school. It wasn't about transferring out of Penn State. It was about, 'How can I stand out? Can I do better?'"
In the fall of 2018, Fendler was one of six military veterans that came to Princeton as part of the initial transfer class. (A total of 13 transfer students were admitted from a pool of 1,429 applicants.)
Six more veterans enrolled as transfer students in 2019, and Fendler is actively involved in supporting the growing community. As president of the Princeton Student Veterans group, he collaborates with fellow veterans to help ease their transition to campus. "We are the tip of the spear at Princeton," says Fendler, who interned at the National Security Agency last summer. "We all want it to be the place that military people look at and say, 'That's the university you want to go to if you're a veteran.'"
Students like Fendler bring perspectives that deepen the classroom dialogue. When he took the Western Way of War, a sociology course that examines the experience of battle through writers such as Homer and Thucydides, he brought a unique first-hand perspective to the conversation.
The G.I. Bill jump-started Fendler's college career at Penn State, but he also had to work 25 to 50 hours each week at an off-campus job to make ends meet there. At Princeton, financial aid allows him to focus on being a student. "If I had to be worried about how I'm paying, it would change this entire experience," he says.
That experience includes activities he thought he'd left behind when he became a Marine, like hockey. This fall, he laced up his skates and went back to Baker Rink as a member of the Princeton club hockey team. "It's funny because I'm not as good as I used to be, not as fast as I used to be," Fendler says. "My body hurts a little more when things are done. But it's fun."
He smiles at the simple joy of doing something he loves. At the memory of Baker Rink. And at the improbable circumstances that sent him around the world, protected him from the fire of war, and delivered him safely back home to study at Princeton.