The art of making an impact: Shanthi Kandiah and Brahmal Vasudevan build bridges between Princeton and South Asian art history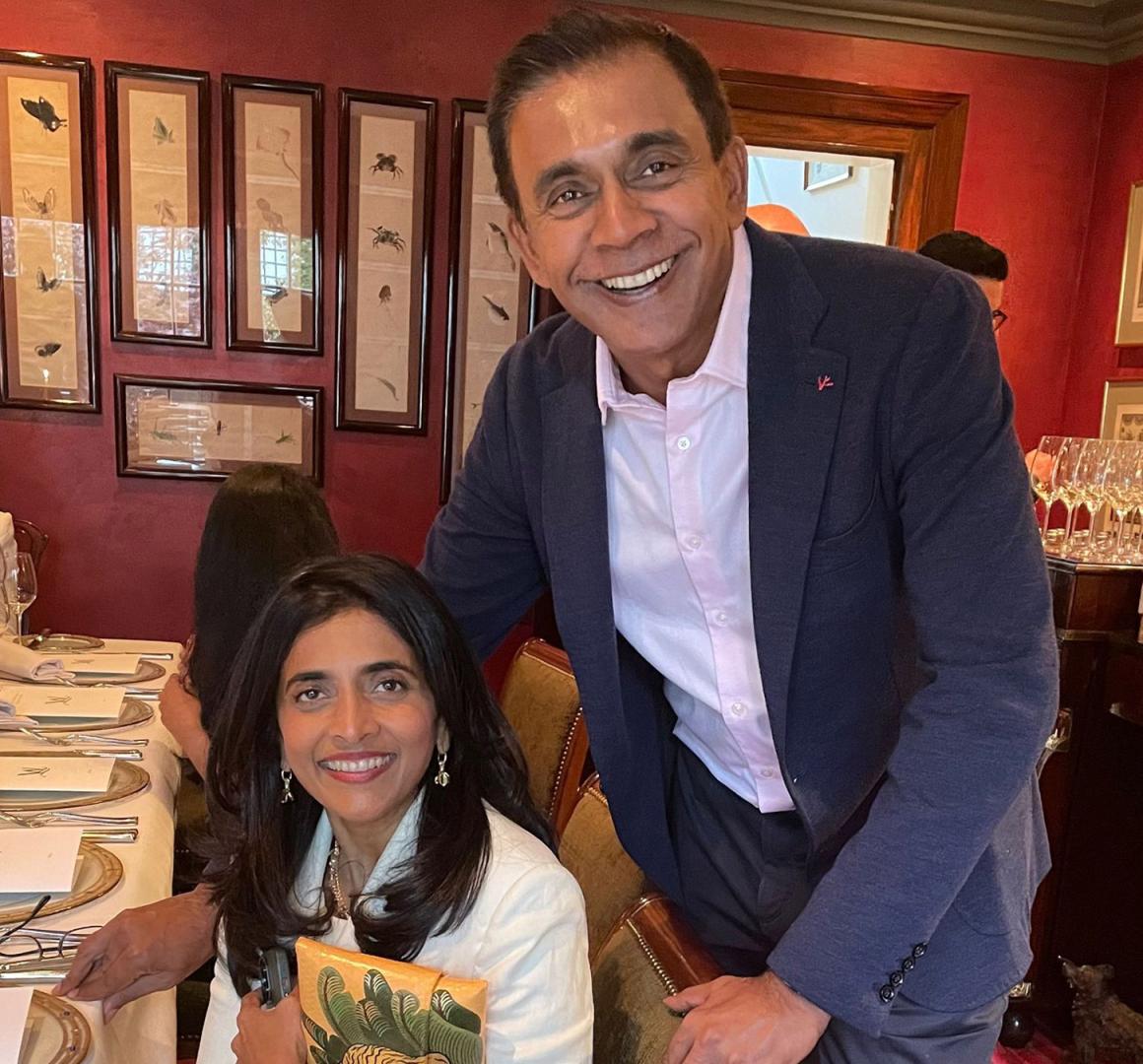 Photo courtesy of Brahmal Vasudevan
Shanthi Kandiah was excited to attend the first annual India Art Summit in August 2008. There was some buzz around the fair, which was the first of its kind in India. The exhibition had been organized in New Delhi by a group of creative people in their 20s focused on celebrating artists pushing the boundaries of Indian art. In the 34 galleries at the Pragati Maidan exhibition complex, the Summit showcased works by more than 200 artists. The works of some of India's most visionary painters — including F.N. Souza and Sayed Haider Raza — shared space with sculptures, video and digital art installations created by a new wave of emerging talent.
"I was completely blown away," Kandiah said. "It was quite exhilarating to see Indian subject matter conveyed through expressionism, abstraction and cubism. I was so impressed by the breadth and diversity of material on display that I went again that very evening with Brahmal. For me, the Art Summit was a pivot point." 
Two years before the India Art Summit, Brahmal Vasudevan experienced his own artistic pivot of sorts. The Royal Academy of Arts in London had presented "Chola: Sacred Bronzes of Southern India," an international exhibition of rare sculptures from the ninth- to 13th-century Chola Tamil dynasty. The exhibition, featuring a catalog authored by Professor Vidya Dehejia from Columbia University, brought attention to the multiple renaissance periods of Indian art and made a huge impression on Vasudevan at a time when India was embarking on another historic renaissance. "India is on the rise again and becoming a more important part of the whole global ecosystem," he said. "I think more and more people will want to understand what's behind this huge country with such deep culture." 
Shanthi Kandiah and Brahmal Vasudevan had moved from Northern California to India in 2005. Both had grown up in Malaysia in Hindu Tamil families that prioritized education and an appreciation of traditional Southern Indian art and culture, but as they moved to other continents for their educations and careers, those memories faded. In the cities where they lived and raised their family — Singapore, London, Boston, Palo Alto — Indian art was not prioritized in the museums and galleries they visited. "We were both astonished by how difficult it was to really appreciate South Asian art if you weren't in India," Kandiah said. 
Now, 15 years after Kandiah and Vasudevan attended the Art Summit in New Delhi, the couple made a gift to establish a professorship at Princeton that will raise the profile of South Asian art at the University and around the world. 
From Malaysia and Back 
Kandiah and Vasudevan now live in Kuala Lumpur, Malaysia, where Kandiah is founder and partner of SK Chambers, a regulatory law firm, and Vasudevan is the founder and CEO of Creador, a private equity firm he founded in 2011. Even though they are mere miles from the places where they grew up, connecting the dots from their modest Malaysian upbringings as the children of teachers and civil servants to their current professional accomplishments requires an atlas. 
When Vasudevan was 17 years old, he was sent to the United Kingdom for schooling. He then studied aeronautical engineering at Imperial College London and later received an MBA from Harvard Business School (HBS). In 2000, Vasudevan partnered with several HBS classmates from India who had just launched ChrysCapital, a private equity firm that focused on growth capital investments in India. During his 11 years as partner and managing director, Vasudevan helped ChrysCapital grow to support India's rapidly expanding economy. 
In 2011, he decided to start over. "Shanthi and I wanted to return to Malaysia, where our parents were, and we wanted to contribute to our country and South East Asia in general." 
Based in Kuala Lumpur, he launched Creador, a private equity firm that pursues growth opportunities in emerging markets beyond India and throughout South East Asia. 
Kandiah knew she wanted to study the law from her teenage years, when she watched "The Paper Chase," the 1978 American TV series about first-year students at Harvard Law School, and fell in love with the law. "I think I was hooked from that day onward," Kandiah said. "I never really thought about doing anything else in my life." 
She graduated from the University of London in Malaysia and then went to England to earn her master's in law at King's College. Working for the Securities Commission in Malaysia in the early 1990s, she was part of the pioneer team that oversaw seminal law reform that helped modernize the Malaysian capital market. 
Kandiah took time off from her legal career to focus on the couple's two children, but once the family resettled in Malaysia, she was eager to resume her career. While she began work at a law firm, she soon ventured out on her own. "There were two new practice areas — antitrust laws and data protection laws — that I knew would be a very thriving ones at some point in the future," said Kandiah, who launched SK Chambers in 2014 and is now considered a pioneer in the field. 
What Kandiah and Vasudevan have built through their careers has enabled them to give back to the institutions and causes that are most important to them. Through two organizations — the Creador Foundation and the Alaka Holdings Trust — they have supported three main philanthropic pillars: education, healthcare and humanitarian relief, and arts and culture. "We felt it was important that we make contributions to the society we live in," Vasudevan said. 
Some of their largest philanthropic efforts were made close to home, like the construction of a teaching hospital in Malaysia and direct aid to support the COVID response infrastructure in India, Malaysia and Indonesia. Others benefited institutions in which they had personal links, like the gift that was made to establish the Brahmal Vasudevan Institute for Sustainable Aviation at Imperial College London. 
The couple also made significant contributions to promote performance arts in Malaysia, but as their interest in art grew, they looked more than 9,000 miles away to pursue an opportunity to raise the profile of South Asian art. 
The Pioneer and the Professorship 
When Kandiah and Vasudevan rediscovered their passion for South Asian art in New Delhi, they found an unwitting mentor. Vidya Dehejia, then the director of the South Asia Institute at Columbia University, had written the catalog for the Chola Tamil bronzes exhibition that had made such a significant impression on Vasudevan. In the ensuing years, they had read many of her books on Indian art and admired her subsequent projects and lectures. 
"In 2013, we were going to be in New York, so we reached out to Vidya and met her and her late husband, Jay," Vasudevan said. "Over time, we built a friendship with them. We were particularly impressed with how she had dedicated her entire career toward the learning and dissemination of Indian art knowledge." 
"The study of temples and certain monuments in India is quite controlled, and Vidya was undeterred in seeking permissions to take photographs and copy inscriptions on the walls of temples. Thanks to her efforts, we are able to appreciate its history by merely turning a page," Kandiah said. "She was as much an expert in early Buddhist art as in the Chola period, so we definitely enjoyed learning more through her." 
At the time, Dehejia was preparing for the A.W. Mellon Lecture in the Fine Arts at the National Gallery at Art in Washington, D.C. — the first time in the lecture's 65-year history that India was going to be represented. "There was an instant sense of camaraderie when we met; perhaps seeing that we had a couple of paintings in our home by modern artists from India made things that much easier since modern and contemporary art is so important to them," Dehejia said. 
"They invited me soon thereafter to come to Kuala Lumpur to give a talk from my Mellon lectures. We just enjoyed each other's company, and we discussed works of art." 
The couple began to envision ways to enhance the stature of South Asian art in the academic world by partnering with a prestigious university on a professorship. 
"Our first point of reference was always that it would complement the liberal arts type of education," Kandiah said. "Our decision centered on the idea that people should use college to explore not just the field of study that they are pursuing, but also to explore other areas of interest. We are the sum total of work and interests, and pursuing your interests is a very important part of life that gives you purpose, joy and satisfaction." 
"Princeton has an amazing reputation in liberal arts and in art history in general," Vasudevan said. "We consulted with several people who felt that Princeton had the heritage in art history that would benefit the most from a professorship in South Asian art." 
"We just wanted the professorship to have a home that draws all the best talent, a place where all the different people who are already working in little pockets can come together to share their ideas and what they're doing so they can help create a really interesting field of study," Kandiah added. 
On Sept. 22, the Princeton Board of Trustees announced the new professorship: The Vidya Dehejia Professorship of South Asian Art.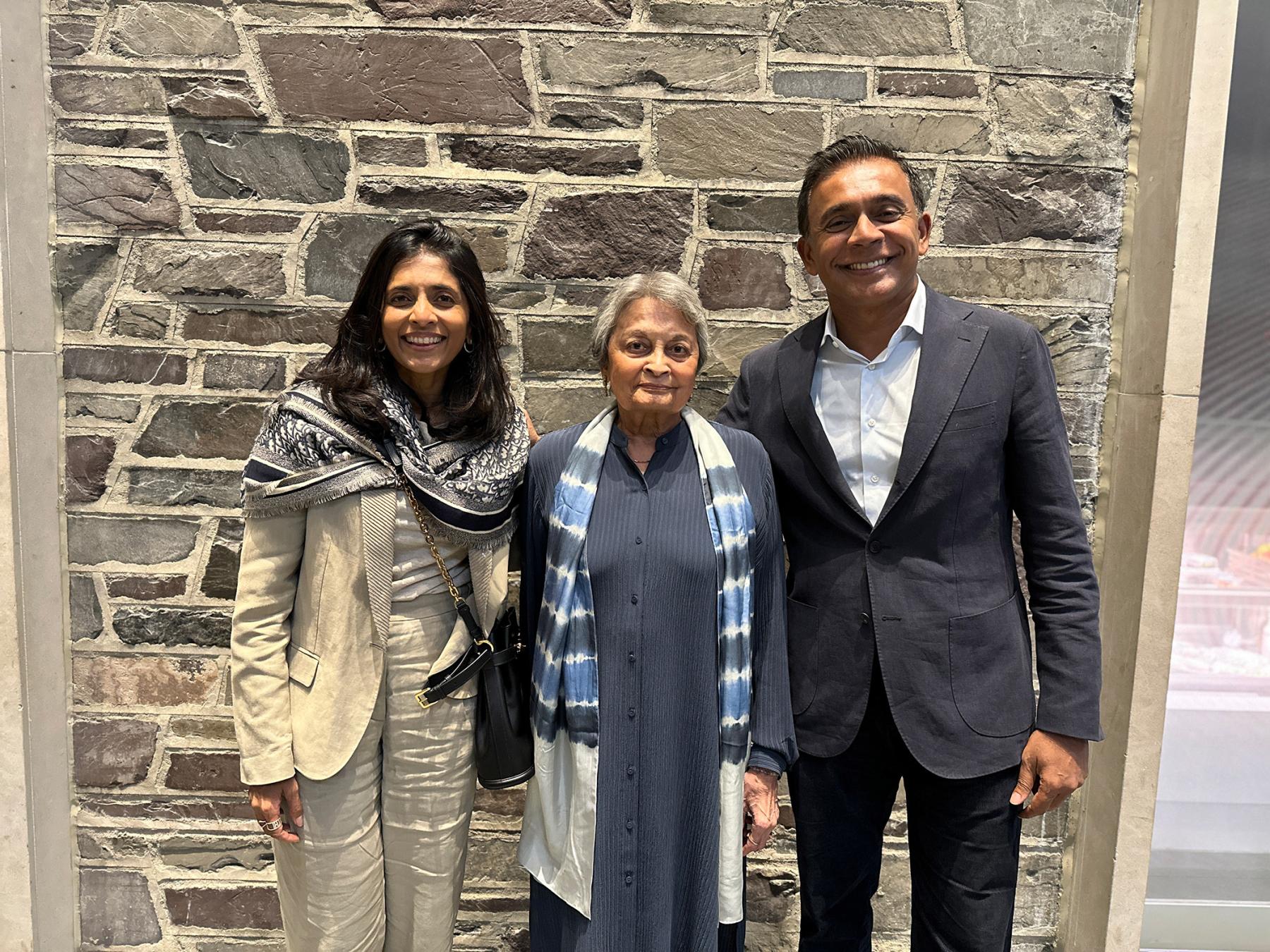 "Vidya is not just a leading scholar, but she also has trained and educated a whole generation of people in this field," Vasudevan said. "We surprised her with naming it in her honor as a reflection of her lifelong commitment to this subject." 
"I was stunned," said Dehejia, who began teaching at Columbia in 1982 and has been the Barbara Stoler Miller Professor of Indian and South Asian Art Emerita there since 2021. "I protested, saying it was only right that their gift should be known by their names. But they were both adamant." 
"She pioneered this field in a way," Kandiah added. "She's very a sweet and humble person, and she asked us to think about it again. We have no credibility to put our names on something like this, but it is very fitting to honor her with this professorship." 
The couple hopes that the gift of the Princeton professorship will allow South Asian art to be a greater focus of research, while opening the door to more cross-pollination of programs and ideas between South Asia and the United States. 
"Hopefully, this professorship becomes an important leg in broadening Princeton's strengths in art history while raising India's profile," Vasudevan said. 
"We believe that the evolution of South Asian art — from its initial religious roots to the complex and vibrant contemporary art of today — is a metaphor for the growth of South Asia," Kandiah said. "We hope that this professorship will not just promote a better understanding of South Asia's history, but by giving a greater insight into the cultural and societal influences shaping the sub-continent, will enable deeper understanding of the future."