Major gift from Patricia and Thomas Frist Jr. names new campus health center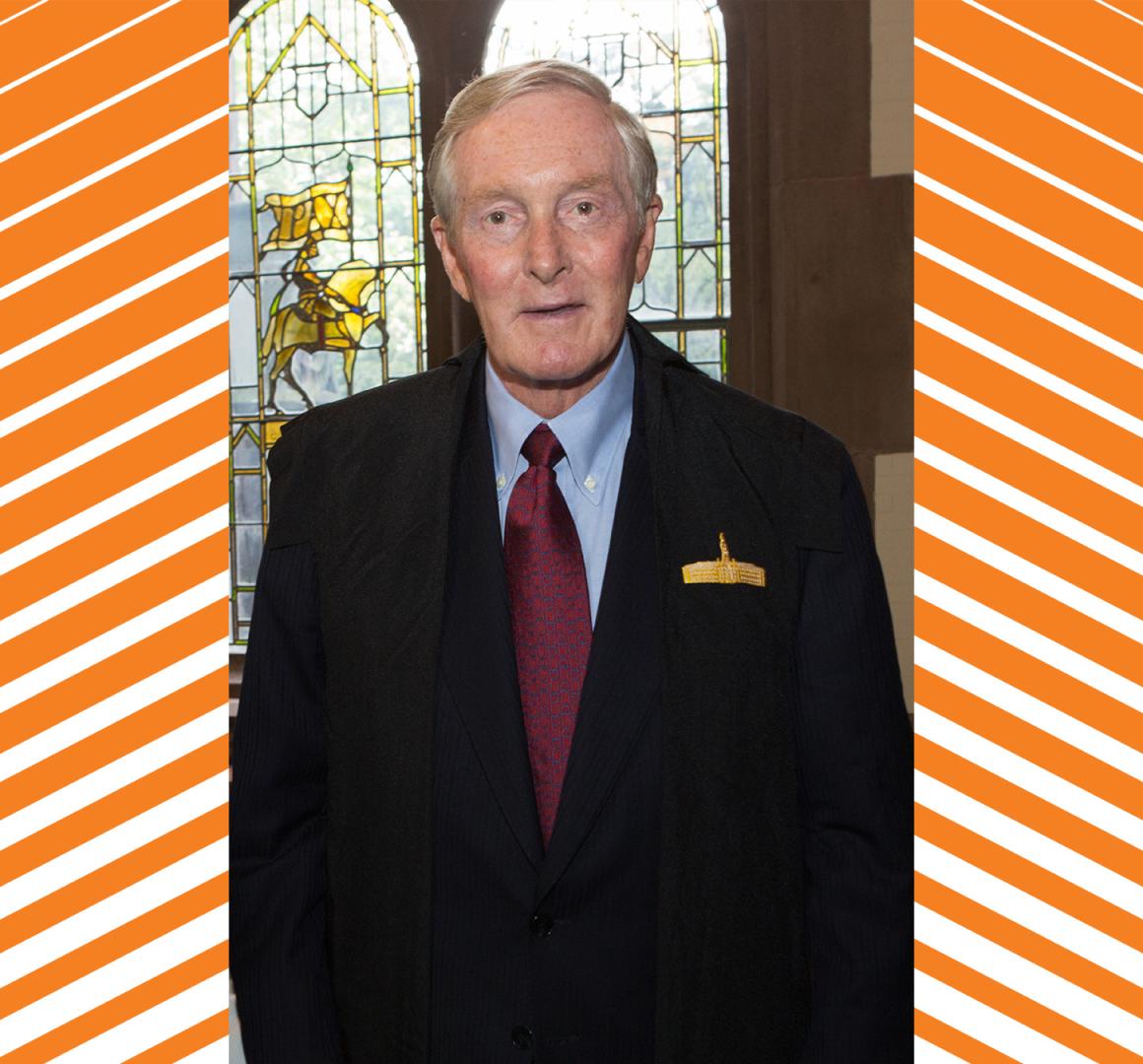 Photo by Andrea Kane
Dr. Thomas Frist Jr. and Patricia Champion Frist made a major gift to the Venture Forward campaign that will name the University's new health center. The Frist Health Center will be more than twice as large as the McCosh Health Center, the current home of University Health Services (UHS), and will incorporate a renovated Eno Hall with a significant new addition to the south. Scheduled to open in 2025, the Frist Health Center will help the University advance a culture of health and well-being on the Princeton campus.
"This extraordinary gift from Trish and Tommy Frist has enabled us to reimagine the University health facility as a place of welcome that offers a comprehensive approach to student health and well-being," said President Christopher L. Eisgruber '83. "I am delighted that the Frist family's legacy in healthcare innovation will now be reflected in the spectacular Frist Health Center. The University is deeply grateful to the Frist family for their visionary partnership on this project and, when considered along with the Frist Campus Center, for their incalculable and enduring impact on our campus community."
In June, the Board of Trustees announced that prioritizing well-being had been added as a major pillar of the University's strategic framework, and the Frist Health Center will be a centerpiece of that commitment. The new facility will also support a growing undergraduate population; Princeton added two new residential colleges in 2022, and enrollment is in the midst of an expansion that will increase the undergraduate student body by 500 students over four years. The McCosh Health Center dates back to 1925 and has been the home of Princeton's health services since that time. Through its crossroads campus location at the intersection of Goheen Walk and Guyot Lane, the new Frist Health Center will serve as focal point of campus activity and provide more dynamic health and wellness programs that serve the entire Princeton community. 
"Our primary goal in making this gift is to make the Princeton family healthier in mind, body and spirit," said Tommy Frist. "In doing that, I hope the Frist Health Center will be a stimulus for others to emulate as time goes on, creating a multiplier effect at various institutions throughout the world." 
The design and construction of the Frist Health Center aspires to promote health and well-being, while supporting connection among students. The facility has been designed to be healing in character, with serene spaces, adjustable lighting and temperatures, and access to nature — including a winter garden — that provide an attractive setting for a mix of academic, programmatic and social activities. An atrium between Eno Hall and the addition will serve as the building's main lobby, accessible from the north, east and south. On the southwest edge of the site will be a multipurpose room that will serve as a venue for various health and wellness programs and other University gatherings. 
The construction of the Frist Health Center will also advance the University's commitment to sustainability by reducing greenhouse gas emissions with a geothermal heating and cooling system, minimizing water usage, enhancing stormwater management in the area, and cultivating healthy and resilient habits. Among the features of the building that support Princeton's sustainability plan are mass-timber framing, green roofs, native plantings for storm water retention and a dedicated outdoor air system. 
"By incorporating natural light, sustainable materials and welcoming spaces that provide additional connections to nature, the Frist Health Center is designed to enhance the overall well-being of our community while promoting a stronger sense of place," said University Architect Ron McCoy *80. "Adapting Eno Hall will preserve the architectural heritage of the University, and the Frist Health Center's convenient location near other centers of student life, combined with its warm and inviting features, will provide University Health Services with new opportunities for cross-programming and campus collaboration." 
The four-story Frist Health Center will include medical services (including outpatient medical, athletic medicine, global and community health, occupational health, and an overnight infirmary service); health promotion and prevention services; counseling and psychological services; and the sexual harassment/assault advising, resources and education (SHARE) office. 
The new facility will reinforce the campus wellness ecosystem accelerated by TigerWell, a collaborative, cross-campus health, well-being and resilience initiative that promotes creative new approaches. TigerWell launched in 2019 following a gift from the Frists' daughter, Trisha Elcan, and the Elcan Family Fund for Wellness Innovation. 
"The Frist Health Center will have an immediate and far-reaching impact on the Princeton experience by serving as a welcoming home for the proactive health and wellness programs that help our students flourish," said Vice President for Campus Life W. Rochelle Calhoun. "The thoughtful design of the facility promotes a positive health identity, with inviting spaces that are healing in character. The Frist Health Center is integrating the important work of getting well with the important work of being well." 
Inspired by student input, the architects at WRNS Studio designed spaces for relaxation and contemplation, opportunities to get outdoor air and integrated waiting rooms for all services in a facility that balances ease of navigation with privacy. 
"A health and well-being mindset is embedded into everything that University Health Services does so that students can embrace their potential and thrive," said University Health Services Executive Director John Kolligian. "With the Frist Health Center, health will be at the heart of the student experience more than ever, energizing our campus initiatives and cultivating habits of well-being that last a lifetime. We are so grateful to the Frists for this gift that will impact Princeton students for generations to come." 
Frist Health Center atrium
Renderings courtesy of WRNS Studio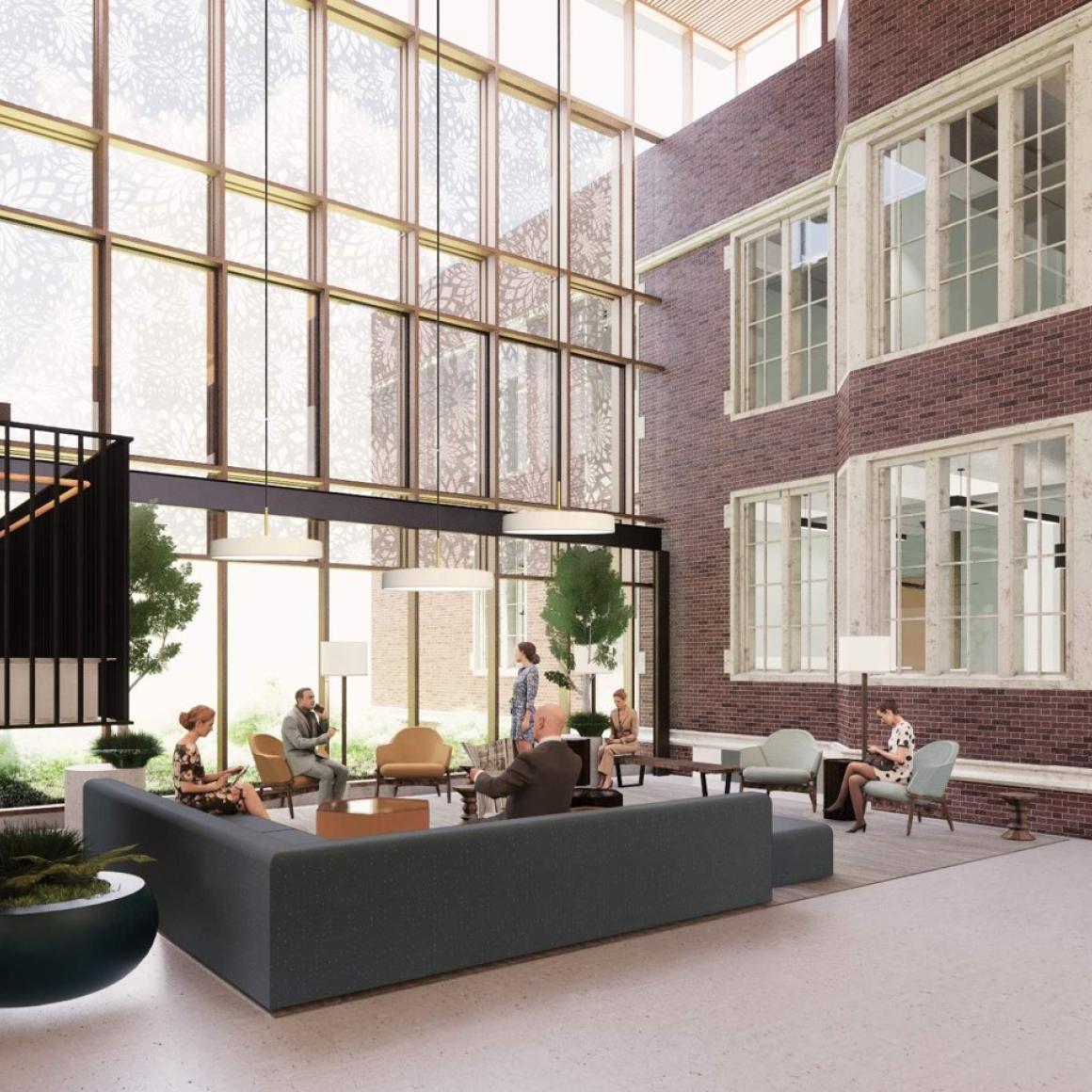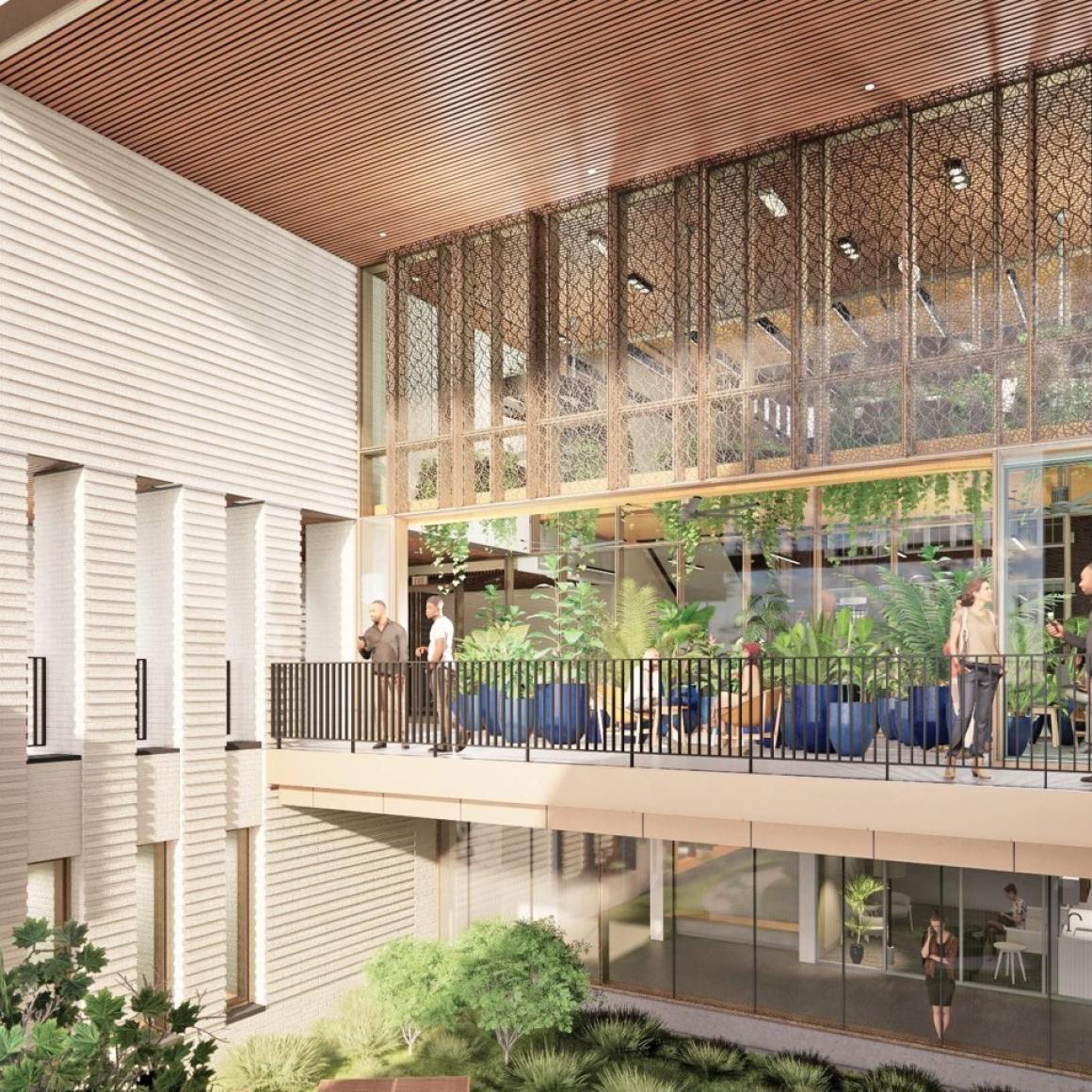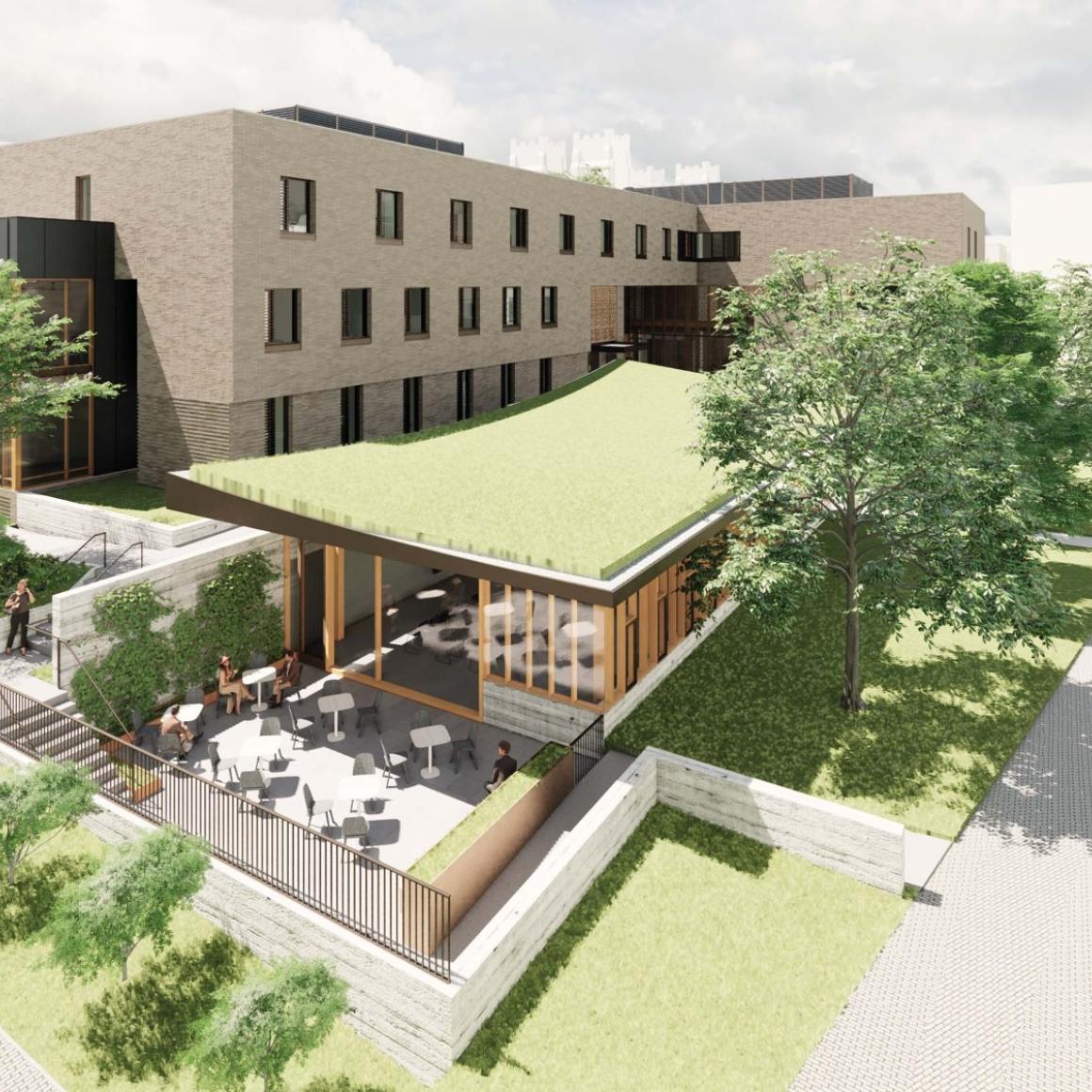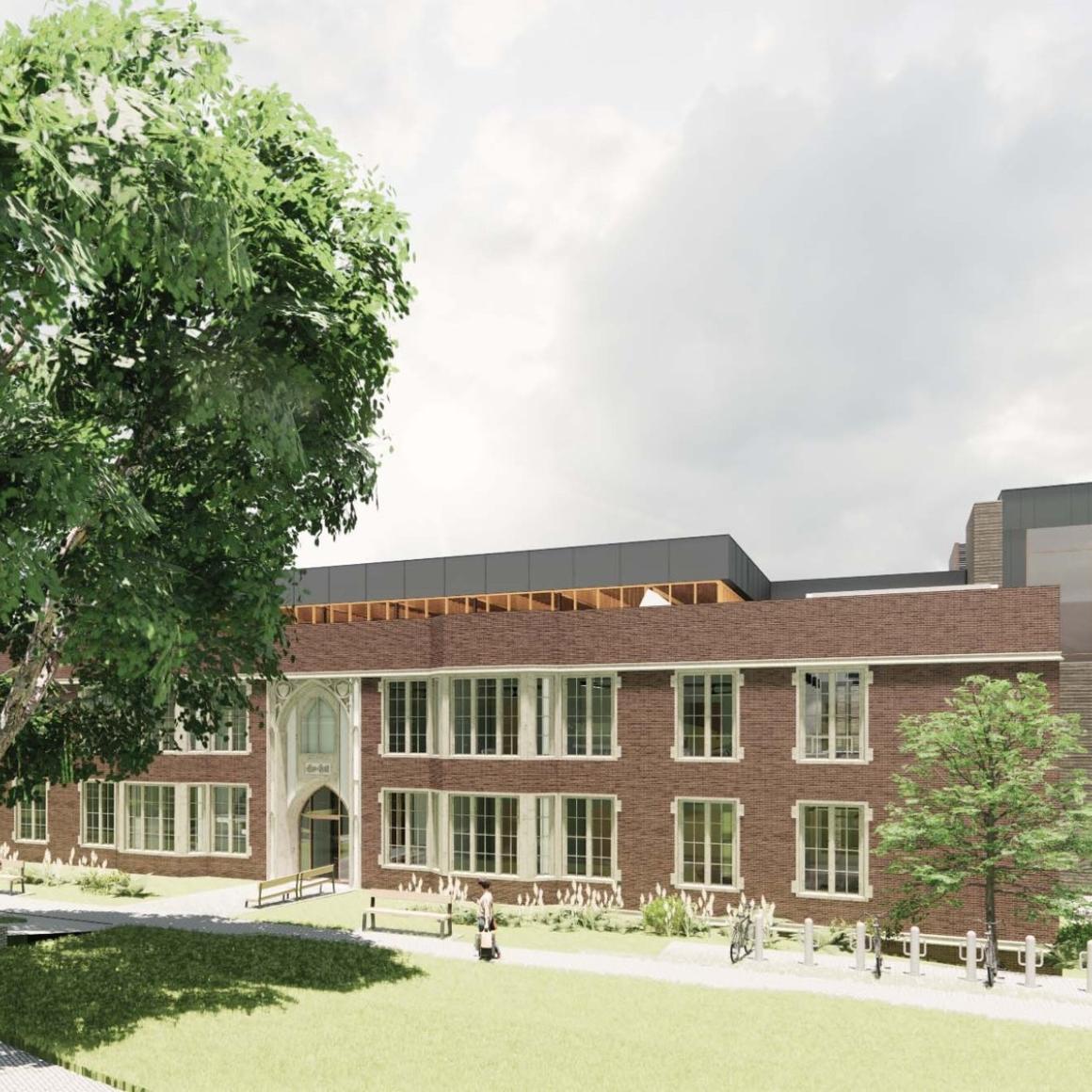 Throughout their 60-year marriage, Trish and Tommy were equal partners in all their endeavors, including many charitable, civic and philanthropic interests. Trish, who passed away in 2021, graduated from Vanderbilt with a B.A. in English and history in 1961. She became the first woman to serve on the board of SunTrust Bank in Atlanta and also served on the boards of the Community Foundation of Middle Tennessee, SunTrust Bank Nashville, Ensworth School and the Frist Foundation. 
Trish was instrumental in the founding of the Frist Art Museum in Nashville, the Patricia Champion Frist Hall at Vanderbilt University's School of Nursing, the Dorothy Cate Frist Hall at Harpeth Hall School in Nashville, the Frist Campus at Ensworth School in Nashville, the United Way's Alexis de Tocqueville Society, Frist Capital Partners and the YMCA Frist Teen Center in Nashville. 
Tommy is the cofounder of HCA Healthcare, which he established in 1968 alongside his father, Dr. Thomas Frist Sr., and Jack Massey. Today, HCA is one of the nation's largest healthcare providers; it owns and operates 182 hospitals and more than 2,300 sites of care in 20 states and the United Kingdom, including surgery centers, freestanding ERs, urgent care centers and physician clinics. A native of Nashville, Tennessee, Tommy earned a B.A. from Vanderbilt University in 1961 and an M.D. from Washington University in St. Louis in 1965. He served as a surgical intern at Vanderbilt Medical Center and was a flight surgeon in the U.S. Air Force during the Vietnam War before establishing HCA. Tommy held several leadership positions at HCA during his 40-year career, including executive vice president, president, CEO and chairman of the board of directors. 
Tommy is chair emeritus of the Frist Foundation, one of the largest philanthropic organizations in Tennessee. The foundation carries on the Frist family's legacy to make people's lives "just a little bit better," as Tommy often says, by supporting the institutions, agencies and programs that help the people of Middle Tennessee. Tommy also served as chair of the Nashville Area Chamber of Commerce, founded the United Way's Tocqueville Society, and is the recipient of multiple philanthropic awards, including the United Way's Lifetime Achievement Award and the Nashville Business Journal's Best in Business Lifetime Achievement Award. In 2003 and 2013, Tommy and Trish were named Philanthropists of the Year by the Association of Fundraising Professionals. 
In 2001, the Frists made the gift that established the Frist Campus Center, which quickly became Princeton's main campus hub for student social activity. While both Frists graduated from Vanderbilt, Tommy's younger brother, Sen. Bill Frist '74, and members of two subsequent generations of Frists have attended Princeton. 
"Coming to Princeton was a life-changing experience for my brother Bill and various family members who have had wonderful experiences as students," Tommy said. "I would say Princeton is one of the most significant influences on our family because this University is a window into a wider world. I can still remember like it was yesterday walking across the Princeton campus with President Bill Bowen and having him express to me his beliefs, dreams and hopes for the University as a world-renowned education center. Looking back, he was surprisingly accurate, and we are so honored to participate in that change."