Computer scientist Fei-Fei Li '99 and ornithologist John Fitzpatrick *78 to receive top awards on Alumni Day
Alumni Day is Feb. 24, 2024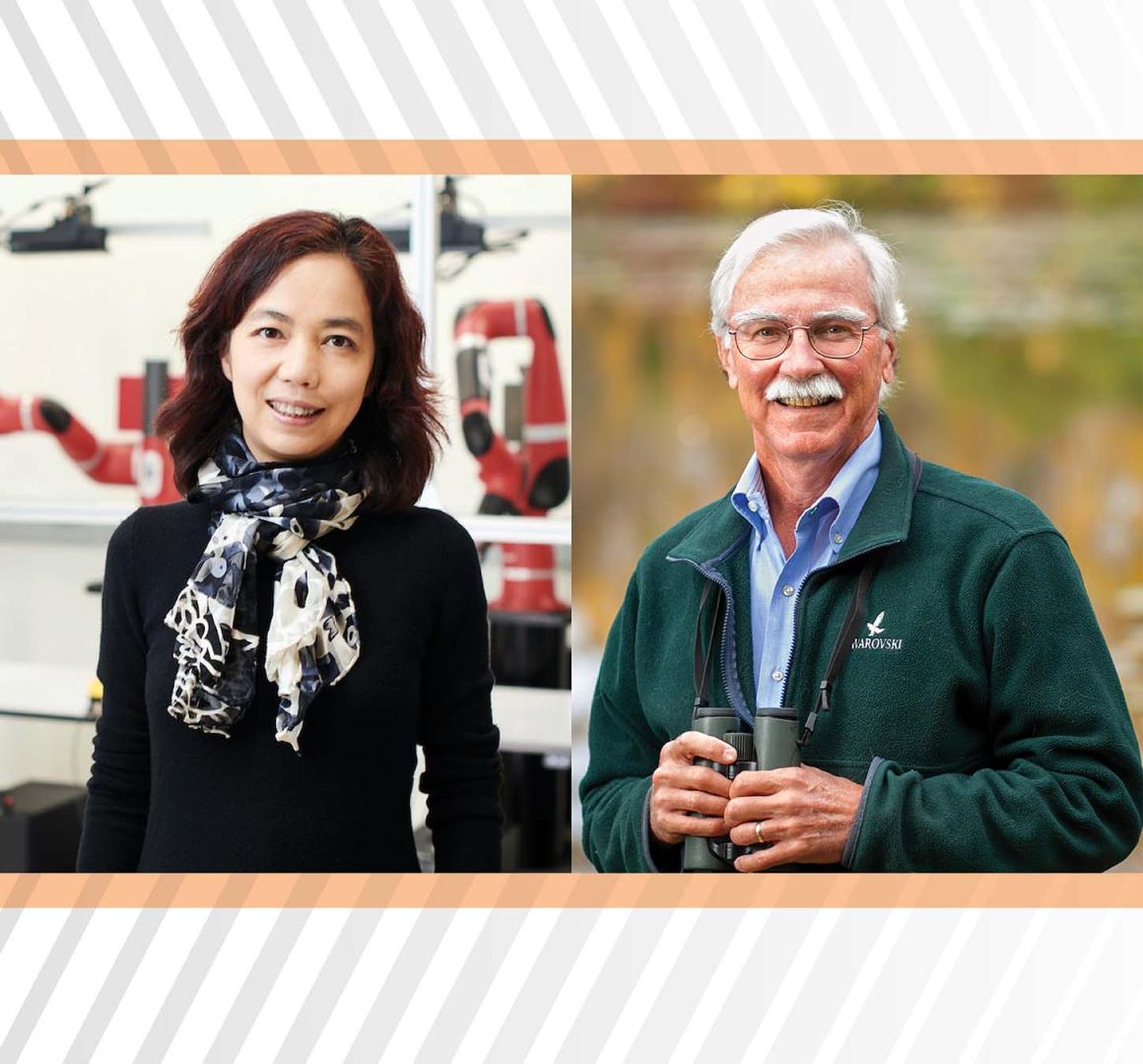 Photos by Drew Kelly and Jason Koski
Princeton University will present its top awards for alumni to Fei-Fei Li '99, co-director of Stanford University's Human-Centered Artificial Intelligence Institute, and John Fitzpatrick *78, director emeritus of the Cornell Laboratory of Ornithology.
Li, who graduated with a bachelor's degree in physics and certificates in engineering physics and applied and computational mathematics, will receive the Woodrow Wilson Award. Fitzpatrick, who earned his Ph.D. in biology, will receive the James Madison Medal. These honors will be presented on Alumni Day, to be held on campus on Saturday, Feb. 24, 2024. 
The University bestows the Woodrow Wilson Award annually upon an undergraduate alumna or alumnus whose career embodies the call to duty in Wilson's 1896 speech, "Princeton in the Nation's Service." Wilson, a Princeton graduate from the Class of 1879 and faculty member, went on to serve as president of the University, governor of New Jersey and two-term president of the United States. 
The James Madison Medal, established by the Association of Princeton Graduate Alumni (APGA), is named for the fourth president of the United States, who is considered to be Princeton's first graduate student for his extra year of study following his graduation in 1771. It is presented each year to celebrate an alumna or alumnus of the Graduate School who has had a distinguished career, advanced the cause of graduate education or achieved an outstanding record of public service. 
Li is the Sequoia Capital Professor in Computer Science at Stanford, where her current research interests include cognitively inspired AI, machine learning, deep learning, computer vision and AI systems for healthcare delivery. Before becoming co-director of Stanford's Human-Centered Artificial Intelligence Institute — an interdisciplinary research hub that engages the social sciences and humanities — she served as the director of the Stanford Artificial Intelligence Lab (SAIL) from 2013 to 2018. While on the faculty at Princeton in 2009, she began the project that became ImageNet, the groundbreaking online database that proved instrumental in training computers how to "see." In 2017, she co-founded AI4All, which supports educational programs designed to introduce high school students with diverse perspectives, voices and experiences to the field of AI to unlock its potential to benefit humanity. In 2023, she was named to the TIME100 list of the most influential people in AI. 
Fitzpatrick has been called "North America's most prominent ornithologist" due to his expertise in avian behavior, ecology and conservation biology. From 1995 to 2021, he was director of the Cornell Laboratory of Ornithology, a world-renowned institute for research, education and conservation of birds around the world. At Cornell, Fitzpatrick oversaw the creation of eBird, a global bird-observation website that documents and tracks more than 100 million bird sightings annually. Previously, he worked for 12 years as a curator at the Field Museum in Chicago, specializing in neotropical birds; and another six years as director of the Archbold Biological Station in Venus, Florida, where he continues to work on the ecology and conservation of the endangered Florida scrub-jay. 
The alumni awards and accompanying lectures will be presented in Richardson Auditorium during ceremonies that also will recognize student winners of the Jacobus Fellowship and Pyne Prize. The Alumni Day program will also feature the annual Alumni Association luncheon at Jadwin Gymnasium and the Service of Remembrance at the Princeton Chapel, honoring alumni, students, and members of the Princeton University faculty and staff whose deaths were recorded by the University in 2023.