Salama has spent the last few months expanding and fine-tuning his work. "My editor had asked me in the beginning to add more of my own personal voice," Salama said. "So I spent months adding, and then I spent months editing what I'd added. And the process isn't over yet. I just turned in the most recent edits a couple days ago."
Before COVID-19 limited travel and interactions, Salama was also busy developing "Lulus America," a bilingual, educational online series dedicated to telling stories with children who are working towards social and environmental change in the Americas. Supported by a ReachOut 56-81-06 fellowship and produced in association with Sesame Workshop, "Lulus America" was a spinoff of "The Lulus" children's video series Salama and his brothers created in 2016. Their YouTube channel currently has more than 750,000 subscribers, and Salama hopes to resume "Lulus America" in some form once health conditions allow.
In the meantime, the pandemic allowed Salama to immerse himself fully in his writing. Recognized as a "born journalist" by no less an authority than John McPhee '53, the Pulitzer Prize-winning author and Ferris Professor of Journalism who's taught "Creative Nonfiction" at Princeton for 45 years, Salama has written recent stories for the New York Times, Smithsonian, and Scientific American, among others. 
In December, he wrote a story for National Geographic about the impact of COVID-19 on an immigrant community in Queens, New York:
"In Jackson Heights — the most culturally diverse place in the world, where an estimated 167 languages are spoken — crowded thoroughfares are lined with eateries and grocery stores from around the globe: Colombian bakeries and Nepalese noodle shops, Bangladeshi bazaars and Afghan cafés. Yet for many people who live here, food hardship — a lack of reliable access to enough affordable and nutritious food — is a chronic concern that's only worsened during the pandemic."
Salama is quick to insist that he's yet to accomplish anything — "I've done nothing so far" — but he's clearly thinking forward as a writer, producer and a storyteller.
Working from his home office in Pelham, New York, Salama discussed his work and answered 5 Questions:
What keeps you up at night?  
What keeps me up at night is the climate catastrophe. It's the greatest existential threat to my generation. The idea that you can go visit such beautiful natural landscapes, and at once know that those natural landscapes are completely at risk of disappearing — if they haven't started to disappear already — is extremely sad. When you see that firsthand, you understand just how serious of a problem it is, because the degradation has begun. And it's going to get worse. 
I almost always try to inject nature writing into what I'm doing, to write about rural places, to write about the natural world. Because I think that there is a lost appreciation for writing about nature in a loving and appreciative way that makes people fall in love with the world and then be more inspired to save it.
What gives me hope is that I'm able to meet amazing people who are doing crucial work to stop these problems. And in many cases, these are people who are either extremely young, or have no resources, or are putting their lives on the line for our world and our future. Meeting people who really have nothing but are doing everything they can to save the environment forces anybody who lives in a place like the United States and has a little bit of privilege to ask: What are we doing to help?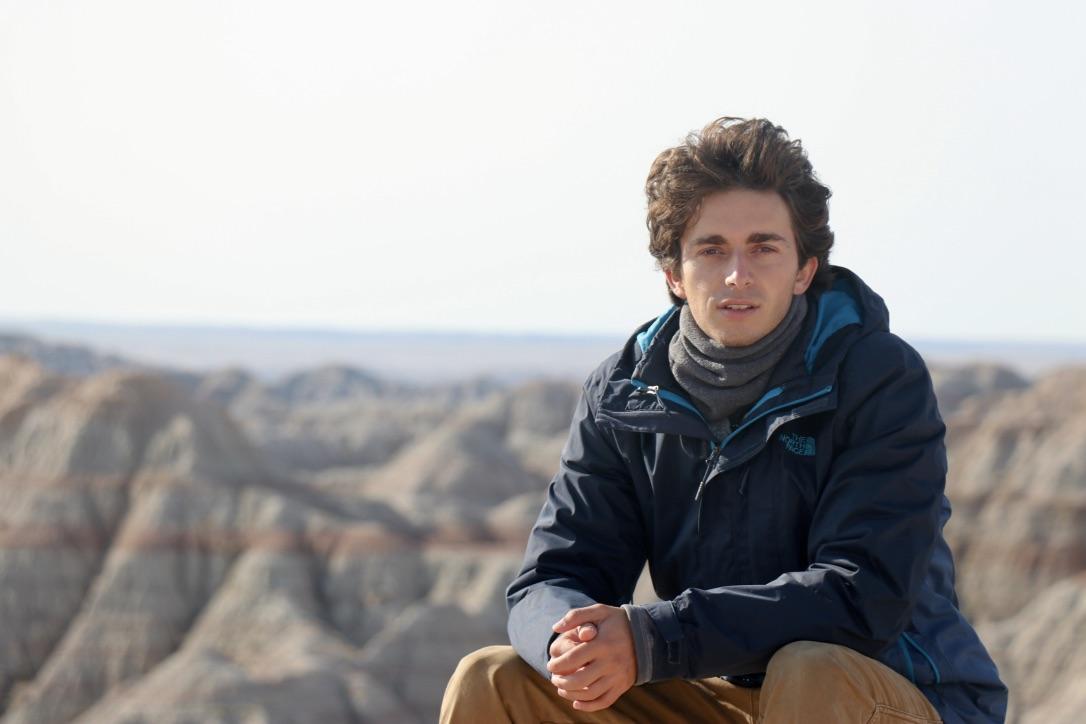 Who or what inspired you to work in this field? 
From a very young age, I knew that I wanted to write. I just wasn't exactly sure what form it would take. When I was in high school, I wanted to be a late-night TV writer, like writing for "SNL." That was the dream for a long time. But about halfway through my time at Princeton, just around when I took John McPhee's class, I realized that maybe comedy writing for television wasn't exactly what I wanted to do, that there was something bigger that could encapsulate it all, and that was writing books and writing stories. 
I think it was something that was within me all along, but I didn't really realize it was something I could do as a career until I met John McPhee. I so admired everything about him. And I felt like we were kindred spirits, in a way, in the sense that so many of the topics he's written about during his monumental career — like nature and rivers and transportation — fascinated me. So I loved reading his books, and I loved learning from him, and I had so much fun reporting and writing the assignments that he gave us during the class. The people whom he brought in to speak with us — Peter Hessler '92, Ian Frazier, Mark Singer and other New Yorker writers — helped me realize that so much of this is about learning, and having new experiences, just as much as it is about writing stories. Being a nonfiction writer, being a journalist, I think, is in many ways an excuse to do cool things with incredible people. And ever since that class, I've been kind of inspired to have John McPhee experiences in my life. That's kind of what drives my stories.
What excites you most about your research/scholarship?
Having interesting conversations with fascinating people. That's my favorite part of being a journalist: spending time with people and hearing their stories, immersing myself in people's lives and trying to understand what their stories are and why their lives are that way. In many cases, and especially in the case of my book, it's not just them opening up to me, but it ends up being me opening up to them as well. You forge these very strong relationships. And it just so happens that for my book, I've been in touch with some of these people for many years, and I expect to be in touch with them for many years more. That is very emotionally and personally fulfilling for me, just because I feel like I'm invested in these people and I want to know what they're doing and how their lives have been changing as my own life has been changing. And of course, it serves the work. Because for a long project, like a book, having such layers — as opposed to just one encounter, where you meet someone on the ground, and then you never see them again — makes the story that much richer.
How do you hope that your work will help create a better future?
As a writer, you always kind of feel like you're putting your work out into a void. At the very least, you're just hoping people will read it. But in the very best of cases somebody will be inspired to make a difference. So the most rewarding aspect of doing this is when somebody reads a story that I've written, reaches out and says, "I want to help." For example, in the story about hunger in Queens that I wrote for National Geographic, we met a seven-year-old girl who is the daughter of undocumented immigrants and loves to study more than anything else in the world. But she didn't have a computer to do virtual learning, so she was doing it all on her mom's iPhone. After reading the story, somebody donated her a computer. And I think that's the kind of gesture that could have a huge impact on someone's life, especially for such a young and motivated kid. It's a really special thing.
In the larger scheme of things, if my writings about nature and the environment and ordinary people can help inspire others to fall in love with the natural world and do what they can to protect it, I would consider that a success. That's always the goal, that my work can contribute to the broader fight for all of the enormous beauty that is our planet. That's what keeps me going.
What does "forward thinking" mean to you?
In terms of what I do, I think to be a forward thinker means to anticipate the biggest questions that our society will face in the next five, 10 or 20 years, and try, somehow, to tell stories that address them. I don't consider myself a breaking news journalist; rather, my hope is that my work in some way makes people feel emotions and connections to others. That my work crosses cultures and fosters empathy and understanding between people. I'd like to reach enough of a broad audience that two people who are very different can take something similar away from a story, forging a connection or thinking about things in a new way. Thinking forward a little bit more about how they'll change their lives, or how they might change the world for the better.
Main photo by Nina Subin