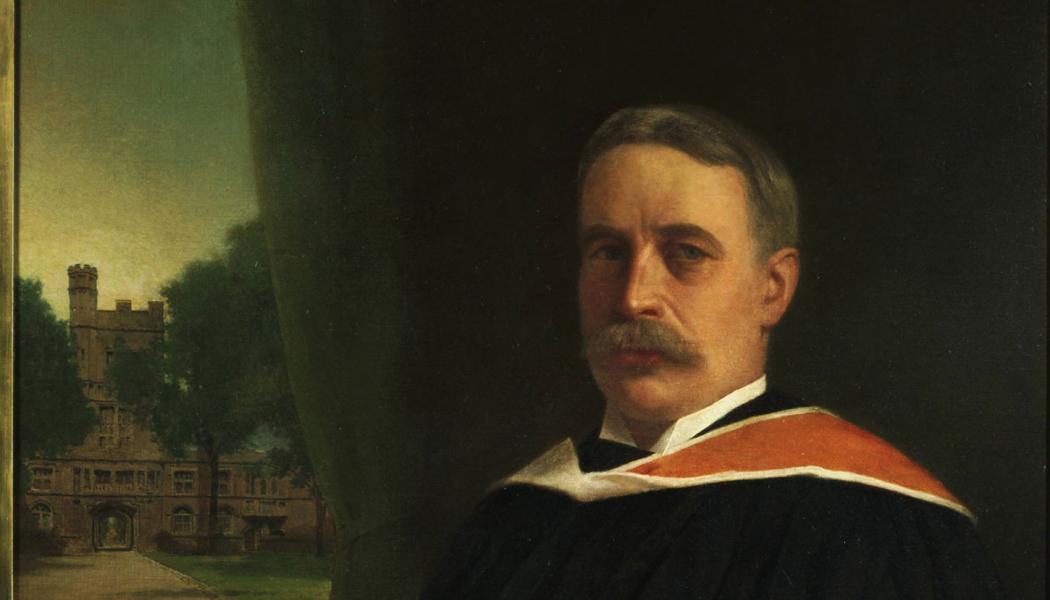 "Moses Taylor Pyne, Class of 1877" (1855-1921) by William Sartain (American, 1843–1924), Oil on canvas, Princeton University Art Museum
Prize-worthy: Pyne Prize marks centennial
When winners of the M. Taylor Pyne Honor Prize are formally recognized on Alumni Day, Christian Potter '22 and Claire Wayner '22 will join a distinguished list. Criteria for an undergraduate to receive Princeton's highest general distinction is lofty indeed: excellent scholarship, strength of character and effective leadership.
These are the qualities that contemporaries of Moses Taylor Pyne 1877 revered in him, and that his cousin, May Taylor Moulton Hanrahan, memorialized in the award when it was first presented in 1922.
Among the University's esteemed benefactors, Pyne stands out. Born to a large fortune, he became a University trustee at age 28 and served for almost 40 years. He was a force behind forming the Alumni Council. Tangible reminders of his largesse can be seen in buildings erected from his time as trustee, from Blair Hall to East Pyne to the Graduate College.
When he died in 1921, he was so well thought of for his generosity — not only by the University community but by Princeton residents as well — that classes were canceled and Nassau Street businesses closed.
Over the years, Pyne Honor Prize recipients also have inspired admiration. The most well known are the late Princeton President Emeritus Robert F. Goheen '40, former U.S. Sen. Paul Sarbanes '54 and U.S. Supreme Court Justice Sonia Sotomayor '76.
Others have flourished in their myriad fields: like Edward Pell '60, whose accomplishments included working at the United Nations as a speechwriter for Adlai Stevenson '22; Michelle Warner '82, now executive vice president and chief operating officer for the Andrew W. Mellon Foundation; and theater director Davis McCallum '97.
Below is a sampling of fun facts related to this notable Princeton prize and its distinguished winners.
•   Sen. Sarbanes '54's son Michael followed in his father's footsteps in 1986. The younger Sarbanes is executive director of partnerships, communications, and community engagement for Baltimore City Schools.
•    Also making the prize a family affair: H. Chapman Rose '28 (who later served as a University trustee) and his brother, Nelson P. Rose '31.
•    A number of winners remained in academia, including Jerome Davis '71, secretary of Columbia University; geneticist Eric S. Lander '78, founding director of the Broad Institute of MIT and Harvard; Jennifer Rexford '91, the Gordon Y.S. Wu Professor in Engineering and chair of Princeton's Department of Computer Science; and Julia Lee '98, associate professor of English at Loyola Marymount University in Los Angeles, where she teaches courses in African American and transatlantic literature.
•    Those who headed into health fields include Loren Walensky '90, pediatric oncologist at the Dana-Farber Cancer Institute; Renee Hsia '99, professor in the Department of Emergency Medicine at the University of California San Francisco; and James Valcourt '12, a drug discovery fellow with D.E. Shaw Research.
•    Howard W. Bell Jr. '70 was the first Black student to receive the prize, and Marsha H. Levy '73, the first woman. Levy served as a University trustee.
•    With Levy, many Pyne Prize winners have served as University trustees, including John W. McCarter '60, Robert H. Rawson Jr. '66, Stephen A. Oxman '67, Thomas A. Barron '74, and currently, Kirsten Bibbins-Domingo '87 and Bob Peck '88.