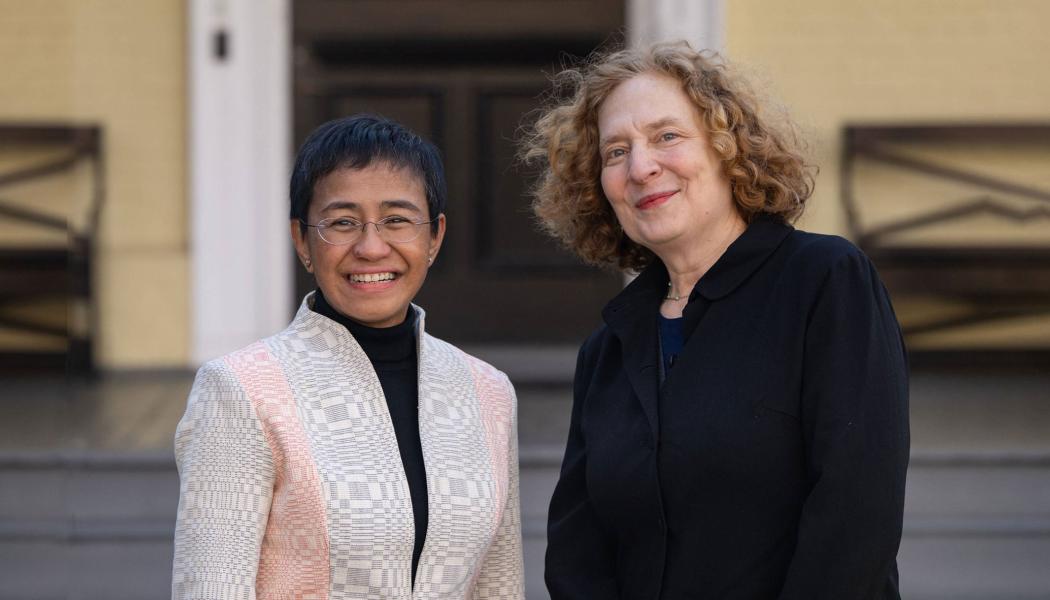 Nobel laureate Maria Ressa '86, composer Julia Wolfe *12 and student award winners honored at Princeton Alumni Day
Nobel Peace Prize laureate Maria Ressa and Pulitzer Prize-winning composer Julia Wolfe received top honors at Princeton's Alumni Day on Saturday, Feb. 19. The event was the first in-person alumni celebration on campus in two years.
"How wonderful to be back in the place that gave me the foundation for nearly everything I do," Ressa told the alumni, students, faculty, staff and guests seated in Richardson Auditorium.
Ressa, a Class of 1986 member who earned a bachelor's degree in English and a certificate in theater and dance, received the highest undergraduate alumni honor, the Woodrow Wilson Award. Wolfe, who earned her Ph.D. in music from Princeton in 2012, was awarded the top graduate alumni award, the James Madison Medal.
The annual mid-winter alumni gathering, paused during the height of the COVID-19 pandemic, also recognized undergraduate Pyne Prize winners Christian Potter and Claire Wayner, and graduate student Jacobus Fellows Erin Kado-Fong, Zachary Teed and Spencer Weinreich. The students each shared brief remarks about their academic and extracurricular passions, and their appreciation for the Princeton community.
President Christopher L. Eisgruber said the Alumni Day honorees demonstrate the transformative power of Princeton's ability to make bold bets on human talent.
"Princeton has a nearly unique capacity to contribute to the world by making audacious bets on human talent," Eisgruber said. "We bring undergraduate students, graduate students, postdoctoral fellows, and faculty members to this campus and invest in them for the long term, encouraging them to pursue visionary dreams and speculative ideas. And as alumni, Tigers take those ideas into the world and they change it for the better."
The morning awards program was followed by the afternoon Service of Remembrance in the Chapel, which honored Princetonians who died during the past two years. Nearly 750 alumni attended the 107th Alumni Day in person, and thousands watched the livestream on Princeton's social media channels.
Maria Ressa and the 'Battle for Facts'
"I can't think of anyone more deserving of this award and at this time than Maria," Dean of the College Jill Dolan said as she introduced Ressa. "Her determination to imagine a better world, and her dedication to make it so, distinguishes today's awardee. She is a beacon of hope… and exemplifies Princeton's commitment to service."
A journalist for more than 35 years, Ressa is CEO and president of the independent news outlet Rappler.com in the Philippines. Her reporting on the authoritarian administration of President Rodrigo Duterte has been met with continual political harassment and arrests by the Duterte government.
Ressa almost did not make it to Alumni Day to accept her award after a last-minute battle with courts in the Philippines to approve her travel.
When she saw the "Welcome to the United States" sign, "I hugged the air." Ressa said. "You do not know what freedom feels like until you almost lose it."
"You don't really know who you are until you are forced to fight for it," she continued, "and it's been one big fight for my values and my profession since 2016. And it's made me stronger. As Princeton and Nietzsche have taught me: what doesn't kill you makes you stronger."
Watch Maria Ressa's speech below:
For her commitment to free expression and bravery in reporting on the Duterte regime, Ressa has been named a TIME Person of the Year and co-winner of the 2021 Nobel Peace Prize. This commitment to the truth, Ressa said, is grounded in Princeton's Honor Code. The Honor Code was established in 1893 as an agreement between faculty and undergraduates to uphold a high standard of academic integrity at Princeton.
"When I took over as the head of the largest news organization in the Philippines, I explained the Princeton Honor Code — how we each pledge on our honor not to cheat and we took responsibility for the world around us: that if we saw someone cheating, we would report it," she said. "That became the foundation for nearly a thousand journalists in our fight against corruption. I took a zero-tolerance approach — and the Honor Code made it personal."
Ressa now worries that social media and other digital platforms make it much harder for the public to discern what is true.
"Studies have shown that lies laced with anger and hate spread [online] faster and further than facts," she said. "Without facts, you can't have truth. Without truth, you can't have trust. Without these, we have no shared reality, no rule of law, no democracy."
In response to an audience question about balancing "love for and criticism of country," Ressa said being a critical thinker, as Princetonians are taught to be, means she can do both.
"The greatest love is not standing quiet when you see something that could be better. I love both my countries, the Philippines and the United States, and I'm doing my best to make [them] better."
Before Alumni Day, Ressa visited her hometown of Toms River, New Jersey, in a trip arranged by Princeton's Office of Communications. Ressa's family moved there from the Philippines when she was 10 years old. During a meeting with students at her old high school, Ressa shared how growing up in Toms River and attending Princeton helped shape who she is today.
Julia Wolfe: The power of music and creativity
Wolfe, an internationally celebrated composer and professor of music at New York University, said she was honored to be only the second composer to receive the Madison Medal.
"When I got the call about the Princeton award I was stunned," Wolfe told the audience. "As an artist you aren't generally celebrated in the company of scientists, economics and historians."
Watch Julia Wolfe's speech below:
Wolfe's work has earned her a Pulitzer Prize, a MacArthur Fellowship and Grammy nominations. She is also co-founder of Bang on a Can, the innovative multi-faceted music organization that began as a one-day music marathon of contemporary classical music.
Acting Dean of the Graduate School Cole Crittenden said Wolfe is an alumnus who has forged an exemplary career, given selflessly in public service and remained a steadfast pillar in the cause of graduate education.
"She is one of the most sought-after classical composers today, having written a major body of work for strings, from quartets to full orchestra, that draws inspiration from folk, classical and rock genres," Crittenden said. "Julia now spends time in the classroom at New York University, inspiring the next generations of musicians and composers. In the classroom or on the biggest world stages, Julia Wolfe astounds all of us with her immense talents and gift of music."
Wolfe shared a few of her pieces with the Alumni Day audience, explaining how she mixes amplification, electronics, found sounds and a vast array of visual elements.
"Part of the reason I was drawn to writing music is because it is an expression beyond words – you can't really explain it," she said. "We may study music and grapple with ways to describe it, but in the end there's this wonderful inexplicable power that sweeps over us."
Wolfe has been described as a musical documentarian, given her interest in singing histories that focus on "not-so-famous people," in particular unsung stories of American labor history. She played clips from her albums "Anthracite Fields" about coal miners in Pennsylvania and "Fire In My Mouth," about the 1911 Triangle Shirtwaist Factory fire in the Lower East Side of Manhattan.
Wolfe concluded by expressing gratitude for Princeton's place in her life.
"Princeton has tremendous meaning for me," she said. "Not only for the things I learned here, but also to now see my own students form NYU thriving in Princeton's amazing graduate program in music composition. I am so proud of them, and the work that they are doing right now resonates loud and clear as the new voice of the music of our time."
Student honorees show gratitude
The student award winners were recognized on the stage of Richardson to hardy applause from alumni. A video played showcasing the innovative research of graduate Jacobus Fellows Kado-Fong, Teed and Weinreich, and the Pyne Prize winners gave short speeches.
In their remarks, the undergraduate honorees gave thanks broadly.
"I could not have gotten to where I am today without the support of all of my mentors — my professors, TAs, Princeton alumni, and University staff and administrators, too many to name right now — who have all taught me to think in interdisciplinary ways, to seek out collaboration and compromise," Wayner said from the podium in Richardson Auditorium. "I've been so grateful to have found, at Princeton, a home in the civil and environmental engineering department as well as the Andlinger Center for Energy and the Environment and the High Meadows Environmental Institute. By immersing myself in research and classes in each of these three places, I've been able to turn my Princeton education into an experience that I feel is making a tangible difference."
Potter, who addressed the crowd via Zoom, shared his gratitude for his teachers, mentors, peers and friends, particularly during his recent year as Undergraduate Student Government president. He said one of the most important things he's learned is how to argue fairly.
"During the pandemic, I was entrusted by my peers to argue on behalf of the student body and the larger community, in my capacities in student government, for various policies that would improve life during the most difficult of times and change Princeton for the better on the other side," Potter said. "Princeton has taught me what it means to argue, in conversation, with counterparts and with ideas, how to do it fairly, and hopefully, yes, in the nation's service and the service of humanity."
Watch the Pyne recipients' remarks below:
Recordings of both the Richardson program and the Service of Remembrance are on Princeton's YouTube.
This article originally appeared on the Princeton University website.